Our monthly podcast offers the key highlights for stargazing in December: where to find bright stars and planets — and how to spot the Geminid meteor shower.
Another year is drawing to a close. On December 21st at 6:03 p.m. Eastern Standard Time we reach a celestial turnaround point: the solstice, a Latin word meaning "Sun stands still." At that moment the Sun appears farthest south in the sky, standing directly over Earth's Tropic of Capricorn, and reverses direction to return gradually to northern declinations. This date marks the astronomical beginning of summer in the Southern Hemisphere and of winter up here in the north.
For stargazing, it's a time of transition as well. The planets Mercury, Venus, and Saturn are hidden in twilight as December begins, though by month's end Venus barely peeks over the western horizon at dusk and Saturn emerges in the east before dawn. Mars is still with us, low in the southwest after sunset, and Jupiter rises in late evening.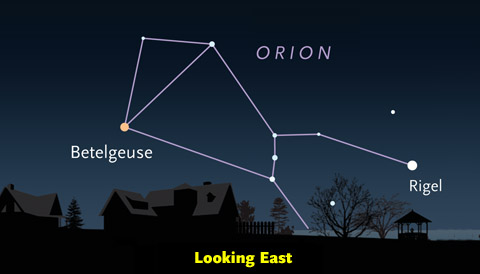 Leading the way for Jupiter is majestic Orion, which veritably leaps up over the eastern horizon around 7 pm at the beginning of December but soon after sunset by month's end. You'll be able to spot the Hunter's distinctive three-star belt, oriented as a vertical row as the constellation climbs into the sky. The belt is flanked by ruddy Betelgeuse to its left and icy-white Rigel to its right.
December is also the month that features the return of one of the year's very best meteor showers: the Geminids. From a clear, dark location, you might see one meteor per minute or more when it peaks on the nights of December 13th and 14th.
Get more tips on viewing the Geminids — and a personal tour of the stars and constellations overhead on December evenings — by downloading the 5½-minute-long stargazing podcast below.
Download the podcast here.
---
There's no better guide to what's going on in nighttime sky than the December issue of Sky & Telescope magazine.