After a slow four-month climb from obscurity, Comet C/2014 E2 has emerged from behind the Sun and can be viewed low in the eastern sky before the first light of dawn begins.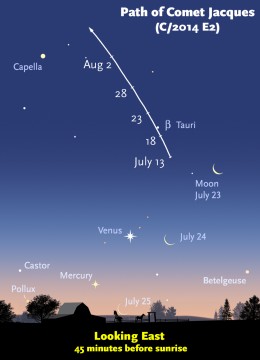 It's been a long time since we Earthlings have been treated to a spectacular comet (at least here in the Northern Hemisphere). So these days we'll take whatever little gauzy apparitions we can get.
For the next couple of weeks, you can train your telescope low in the eastern sky before the first light of dawn to look for Comet Jacques (C/2014 E2). Observers report that this interloper has gradually brightened from obscurity and is holding steady at about 6th magnitude. The comet should be about as bright right now as it's going to get.
As the chart here shows, this week Comet Jacques is climbing higher in the hours before dawn, skirting the western stars of Auriga before moving on into Perseus. Its elongation (angular separation) from the Sun is about 40°, and that will grow to 50° over the next week.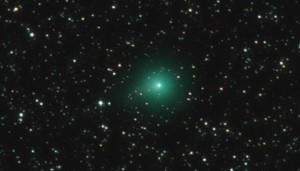 With New Moon approaching, bright moonlight will not be a hindrance. Visually, the comet is not sporting an obvious tail, though a long, waving streamer was captured by one of NASA's STEREO spacecraft. But the cloud-like coma surrounding its nucleus is fairly condensed and concentrated, which improves your odds of success. Pick a clear, haze-free morning to go hunting.
If you do spot Comet Jacques, please post a comment below and include your circumstances (location, time, equipment used) to help others in their quest.
Comet Jacques's Close Brush with Venus
It's a pity we couldn't have viewed this visitor from the vantage point of Venus. Back on the 13th, that planet and the comet were just 9 million miles apart! The only spacecraft in that immediate vicinity is the European Space Agency's Venus Express. But right now this orbiter is wrapping up some challenging aerobraking maneuvers that have kept the mission team preoccupied.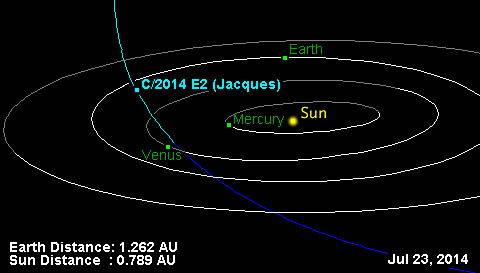 (I asked project scientist Håkan Svedhem about taking a few snapshots, and he replied, "By mid-July we should be finished, and if everything is still OK we might be able to do something with this comet.")
The comet has brightened thousands of times since Cristóvão Jacques, João Ribeiro de Barros, and Eduardo Pimentel captured it on March 13th in CCD images taken with the 0.45-m reflector at SONEAR Observatory near Oliveira, Brazil.
SONEAR stands for "Southern Observatory for Near Earth Asteroids Research," but of course discovering a comet is even better! In fact, this trio of observers had discovered another comet, C/2014 A4, just two months earlier.