Residents of southern Africa get to watch the Moon cover part of the Sun not long after (or during) sunrise on Sunday, September 13th.
Update: Early risers in South Africa dodged broken clouds and caught most of the eclipse not long after sunrise. See the nice assortments of images posted by Jörg "Schoppy" Schoppmeyer and by Jay Pasachoff.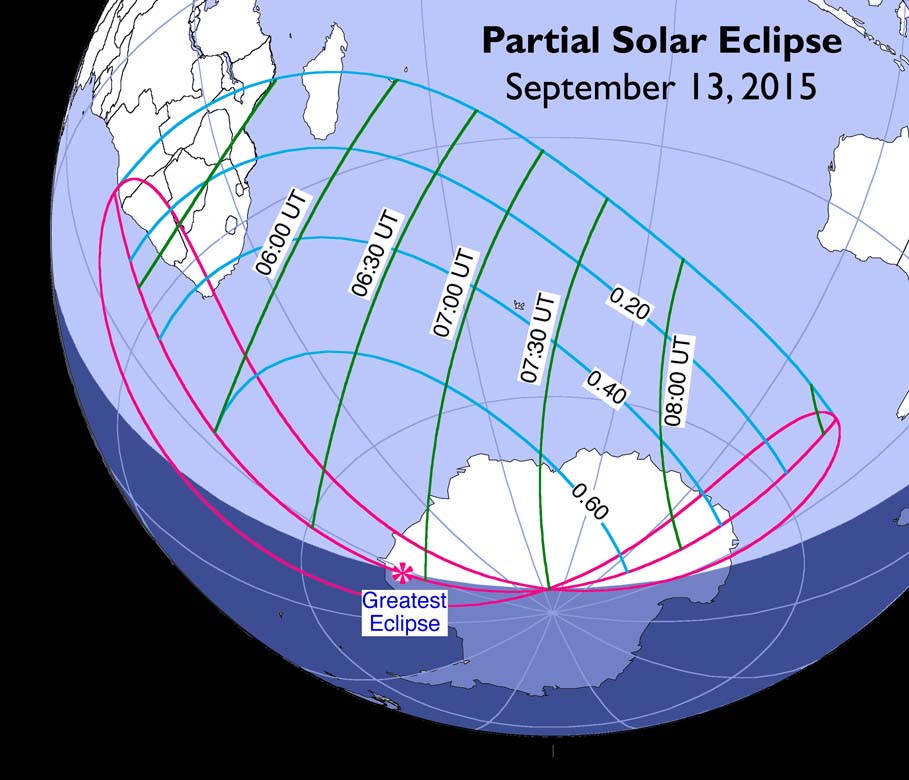 This year's first solar eclipse, a total cover-up, took place along a far-northern path that passed over only a few inhabited bits of land.
The next solar eclipse, occurring this weekend, will likewise be challenging to view — unless you're lucky enough to be on the southern tip of Africa or somehow transported to an uninhabited portion of Antarctica.
September 13th's solar eclipse is a partial affair, with the Moon covering a maximum of 79% of the Sun's diameter at 6:54 Universal Time. As seen in the map above, the area of visibility clips South Africa and neighboring countries, as well as Madagascar, during sunrise or in the hours thereafter. To see how the eclipse progresses with time, check out this nifty animation from Larry Koehn's Shadow and Substance website.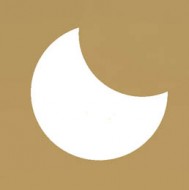 According to predictions by Fred Espenak, up to 30% of the Sun's disk will be covered as seen from Cape Town, 15% from Johannesburg, and 2% from Harare in Zimbabwe. Jay Pasachoff (Williams College), who chairs the International Astronomical Union's Working Group on Solar Eclipses, will be part of a group traveling to L'Agulhas (south of Cape Town)  to view the eclipse.
Two weeks later, with the Moon full instead of new on the night of September 27–28, North and South Americans will enjoy a total lunar eclipse. And, after this weekend, the Moon next covers the Sun (completely this time) on March 9, 2016. The path for that event crosses Indonesia and the western Pacific Ocean.
As noted by Mike Kentrianakis, manager for the American Astronomical Society's outreach effort, this partial eclipse is a harbinger of what 500 million North Americans will experience on August 21, 2017.
---
Got the itch to see a total solar eclipse? The next ones occur in March 2016 and August 2017. Join one of Sky & Telescope's expeditions to these extraordinary events.