The innermost planet is well known for its speedy motion around the Sun, but you can spot it early in November hovering over the eastern horizon before sunrise.
In Roman mythology, Mercury is the fleet-footed messenger of the gods. His planetary namesake is equally famous for quick movement. The innermost planet zips around the Sun in just 88 days. This orbital pep, combined with the planet's closeness to the Sun, gives Mercury a reputation of being difficult to spot in the sky.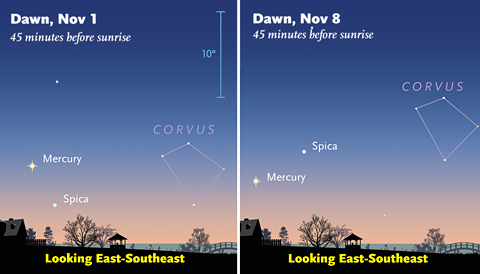 But, really, it's not hard to see Mercury — and this coming week you'll have a chance to prove it to yourself.
Mercury is in the midst of its best morning appearance of the year. It's been rapidly climbing in the predawn twilight, and on November 1st its elongation (angular separation) from the Sun maxes at 18.7°.
That's not particularly favorable; the planet's greatest elongation can reach 28° at times. However, thanks to a favorable tilt of the ecliptic during northern autumn, these crisp mornings the planet is perched almost directly above the Sun.
How To See Mercury in November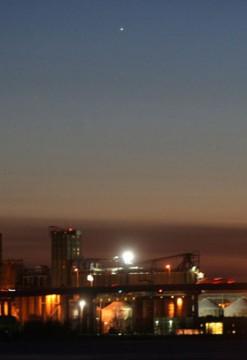 As the month begins, Mercury rises about 90 minutes before the Sun, and it climbs to about 10° above the horizon as twilight starts to brighten. (Your clenched fist, held at arm's length, covers roughly 10° of sky.) So find a spot with a clear, unobstructed view toward east, and then head out about an hour before dawn. Skygazers in the U.S. will be adjusting clocks on November 2nd, as we return to standard time; after that aim to be outside no later than about 5:30 a.m.
Mercury shines at magnitude –0.6 on November 1st, so it will be fairly easy to spot. Also look for the star Spica, fainter at 1st magnitude, a few degrees to the planet's lower right. As the days pass, Spica will climb higher and Mercury will slip — by November 8th their roles have reversed, with Spica higher up.
The planet brightens throughout November, as it rounds the Sun and becomes more fully illuminated from Earth's perspective. But dawn's twilight outpaces and soon overwhelms that modest gain. So plan to spot Mercury while you can — by eye during the next two weeks and using binoculars during the week afterward.
Add a comment below (especially if your a Mercury "first-timer") to let me know about your efforts to spot this elusive celestial target.
---
Want to hold the innermost planet in your hands? Check out Sky & Telescope's new, highly detailed Mercury globe.