These days, the Sun doesn't set until nearly 8 o'clock, so it's not really dark until well after dinnertime. May opens with the Moon just making its entrance into the evening sky. On the 1st, look for a thin crescent low in the west soon after sunset.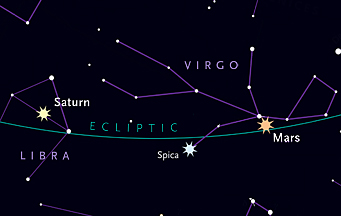 This month you have a chance to see four planets — Mercury, Jupiter, Mars, and Saturn — all strung along the ecliptic (the Sun's path among the stars) in the evening sky. Look for Mercury low in the west about 45 minutes after the Sun sets (and above that point). The best days to spot it will be roughly the last half of May, especially around the 22nd.
Jupiter is easy to find. It's over in the west about halfway up at sunset. It outshines Betelgeuse, Aldebaran, and all the stars around it. Above Jupiter, about one fist away, are the twins of Gemini, with Pollux on the left and Castor on the right. To Jupiter's left, by about two fists, is the star Procyon, in Canis Minor, the Little Dog. To its right, three fists away, is Capella, the brightest star in the constellation Auriga.
Bonus: this month has the potential for a dramatic meteor shower — one that could spawn anywhere from 100 to an amazing 1,000 shooting stars per hour! And its the peak is well timed for North Americans.
To get the details about these celestial fireworks — and many more sky sights for May — listen to this month's 7½-minute-long audio Sky Tour: