Here's your invitation to a spectacular close conjunction of the sky's two brightest planets, Venus and Jupiter, next Monday morning.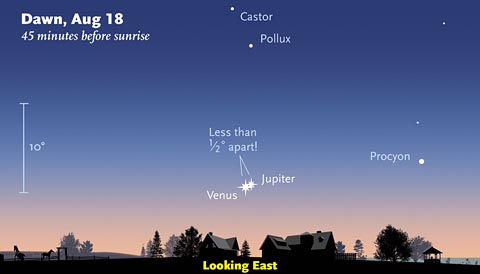 Planets pair up plenty often in the sky, but rarely do they dance this closely. During Venus and Jupiter's close conjunction shortly before dawn on Monday, August 18th, they'll be separated by only 1⁄3° or less. It's the very best planet-planet meetup of 2014 — in fact, these two worlds haven't paired so closely since 2000.
And it all happens right next door to Messier 44, the Beehive Cluster, in the constellation Cancer the Crab.
The two planets' tight dance will be brief. Venus is headed toward the eastern horizon and solar conjunction, while Jupiter only recently escaped the glare of the sun. With every morning, Jupiter rises a little higher in the east and Venus a little lower. As the two planets trot off in different directions, we'll see them slowly approach and separate.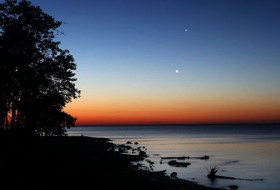 On August 14th, they'll be just 4° apart some 10° high in the northeastern sky 30 minutes before sunrise. To spot the duo, find a location with an open view nearly down to the eastern horizon.
You can start watching for the Venus-Jupiter conjunction as early as an hour before sunrise, but the planets will be very low and possibly obscured by clouds or haze. Bring along a pair of binoculars just in case. Not sure when the sun rises? Click here and enter your city.
Each following morning, the distance between them shrinks by 1° (twice the diameter of the full Moon) until the 18th, when they'll be about 20 arcminutes (20′) apart, depending where you are in North America. You'll be able to cover both planets with the eraser of a pencil held at arm's length. That's what I call snug!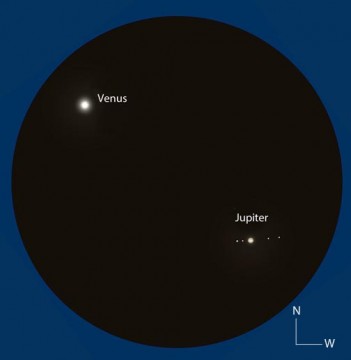 While conjunctions of Venus and Jupiter occur about once a year on average, they vary considerably in visibility and separation. Some happen in daylight, while others are wide misses.
Proximity makes for exciting conjunctions, and this event is the closest for North America since a similar morning pairing on April 23, 1998, almost an eternity ago. And there's more: The next Jupiter-Venus tango occurs less than a year from now, on June 30th, when they'll be just 20′ apart and conveniently placed in the western evening sky during twilight.
The View Through a Telescope
If you own a telescope, tote it out for a closer look. Both planets will fit with room to spare in the same field of view, a sight not to be missed. Blazing Venus mimics a tiny full moon just 10″ across; Jupiter's three times as wide. Will you be able to spot Jove's two 'tire track' equatorial belts and four moons?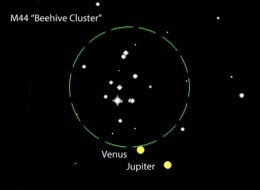 With twilight well underway, binoculars should help you track down the Beehive Cluster. I suspect you'll still see its brightest stars — look just to the left of Venus.
As close as this conjunction is for observers in North America, the planets will be even cozier for central European sky watchers. Closest approach of 13′ (0.2°) happens around 5h Universal Time as dawn's first light touches the rugged Alps.
---
Track Jupiter and its moons in the sky using Sky & Telescope's handy JupiterMoons app.