The Nebraska Star Party offers truly dark skies enjoyed by veteran observers and first-timers alike.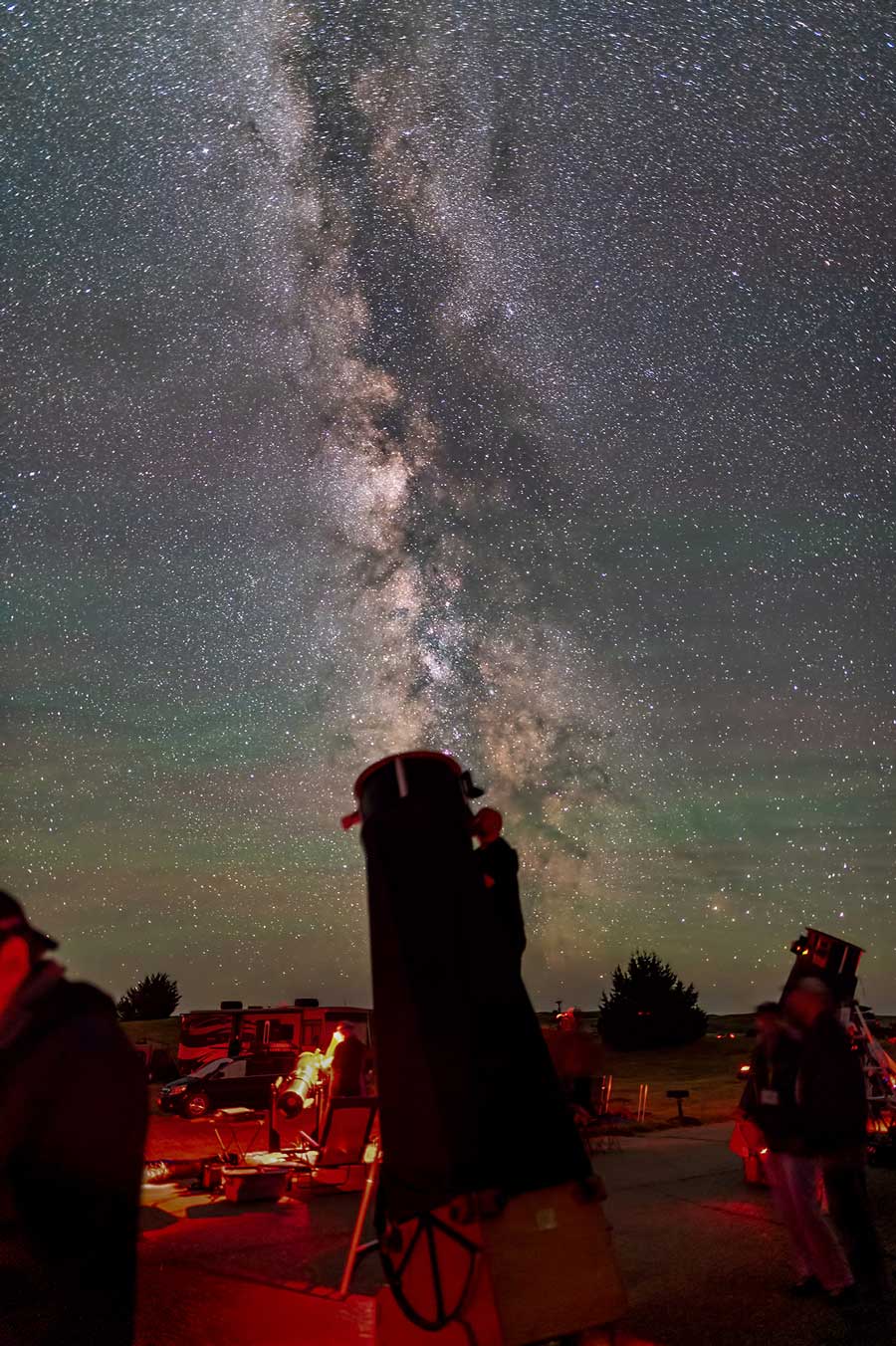 Skies in the Midwest are big. Really big. And really, really dark, as I discovered on my recent trip to the Nebraska Star Party.
This was my first time at a star party since the COVID-19 pandemic began, and the first time in too long under rivetingly dark skies. As I stood in the Nebraska Sandhills with the prairie winds soughing past, I marveled at the vast expanse of the celestial vault and the Milky Way — true to its name — arcing overhead, and I couldn't believe my luck. Here I was, under the stars, sharing this special moment with some 300 other avid astronomers.
Prairie Perfection
Inspired by other national star parties, a handful of Nebraska amateur astronomers bandied about the idea of establishing a star party of their own. And so, in 1993, around a half dozen Prairie Astronomy Club members, joined by a smattering of Omaha Astronomical Society observers, headed for northern Nebraska armed with their telescopes. Tom Miller, who had long hunted and fished at the Merritt Reservoir State Recreation Area, was truly impressed by the dark skies there and recommended it as an observing spot. And so, the intrepid bunch held their impromptu gathering there. The Nebraska Star Party had come into being.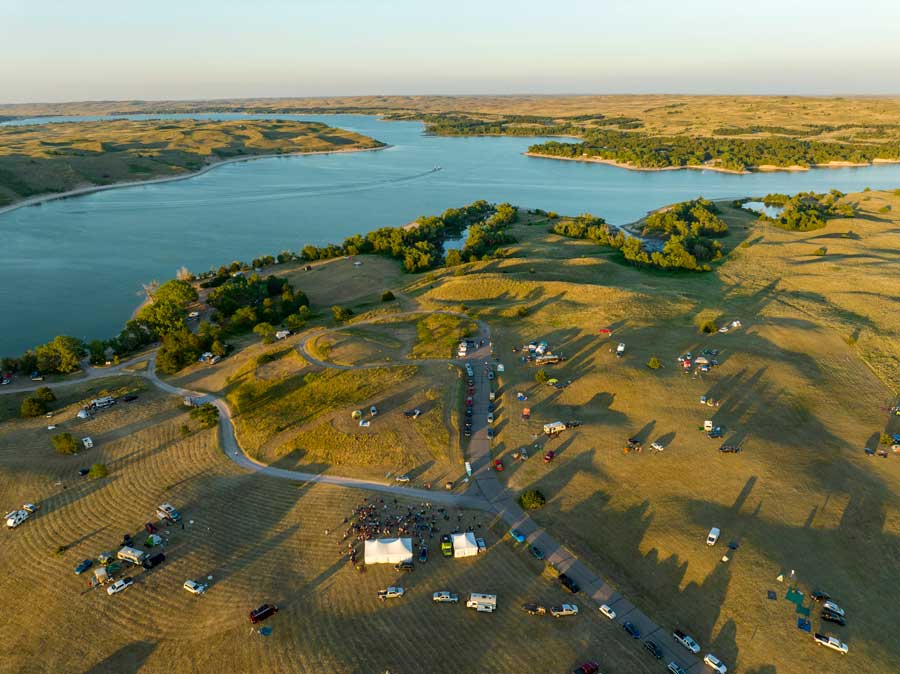 On my first afternoon at the Snake River Area Campground, I wandered around, absorbing the immensity of the prairie and marveling at the vast horizons. As attendees started to trickle in, the frisson of excitement at the anticipation of a night of collective observing was palpable. All around me I could hear the excited chatter of people as they exchanged observing lists, news (many are repeat attendees and have known one another for ages), weather reports, and the like.
Myriad stars
As with most star parties, there are those who have been coming for decades and those for whom this was their first event ever. Participants at the NSP exuded a sense of camaraderie — regulars set their equipment up in their "usual" spots. This inevitably lent the designation of territorial names to certain areas — Dob Row was where, you got it, the behemoths lined up, while Illinois Hill hosted many of those who'd come from, well, Illinois.
As I walked the field before sunset, I could overhear the veterans advising new observers where the best spots were to set up. John Johnson, active in the planning and execution of the NSP since 1999 and has attended 26 of the 29 events thus far, says that the most exciting thing for him is meeting first-time attendees, especially the young people among them. "Their exclamations when they see the myriad stars with the Milky Way stretching from horizon to horizon in a truly dark sky, void of any artificial light, is truly an emotional experience," Johnson reflects.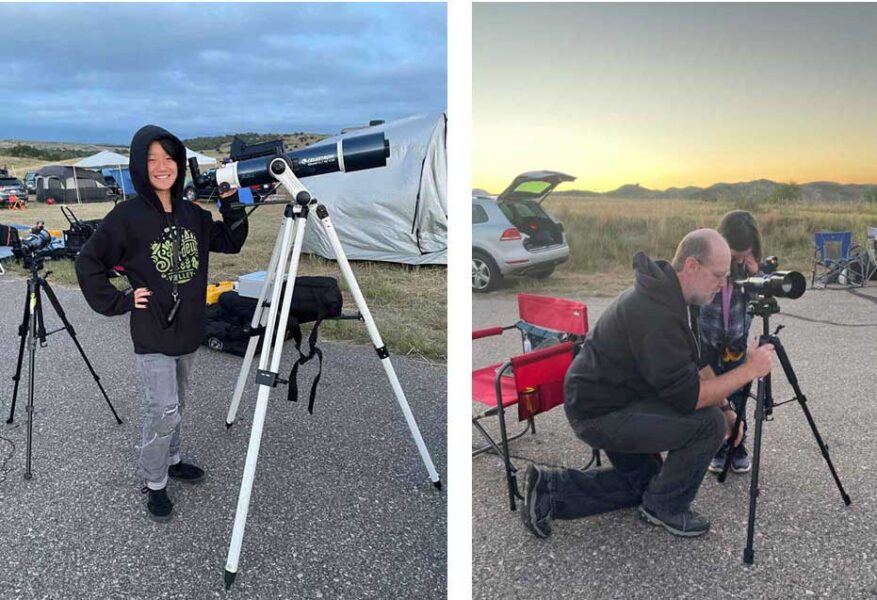 The gamut of the observing experience stretched across all ages and all types of equipment. Wandering the grounds, I came upon eight-year-old Xandy, who had her very own telescope set up alongside her grandfather's. A little farther along, 13-year-old Kaylee — who was at her seventh (!) NSP — had an observing plan for the night: She was going to follow her standard MO and start by checking out her favorites, Mizar and Alcor. Kaylee also planned on finding "the comet." Armed with a star chart, off she went and did just that — a short while later the triumphant cry of "I found it! I found it!" rang through the night air. Bingo, one comet bagged.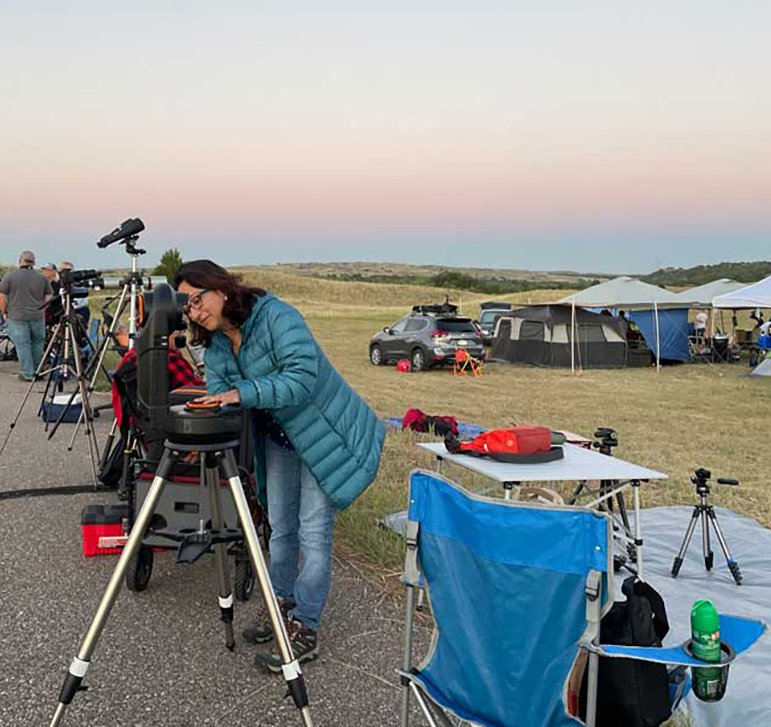 There was a lot of chatter about "the comet," which was, in fact, Comet PanSTARRS (C/2017 K2). Sonali Deshmukh also planned on observing Comet PanSTARRS. Deshmukh drove up from Omaha for her fourth NSP, her car brimming with equipment (she's a prolific photographer, as well as being a passionate astronomer). Besides the comet, she also pointed her scope and binoculars at a plethora of Messier objects, double stars, and carbon stars.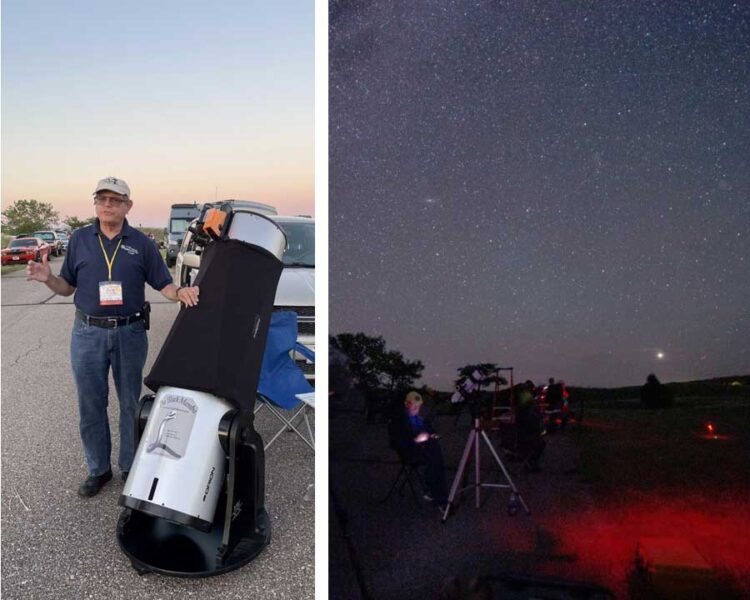 Star parties provide great opportunities for veterans to play around with new or novel equipment. Johnson reveled in the views through his 82-mm binocular telescope, lingering on the Veil Nebula, which he could catch in its entirety in one glance. Others, who live in light-polluted environments, enjoy pushing their scopes to the limit. Dragan Nikin, for example, likes the challenge of hunting for dim galaxy groups.
But it's not only visual observers who occupy the spots on the observing field — imagers set up as well. Jasonn Pellegrini launched himself into imaging during the pandemic, and went on to win first place in the NSP astrophotography competition! (He also brought along a nifty Dob that he 3D-printed.)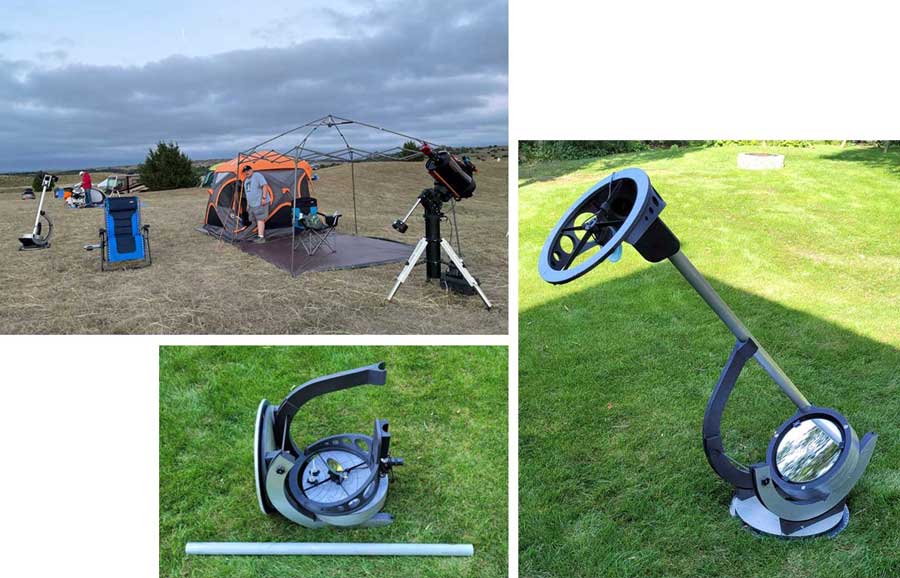 The organizers have plenty of other fun activities in store for attendees. Among these are the Beginner's Field School — a great introduction to all things astronomical — coordinated by David Knisely. The NSP also invites speakers for an afternoon of presentations at the Valentine High School. Among this year's speakers was 12-year-old Astronomy Ambassador Libby White, who gave a phenomenal talk on her role as a young spokesperson for all things space and astronomy. She inspired both the young and not-so-young in attendance!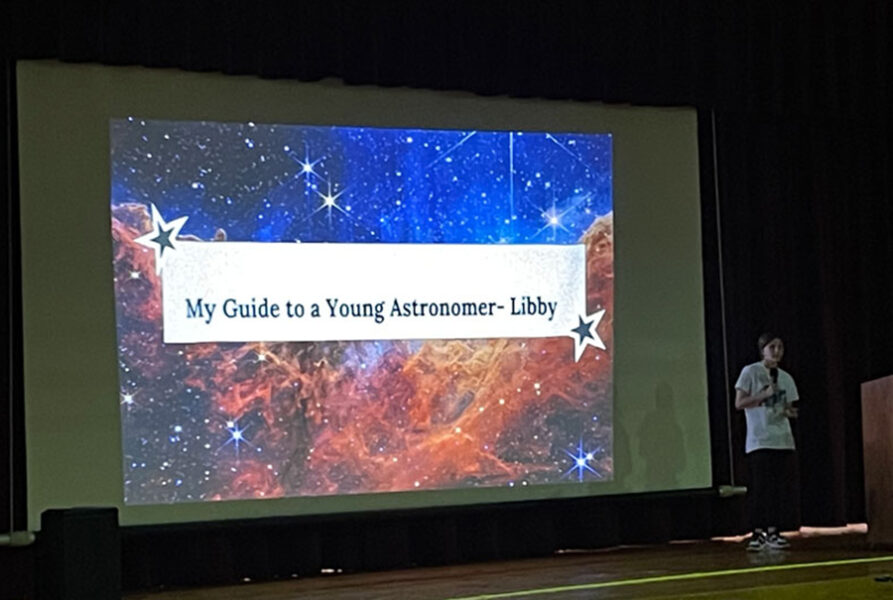 Under A Shared Sky
It quickly became clear to me that the NSP is a venue for sharing. I could not walk a few feet before someone was calling me over to ask if I wanted to see the view in their eyepiece. How can one resist such an invitation? The sights that floated before my eyes were superb, no matter the size or setup of the instrument — sharing the wonders of the night sky is powerful.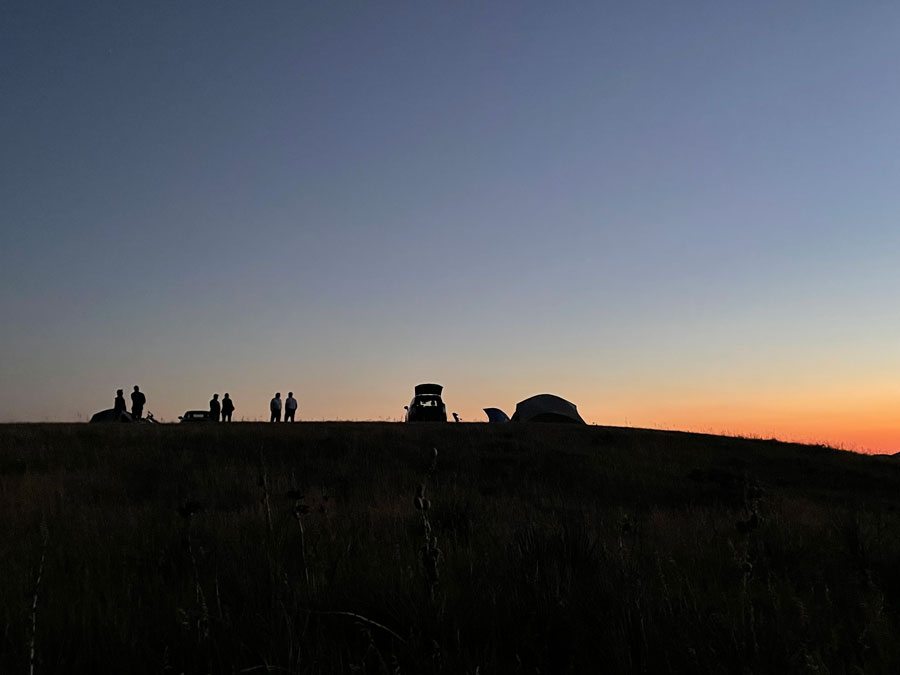 Among the big (literally) sharers were those set up at Dob Row. When you enter Dob Row there's a buzz of excitement as eager viewers mill about awaiting their turn atop a ladder. One would think that finally finding time at a truly dark site with one's treasured instrument one would prefer to be left alone to peruse the skies at one's leisure. Not so.
Nikin with his 25-inch scope was among the eyepiece-sharers. He said he'd never forget his first NSP (in 1999) when Tom Miller not only allowed him to look through his 30-inch Obsession but also let him take control of the telescope and slew to targets of his choosing. "His generosity has been ingrained in me ever since," Nikin says. And now he's "paying it forward" — because he delights in the reactions he hears from atop the ladder when viewers catch their first sight of an object through a really large scope. "I'm very fortunate to be able to own such an instrument and I just truly enjoy giving someone a mind-blowing view they may not otherwise get to experience."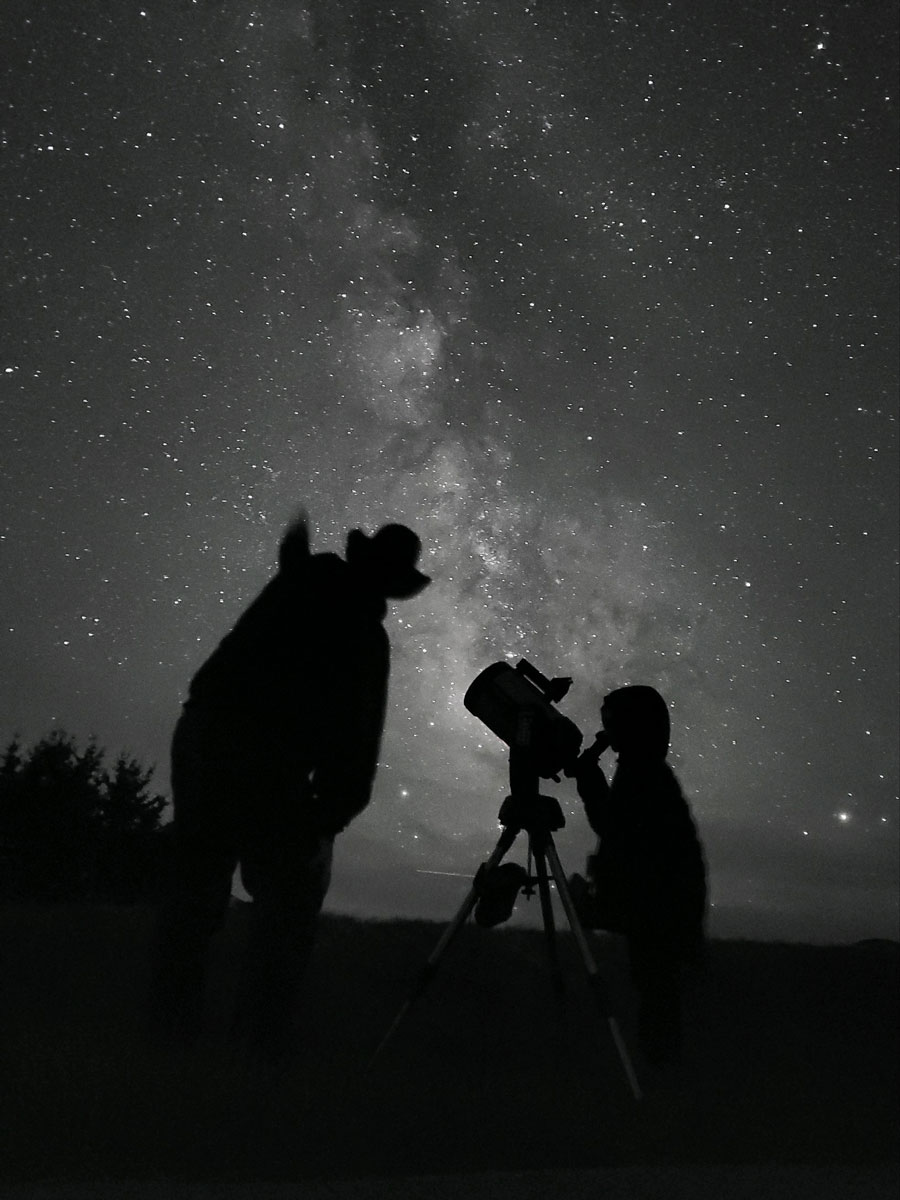 The marvelous thing about the shared experience of being under the night skies is that no matter the instrument — be it a 25-inch Dob, or an 8-inch reflector, or only your eyes — you can fully engage with the universe. Take Xandy. At a certain point she pointed her telescope at the Milky Way, peered into her eyepiece, and marveled at the star patterns she saw. Not only that, she'd already learned from the people around her — as I strolled past, she grabbed my hand and insisted I look through her eyepiece. We both oohed and aahed at the pretty patterns.
And, as thrilling as deep-sky objects are, it's always reassuring to realize there's a genuine fondness for our own solar system. Reminiscing on a perfect night of observing countless eye-catching Messiers and the like, Deshmukh said, "My favorite part of the night, though, was seeing the planets rise in succession — Saturn, Neptune, Jupiter, Mars, Uranus, and Venus drifted across the star-studded sky."
Before sunrise washed the night away, the thinnest sliver of the crescent Moon, just one day shy of new, rose in tandem with Venus, with only a few degrees separating the pair. This sight delighted Deshmukh who concluded, "A wonderful way to end a night of observing."
We all agreed.
---
Whether you're a veteran of star parties or have yet to attend your first, get inspired by the listings in our Event Calendar in Sky & Telescope magazine, or head to Upcoming Astronomy Events on our website.
---
---