NASA's Curiosity rover took time out from its exploration of Mars to capture some dramatic layering in sandstone cliffs.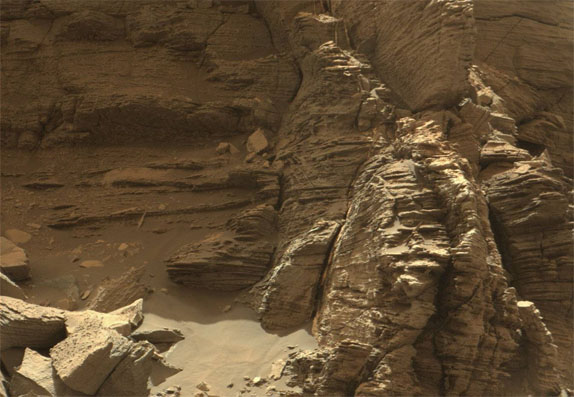 It's hard to believe that more than 4 years have passed since the Curiosity rover (a.k.a. NASA's Mars Science Laboratory) dropped onto the broad floor of Gale crater and began its marathon exploration of Mars. Although the craft's "primary mission" spanned only 23 months, the hope has always been that this durable, plutonium-powered rover would last far longer — perhaps 10 years or more.
The desire for longevity has to do with getting Curiosity as far as possible up the slopes of Aeolis Mons ("Mount Sharp") in Gale's center and, in doing so, to decipher an ever longer portion of Martian history as told in the exposures of rock laid down over time from its base to its summit.
Curiosity is only now reaching the lowermost slopes of Mount Sharp, but it's kept busy with imaging and sampling studies along its path. Most recently it spent time in Murray Buttes, a cluster of small, steep-sided knobs amid a dune field at the base of the mountain. They were named to honor the late Bruce Murray, a renowned Caltech planetary geologist (for whom I worked during my Caltech days).
The buttes, it turns out, are eroded remnants of ancient sandstone beds. They're much younger than Mount Sharp itself, created when the Red Planet's winds brought in layer after layer of fine sand. The image above, taken September 8th, is a close-up of the portion of this bedding — called the "Stimson formation" — near which Curiosity has lingered for most of this year.
The layering within this exposure of sandstone is amazingly detailed. Note the crisscross pattern (which geologists term cross-bedding), which indicates that the sand deposits formed from migrating sand dunes.
In the days ahead Curiosity will move on from the Murray Buttes, its work there finished, and start heading upslope into the broader Murray Formation, a thick, broad expanse that represents the true lowermost layer of the crater's 5-km-tall central peak. You can see this light-hued expanse (and the summit looming large in the distance) lying beyond the dark-colored buttes in the image below, which was taken about this time last year.