Expanding planetary nebulae, X-rays from supermassive black holes, and stellar community involvement were all on display at the youth awards presented at this year's Astronomical League convention.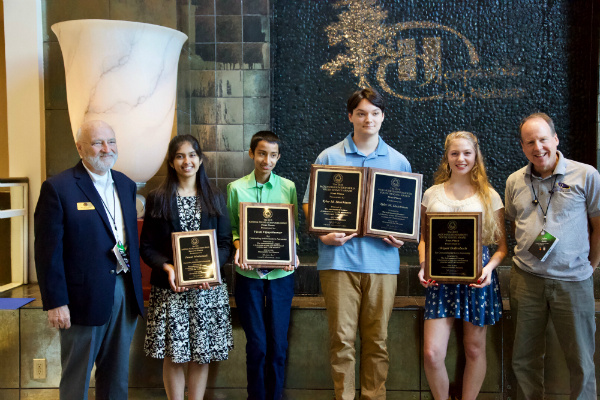 The Astronomical League is one of the world's largest amateur astronomy organizations, and promotes science in many ways. The league started in 1939, during the New York World's Fair, when members from eleven amateur societies met at the American Museum of Natural History. Sky & Telescope played an important role in the nascent league. Charlie Federer — who along with his wife, Helen, cofounded the magazine in 1941 — was present at that meeting, and was instrumental in pushing for the formation of a national amateur astronomy organization.
One of the Astronomical League's principal activities is the annual convention, or ALCon, held in a different location each year. This year the event was hosted by the Minnesota Astronomical Society on July 11–14 in Minneapolis/St. Paul. And as always, the talents of young astronomers were recognized with the presentation of several youth awards.
National Young Astronomer Awards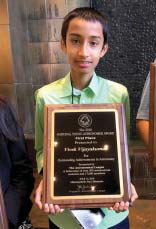 This year's winner of the Astronomical League's National Young Astronomer Award is Vivek Vijayakumar, a high school sophomore who hails from San Marcos, California, for his paper entitled "Analyzing the Expansion Rates of Planetary Nebulae." Vivek witnessed a lunar eclipse at age eight that sparked his interest in amateur astronomy and astrophotography — in 2017 he won the Horkheimer/Parker Youth Imaging Award (this year he placed second in that category). Vivek's research interests include double-star astrometry, planetary nebulae, and solar dynamics. For his research in these fields, he has either placed first or was runner-up at various fairs, including the California State Science Fair and the Greater San Diego Science and Engineering Fair. He is currently involved with a project on the International Space Station. In addition to being a member of the San Diego Astronomy Association, he also belongs to the San Diego Math Circle, and is a Youth Commissioner for the city of San Marcos. This list of activities leaves one breathless, and then one learns that Vivek also plays the trumpet and the piano! Bravo, Vivek — keep it up!

Another Californian, Pranati Modumudi, a senior from Evergreen Valley High School in San Jose, secured second place with a paper entitled "X-ray Study of Multiple Particle Acceleration Zones in the Blazar Mrk 421." Pranati has been fascinated by the universe from a very young age. Since the beginning of high school, she has conducted research with various astrophysics groups at several universities. Her research interests include dark matter in the Andromeda Galaxy, particle acceleration in the jets of active galaxies, and her current project, cosmological studies using clusters of galaxies. In fact, her research group at Stony Brook University, in New York, gave her a leave of absence so she could attend the award ceremony at ALCon 2018. We wish all the best to Pranati in her upcoming endeavors!
Service Awards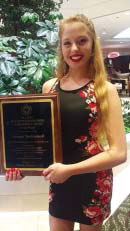 Abigail Bollenbach was recognized with the Horkheimer/Smith Youth Service Award for outstanding participation in her club and astronomy outreach. And when you read the following list of her activities, you will understand why. Abigail, a 16-year-old home-schooled high school student, joined the Bartlesville Astronomical Society at age 13 as a youth member, and immediately got involved in outreach. The following year she presented newsworthy astronomical happenings at the club's monthly meetings, as well as giving full-fledged presentations on topics such as rocket crashes and tracking mounts for cameras. Abby also set up and maintains her club's Pinterest page. In addition to the "grown-ups" club, Abigail is a founding member and principal organizer of the Bartian Youth Astronomers, where her duties include covering news items, giving talks, greeting members, and recruiting people to sign up for the club. And these are just Abby's astronomical activities — she also writes poetry, practices yoga, sings, is involved in photography and astrophotography, and plays the piano. Oh, and she works in a biochemistry lab as a nanoparticulate specialist and experimental research design assistant. You're a shining example to others, Abigail!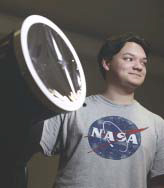 Tyler M. Hutchison, a high school senior at St. Christopher's School in Richmond, Virginia, is the recipient of the Horkheimer/D'Auria Youth Service Award and first place winner of the Parker Imaging Award. Tyler was elected to the Board of Directors of the Richmond Astronomical Society at age 16, and is also a Youth Member-At-Large of the Astronomical League. His outreach activities include attending star watches as well as participating in events for Astronomy Day and at the Science Museum of Virginia. While attending a summer academy at NASA's Langley Research Center, Tyler helped develop a hypothetical manned mission to Mars, which he presented to NASA scientists. Other interests include cosmic radiation at varying altitudes, astrophotography (for which he has won numerous awards at the local and regional levels), and climatology research as part of his three-year internship at the Science Museum of Virginia. Tyler also founded an Environmental Awareness Club at his school. Way to go, Tyler!
Our heartfelt congratulations to all these young astronomers, and to all those who participated in the awards competitions — I'm sure we're going to hear a lot more about all of you! If you know a young student who is passionate about any aspect of astronomy — research, observing, astrophotography, outreach — check out the Astronomical League's Youth programs and awards for 2019. And who knows? The youngster you have in mind might be next year's winner!
See you in Florida next July.