The RTMC Astronomy Expo has been held every year since 1975 at Camp Oakes, high in the mountains northeast of Los Angeles. RTMC (originally the Riverside Telescope Makers Conference) is probably the country's second-oldest star party, behind the venerable Stellafane Conference in Vermont.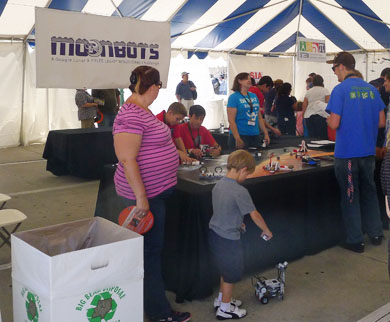 This year, the StarLight Festival was held concurrently in nearby Big Bear Lake. Unlike RTMC, StarLight was free of charge, encouraging people in this popular resort town to wander in and sample the offerings. During the day, StarLight had vendors of astronomy equipment (and magazines!), solar viewing, talks, science displays, and numerous activities for children and adults. At night, many vendors and amateur volunteers set up telescopes to show people the splendors of the night sky, from Jupiter at dusk to the Whirlpool Galaxy and great Messier globular clusters late at night.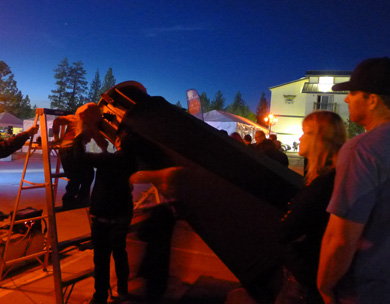 The two events were officially billed as complementing each other (what else?), but many people at RTMC were worried that they would compete instead. Attendance at most U.S. star parties has fallen significantly over the last decade, and RTMC has fallen faster than most — though even in its reduced state, it's still one of the biggest star parties in the world. The fear was that StarLight would draw vendors and attendees away from RTMC.
In retrospect, I think it's quite clear that the two events were indeed complementary; StarLight helped RTMC much more than it hurt it. Yes, it did indeed draw vendors away from RTMC; only the biggest companies could afford to be present at both venues. But people at RTMC have always made the 20-minute drive to Big Bear for a meal, a stroll around town, and maybe a dip in the lake. So why not stop in at the StarLight Festival, too? In effect, RTMC still has all those vendors -- they're just located in town (on a nice, clean parking lot) instead of on the dusty fields of RTMC itself.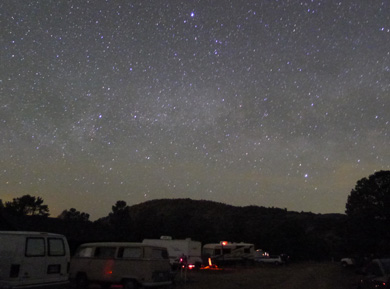 Conversely, RTMC had a booth at the Starlight Festival, and they gave out free passes for people intrigued by the viewing at StarLight to visit the much darker skies of RTMC. Only a few dozen people made the trip, and of those perhaps a dozen will become long-term devotees. That may not seem like a lot, but that's how communities are built, one individual at a time.
I also spoke to one father with young daughter who was camping at RTMC but had initially been drawn to the mountains to the StarLight Festival. He only found out about RTMC after he had started to plan his trip. He said that the variety of very different experiences available at the two venues had kept his daughter entertained non-stop. And his daughter was thrilled by the $50 Celestron FirstScope that he had bought for her at the StarLight Festival — planning to try it out for herself under RTMC's dark skies.
This father also made an astute observation: It's a pity that all the vendors at StarLight shut down before the nighttime viewing started. If somebody had remained open, selling scopes in the $50 - $150 range, they would have made a killing selling scopes to people who had just had their first-ever views of Jupiter and Saturn.