On December 5th, NASA successfully launched the first test flight of its Orion capsule. Scheduled to carry astronauts beyond low-Earth orbit in the 2020s, the spacecraft is NASA's first deep-space people transporter since the Apollo days.
I'm at a major disadvantage when writing about NASA's manned spaceflight program: I'm not one of the cool kids who remember the Apollo program. In fact, I was born about a third of the way into the Space Shuttle program. So NASA's Orion missions will be my first real foray into the spacefaring age.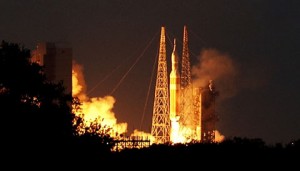 That foray began on December 5th. At 7:05 a.m. EST (12:05 Universal Time), the Orion capsule launched from the Kennedy Space Center aboard a gargantuan Delta IV Heavy rocket, aiming east across the Atlantic. Gusty winds and finicky fuel valves had delayed the launch from its original December 4th date, but takeoff happened as the launch window opened on Day 2.
Orion is the next generation in manned spaceflight — although this flight wasn't manned — and is designed to take astronauts beyond low-Earth orbit.
The NASA–Lockheed Martin team intended this test flight to be risky, NASA program manager Mark Geyer said in a prelaunch press conference. Although we've sent astronauts beyond low-Earth orbit before, Orion isn't Apollo and technology has changed since then. For example, today's computers are much more powerful and will give the crew far more access to onboard systems than in the previous generation. But these computers are also more susceptible to radiation than those of the 1960s, so designers needed to know how Orion's onboard systems would weather passage through the Van Allen radiation belts girding our planet. (Radiation sensors onboard also measured the doses passengers would be exposed to.)
"We need to make sure it works right, before we put people in it," Geyer summed up.
Exploration Flight Test 1: To Space and Back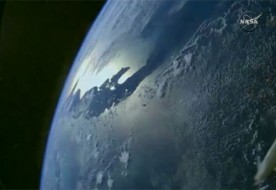 Orion did two separate orbits in this test flight. First, it inserted into a low-Earth orbit about 17 minutes after launch, reaching an altitude on par with that of the International Space Station. This orbit was highly elliptical, about 115 miles by 550 miles (185 km by 880 km).
Second, 2 hours after launch the Delta IV second stage reignited, pushing Orion out into its higher orbit. Shortly thereafter the spacecraft turned off its flight test cameras to protect them during its 15-minute passage through the peak radiation of the Van Allen belts. (It did this coming back, too.) At 10:11 a.m. EST it reached an altitude of 3,604.2 statute miles, 15 times farther out than the ISS orbits.
This second orbit was crucial for testing the heat shield. Orion can't get all the way to the Moon on a Delta IV — it needs the under-development Space Launch System (SLS) — but having traveled this far out before turning around and coming home, its reentry speed reached about 20,000 mph (9 km/s), 84% of the reentry speed it would have if returning from a lunar mission. This whizzing arrival created a force of more than 8 g's on the capsule (Soyuz passengers returning from the ISS experience about 4½ g's) and heated the shield to 4,000°F (2,200°C). The scalding enabled mission planners to test the composite heat shield and its titanium skeleton and how hot it got inside the capsule.
A series of 11 parachutes helped slow Orion to 20 mph, the final trio of red-and-white chutes each 116 feet wide. The capsule splashed down in the Pacific less than 4½ hours after takeoff, about 270 miles west of Baja California (a piddling 1½ miles off the predicted splashdown point). Zodiacs set out from the USS Anchorage to recover the capsule, with the USNS Salvor assisting.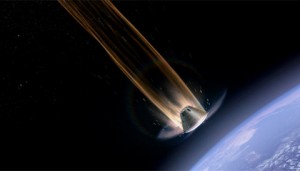 All in all, the test flight was so problem-free that Orion made spaceflight look easy. Commenters even noted that there was minimal chatter in mission control during the flight because the team had no hiccups to talk about.
After docking in San Diego and having its data recorders removed — and some plugs from the heat shield — for processing at a Lockheed Martin facility, Orion will board a flatbed truck and make the 2-week journey back to Florida, arriving just in time for Christmas.
Here's hoping some enterprising soul puts a big red bow on the truck.
Lessons from this launch will inform the next one, slated for 2018. (Originally that was December 2017, but it looks like it might be pushed back a wee bit.). That mission, Exploration Mission 1 (EM-1), will circle the Moon but also won't carry people. There are a couple of reasons for this delay in manned flight. For one, the next launch will be the first-ever flight of the SLS system, and mission planners don't want to risk lives on untested technology. For another, they won't have all the crew systems in place by then.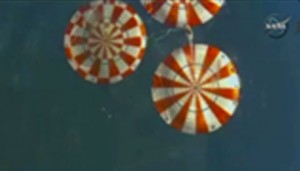 The delay until the next launch and adding the crew systems is not technical, but budgetary. But the team doesn't sound woeful about the wait: Geyer says they're just happy to be in the budget.
If all goes according to plan, the first manned mission will come in 2021. After that, Orion will hopefully fly on a yearly cadence, although we'll have to wait and see.
Be sure to check out NASA's YouTube videos about Orion.
You can also read the press kit for the Orion test flight.
---
Learn more about the history of spaceflight in Sky & Telescope's SPACE: From Sputnik to Curiosity.