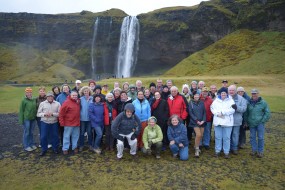 If there's one attribute that the Icelandic people are known for, it's perseverance. After a thousand years of surviving on a barren, windswept pile of lava in the North Atlantic, Icelanders have become dyed-in-the-wool dogged. This stance is encapsulated in part in the Icelandic saying þetta reddast, meaning essentially "it will all work out okay." (That's not a p, incidentally, but the letter þ, known as thorn and retained from Old Norse.)
On our mid-October S&T tour, our group witnessed this national characteristic in the flesh, in the person of our Icelandic guide, Elín Konrádsdóttir of Iceland Travel. Elín's modus operandi was to show her guests the best that her country could offer in the time allotted, no matter what it took to do so. This included, of course, seeing the famed aurora borealis, or northern lights. And despite certain obstacles thrown in our path, mostly weather-related, she maintained a calm equanimity — þetta reddast — and in the end brilliantly achieved her mission.
From the start, it was clear that the daytime portion of the trip — the part that Elín and Tom Reynolds of Spears Travel could control — would be rich in every way. Sights, meals, hotels, commentary from Elín — all were superb.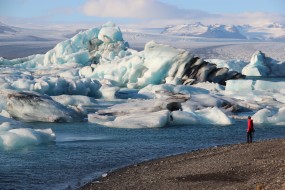 Geologic wonders abounded. Twice we strode in a narrow gap between the Eurasian and North American tectonic plates, which are pulling apart at about three-quarters of an inch per year, creating more Atlantic Ocean. We felt the spray from three gargantuan waterfalls, including the Niagara-like Gullfoss or Golden Waterfall. We breathed steam from the volatile Strokkur geyser, visited the breathtaking Jökulsarlon glacial lagoon, and swam in the geothermally heated waters of the Blue Lagoon.
Cultural sights were no less prolific. We drove past countless red-roofed farmsteads and their ubiquitous charges: the squat, exceptionally woolly sheep of Iceland. We visited charming coastal villages with (for us) unpronounceable names like Eyrarbakki and Kirkjubaejarklaustur. We stood where the world's first parliament, the Alþingi, began holding annual sessions in 930 A.D. And we took in many of the great sights in the culturally explosive capital, Reykjavík, including the towering Hallgrímskirkja and the radically designed Harpa concert hall.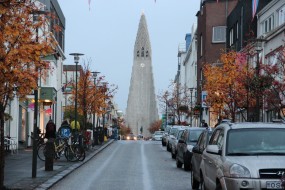 Food? To die for. Guests told me they had no idea this would be such a foodie tour, but it certainly was. The langoustines we savored at one restaurant were the best crustacean I've ever put in my mouth, while the skyr surpassed any yoghurt I've ever tasted. And if you're into lamb, you have to go to Iceland. Accommodations also earned high ratings. My favorite? The Hotel Rangá, with its Canadian pine-log walls and outdoor hot tubs just steps from our rooms.
But wait, you say. What about the aurora? Wasn't this an astronomical tour?
It was, and every night we prepared ourselves to view the northern lights. Those of us who are photographers had our tripods and our wide-angle lenses and our warm clothes at the ready, awaiting a wake-up call from the front desk announcing an aurora was under way. But from the first night to the last, it rained or threatened rain, and the call never came. On our first night, a few of us caught a brief, through-the-clouds snatch of aurora, but that was it. As the days passed, we began to fear we would be all but completely skunked.
But remember what I said about Elín's persistence? About þetta reddast? At one point mid-trip, with rain pattering the roof overhead, Elín handed me the tag from her after-dinner teabag. It held this quote from Walt Whitman:
"Re-examine all you have been told… Dismiss what insults your Soul."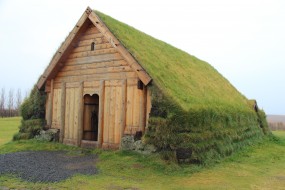 Over the chatter of our boisterous group, I couldn't hear what Elín said as she gave me the tag, but I didn't need to. Several times she had told us: "The weatherman lies." By which she meant don't trust the forecast. Re-examine all you have been told, and dismiss what insults your soul. What insulted Elín's soul was any thought that she would fail to get us a decent aurora.
Two nights before we left Iceland, we had one final chance: a scheduled evening bus ride into the countryside, away from the lights of the capital. It had been clear in late afternoon, but by evening rain clouds had begun moving in again. Dismiss! At our first stop, a rural churchyard a half hour from Reykjavík, it started raining within minutes of our having set up our cameras. Dismiss! We got back in the bus and drove on, ending up back near the Blue Lagoon where we had begun the tour. As we set up our cameras and scanned the skies, there was no sign of auroras, and the auroral forecast from the Icelandic Met Office was a perfect 0, as in zilch. Dismiss!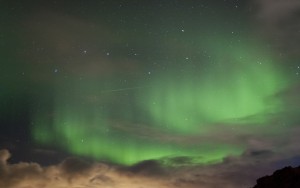 Then someone said, "Wait a minute, what's that?" Conversation paused as folks looked above the nearby hill called Þorbjörn. And there it was, a patch of shimmering white, different from the puffy white clouds we'd become so used to. It was the aurora, as someone's camera quickly determined, pulling out the green. Then another patch to the west, low on the horizon. Heads and cameras swung around. Photos began showing not just green but reds and purples. Then, within minutes, the aurora borealis began to spread across the sky to the north.
"Oh my, look!" "Wow." "Unbelievable." Comments of awe flew as the aurora continued to expand overhead. It was so bright we could visually detect green in the gossamer sheets seemingly rippling in an invisible breeze. I couldn't see Elín in the darkness, but I'm guessing she had a knowing smile on her face.
On the drive back to Reykjavík, Elín got on the intercom and said that Einar, our driver, would give us a treat. When he wasn't driving a bus, Einar, we were told, was a professional tenor. Thus it transpired that as we drove through the moss-blanketed lava fields in a remote part of Iceland in the middle of the night, with the aurora shimmering outside the windows and smiles in our souls, we listened as a young, bearded Icelander named Einar belted out the Icelandic national anthem.
Perfect trip? Close to it. Thank you, Gary Spears, Tom Reynolds, and especially Elín Konrádsdóttir.
Find out about upcoming S&T astronomy tours here.