Recent headlines proclaim that the universe is dying, but we've actually known that for decades. Here's what's really interesting about recent research on the nearby universe.
Major news organizations are covering a recent study with a dramatic press release title: "Charting the Slow Death of the Universe." That sure caught my attention, too. But as I read the release, I realized the researchers were simply studying the well-known downward turn in starbirth across the cosmos.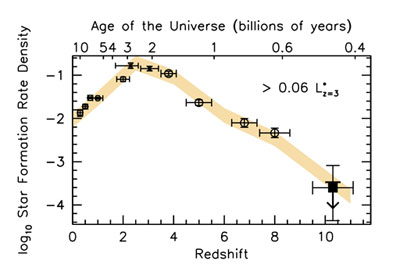 Astronomers have known for decades that star formation peaked when the universe was less than half its current age, roughly 3.5 billion years after the Big Bang. Since then, galaxies have pumped out fewer and fewer stars, in a steady decline. Not surprisingly, galaxy growth has followed the same evolutionary trend — galaxies build themselves up in part by forming stars — and perhaps more surprisingly, so has the growth of supermassive black holes found at galaxy centers.
So what's the big deal with this new study? Part of it is the sheer immensity of the sample size. Simon Driver (The University of Western Australia and University of St. Andrews, UK) and colleagues have combined data from three space missions and two ground-based facilities into a truly massive data set called the Galaxy and Mass Assembly survey (GAMA). The result is a panchromatic view of 221,373 galaxies, covering radiation emitted at wavelengths between the far-infrared (500 microns) and the far-ultraviolet (0.1 microns).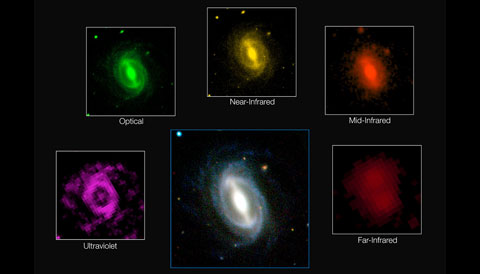 Traditionally, logistics have limited galaxy surveys in wavelength range — it's simply difficult to mesh together the different resolutions, sensitivities, and data streams that come from different facilities. Radio surveys would only glimpse neutral hydrogen gas reservoirs, for example, and see nothing of the stars forming from those reservoirs. The result was a bit like the blind men touching the elephant.
With full coverage over the ultraviolet-visible-infrared range, this survey sees not only stars' ultraviolet light, but also the indirect light generated when intervening dust intercepts UV photons, heats up, and re-radiates the energy at infrared wavelengths.
And yes, this survey sees with unprecedented precision that the universe is dying. Divvying 138,000 galaxies into three cosmic timeframes, Driver's team sees that the in the most recent cosmic era, the universe's energy production (as radiated at wavelengths from far-UV through far-IR) has fallen almost 50% over a period of 1.5 billion years. As the authors write in their paper, submitted to Monthly Notices of the Royal Astronomical Society, this result is expected and completely in line with previous studies of the starbirth rate in our nearby universe.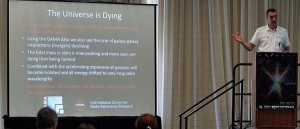 The study also found that the rate at which galaxies interact (whether full-scale collisions or minor disruptions during close passages) is also decreasing over time. Since mergers and close passes inspire star formation, this is one of the factors in its decline.
(No worries, though — low-mass stars, those with the longest lifespans, will continue to shine hundreds of billions of years from now. It will be a long, long time before the universe goes completely dark.)
What the survey also reveals is that, even as the universe's overall energy output declines, the share put out at ultraviolet wavelengths increases. In other words, as cosmic time moves on, less and less dust pervades the universe, so those ultraviolet photons (most of them from stars) move more freely. This effect is surprisingly important given that the typical galaxy has less than 1% dust by mass.
Less dust over time is somewhat surprising, since it's at the end of stars' lifecycles when most dust is produced: in aging stars' winds and in supernova explosions. But dust is also destroyed by the UV photons that stars produce both at the beginning and end of their lives, says Driver.
"The fact that old elliptical galaxies contain almost no dust suggests that ultimately the destruction phase wins," he adds. "A lot of people are working hard on dust formation and destruction models and there's quite a few puzzles."
It's this kind of "side" result that, even if it doesn't generate cool headlines, will ultimately prove this survey's power. And you can be a part of it, too — the GAMA team is calling citizen scientists to classify GAMA galaxies in a project Galaxy Explorer. It's nice to know that we can all still participate in studying this immense, dying universe of ours!
---
Babak A. Tafreshi, S&T contributing photographer, contributed to the reporting for this article.