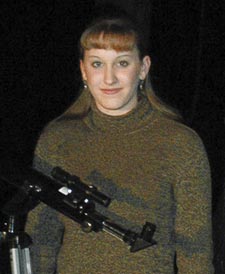 When someone on an Internet message board suggested that a night be set aside each year to dim outdoor lights so that people could enjoy the heavens, a high-school student from Midlothian, Virginia, decided to take action. In 2002, when only 15, Jennifer Barlow parlayed her idea into a widespread movement to have everyone "step back for a moment and realize the wonder that our universe holds." While maintaining her busy high-school schedule, she single-handedly coordinated the effort and set up a Web site to spread the word.
More than a year later, Barlow's hard work paid off: National Dark Sky Week, first observed throughout the United States in April 2003, has been endorsed by the American Astronomical Society, Astronomical League, International Dark-Sky Association, and Sky & Telescope.
S&T: What's the number-one reason people should participate in NDSW?
Barlow: To be reconnected with the night sky. Most of us have forgotten the legacy of the night sky as it seems to fade away behind the blanket of light pollution. The universe is an important part of our history that should not be forgotten.
S&T: How are you encouraging your community to participate in NDSW? Are you having any difficulties?
Barlow: I've distributed fliers in my neighborhood and encouraged almost everyone that I meet to turn out their lights to preserve our night skies. The major difficulty that I have is lack of participation by people who do not seem to recognize light pollution as a problem. In order for this to work, we need more participation.
S&T: Have you encountered any opposition?
Barlow: I've encountered a few people who think that NDSW is a waste of time.
Some say, "Aren't other things more important?" A great many of them are, but I think there is little recognition for light pollution. We have laws passed for the contamination of our water and air. What about our starry skies?
S&T: Do you feel people are educated on the light-pollution issue?
Barlow: Some people see that light pollution is a problem, but others do not know anything about it. I've noticed that some people are 100 percent for NDSW — but, again, some have never heard of it or don't want to participate.
S&T: Have you talked to local politicians about your idea?
Barlow: Not yet, but I plan to do so for the years following.
S&T: How did you begin collaborating with the International Dark-Sky Association?
Barlow: In the summer of 2002 I sent an e-mail to the IDA asking for their support. I got a reply from Robert Gent, who wanted to help me with my efforts.
S&T: What's the coolest deep-sky object light-polluted cities are missing out on?
Barlow: The first and foremost greatest thing to me that cannot be seen under light-polluted skies is the Sagittarius Arm of our Milky Way galaxy. The Pleiades and the Orion Nebula are also among the most beautiful features of the universe.
S&T: Do you have bigger and bolder plans for next year?
Barlow: I haven't thought too much about next year's NDSW yet, but definitely over the next few years, I would like to see National Dark Sky Week become International Dark Sky Week. It would be even better to get the whole world involved!
S&T: Have any interesting people contacted you?
Barlow: I have been contacted by people from radio shows, magazines, newspapers, and astronomical societies. It's been wonderful getting to hear from all of them.
S&T: You've gone from a small-town schoolgirl to a national news figure. What's that like?
Barlow: Being recognized hasn't made me any different — just a little busier! I'm still a normal teenager, worrying about tomorrow's algebra test! Again, it has been good to be able to spread the wonder of the skies in their full beauty — without light pollution.