Only Sky & Telescope offers you a chance to stand in the Moon's shadow on July 2, 2019, and marvel at the splendors of the southern sky amid 5-star, all-inclusive luxury!
SORRY, BOTH OF THE TOURS DESCRIBED HERE ARE SOLD OUT.
But we still have availability on our chartered eclipse flight. Click here for details.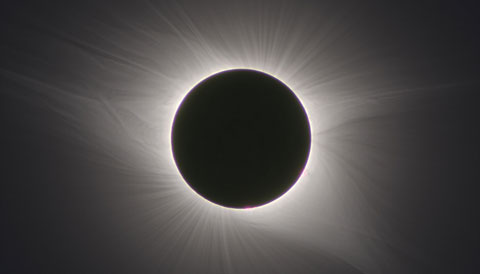 Did you witness the total solar eclipse in August 2017? Are you one of the millions of onlookers who are eagerly awaiting the next one?
Your next chance to stand in the Moon's shadow will be here before you know it —  on July 2, 2019. However, accommodations along the path of totality across South America are extremely limited.
What better way to see totality in 2019 than to join Sky & Telescope's total eclipse tour? You'll be able to view this much-anticipated event from the town of El Molle, well inland from the Pacific Coast, where the climate predictions are very favorable.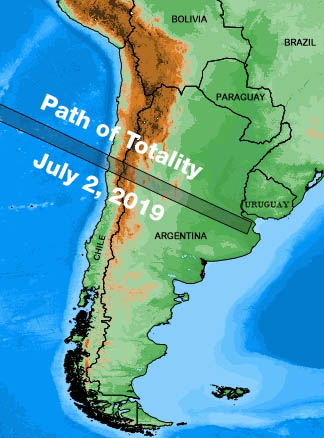 Better yet, you'll get to view the eclipse while being pampered at the only 5-star property positioned in the path of totality. Our tour's carefully chosen viewing site, Casa Molle Villa & Golf, is a brand-new resort situated in the lush and picturesque Elqui Valley. This exclusive venue, nestled along the river, provides excellent viewing prospects for the eclipse.
Our travel partner for 2019's solar eclipse is Royal Adventures (CST#2009579-40), a company that specializes in tours to South America and that prides itself on providing travel experiences of unmatched quality.
So if you're thinking of traveling to see 2019's total solar eclipse, why not make the most of it? But you must act fast, because accommodations for this S&T exclusive, all-inclusive tour are limited to only 60 participants (based on double occupancy).
You can choose between two travel packages, one staying a 4-star property in La Serena and the other staying at a luxurious 5-star property in El Molle with an open bar, outdoor pool, golf course, hot tub and sauna, and bikes. Each group will have its own tour director and accompanying staff member from Sky & Telescope. Click below to get the full details:
GROUP #1 Itinerary, Pricing, Terms & Conditions (accommodation in 4-star hotel in La Serena)
GROUP #2 Itinerary, Pricing, Terms & Conditions (accommodation in 5-star resort in El Molle)