Eclipse-chasers around the world have had a rough time lately. The COVID-19 pandemic thwarted many from seeing an annular solar eclipse across Africa and Asia in June 2020, and six months later it upended plans for thousands who had planned to see a total solar eclipse in South America last December.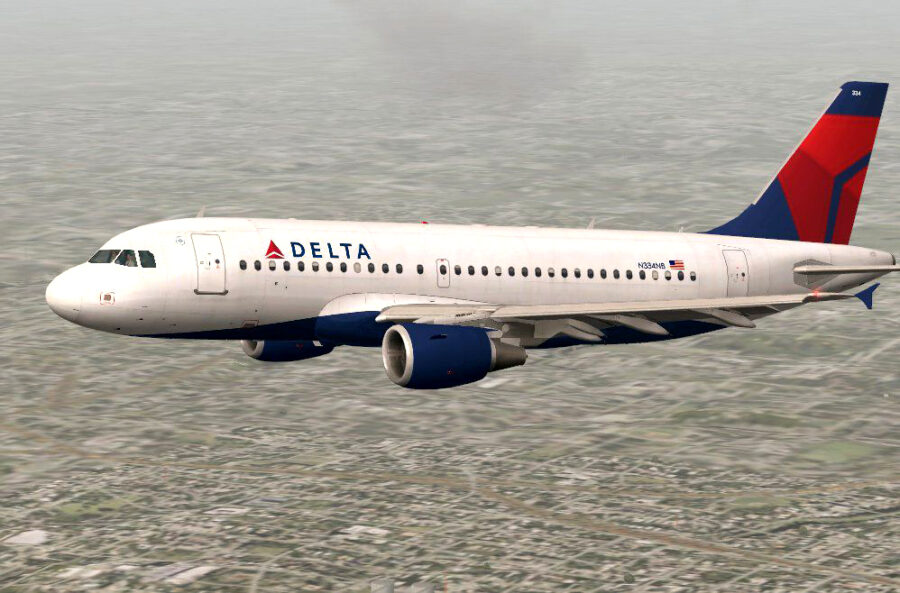 Your next chance to see one of these "central" solar eclipses happens on June 10th — not long from now — when a few dozen lucky "umbraphiles" will climb aboard Sky & Telescope's chartered jet to view a especially dramatic annular eclipse just after sunrise over southern Canada. And you can join them if you'll reserve your row now!
This annular eclipse tour couldn't be more timely. Although the path of annularity crosses Greenland and easternmost Siberia, getting there will be extremely difficult. Most eclipse-chasers are eyeing the track's path across eastern Canada, likewise challenging due to the region's remoteness. To make matters worse, the weather prospects there aren't great— and the Canadian government has prohibited entry into Canada for discretionary/optional travel by foreign nationals!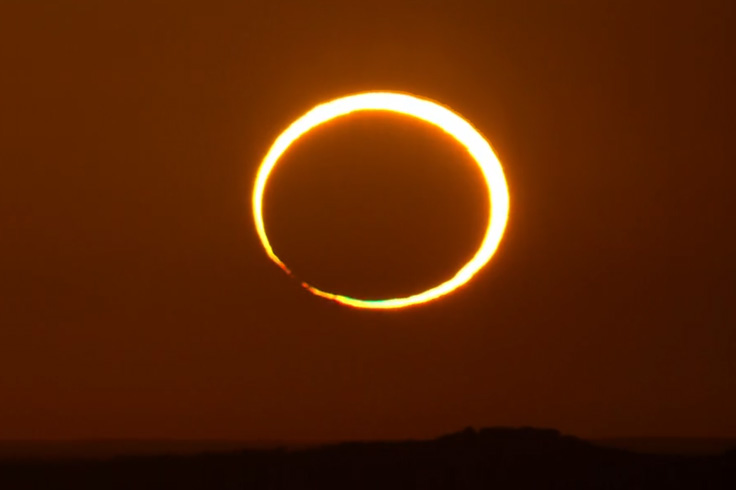 You won't have to worry about any of that on our chartered eclipse flight. You'll join the group at Minneapolis-St.Paul airport the night before the eclipse (June 9th), checking into your comfortable room at the InterContinental MSP Hotel before joining the rest of the group for dinner and a preflight briefing. You'll want to hit the pillow early, because our chartered Delta A319-100 aircraft departs the following morning at 3:15 a.m.! (Some good news: The hotel is connected directly to Delta's terminal.)
The 3-hour flight heads northeast along a carefully predetermined route calculated by Glenn Schneider, the unrivaled master of airborne eclipse viewing. The plane will swing onto its eclipse-viewing leg just after sunrise, with the Moon's silhouette already biting deeply into the Sun. You'll witness the entire annular portion of the eclipse, lasting a generous 4m 26s, along with the deep partial phases just before and afterward, before the plane begins its return to Minneapolis. Then enjoy breakfast at the hotel before returning to your home.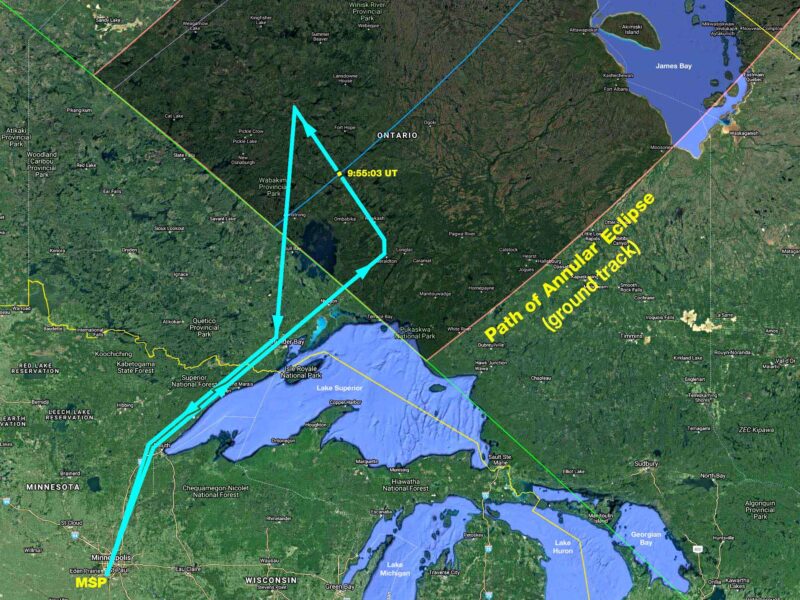 Viewing from Delta's A319-100 Aircraft
The Minneapolis-St. Paul airport (MSP) is a major hub for Delta Airlines, which makes it the logical choice for providing our chartered flight. As you can see below, the A319 has 23 rows of seats and a relatively small "wingtip fence". All eclipse viewing will be from the right (starboard) side of the aircraft, with the eclipsed Sun positioned a few degrees forward of a line directly out the window.
During our "annularity run," the Sun will appear 1.3° above the true (astronomical) horizon at mid-eclipse. However, at the plane's planned altitude of 38,000 feet, the apparent horizon will be depressed by 3.3°, and so the Sun will stand nearly 5° high in the early-morning sky — a breathtaking view! The plane's calculated location will be 50° 31' north, 87° 27' west, at mid-eclipse (9:54:04 Universal Time or 4:54:04 a.m. Central Daylight Time).
The plane offers 23 rows of seats, with three rows in First Class and three "Delta Comfort" rows (coach seating with extra leg room). You can get a good sense of the seating configuration in the graphics below.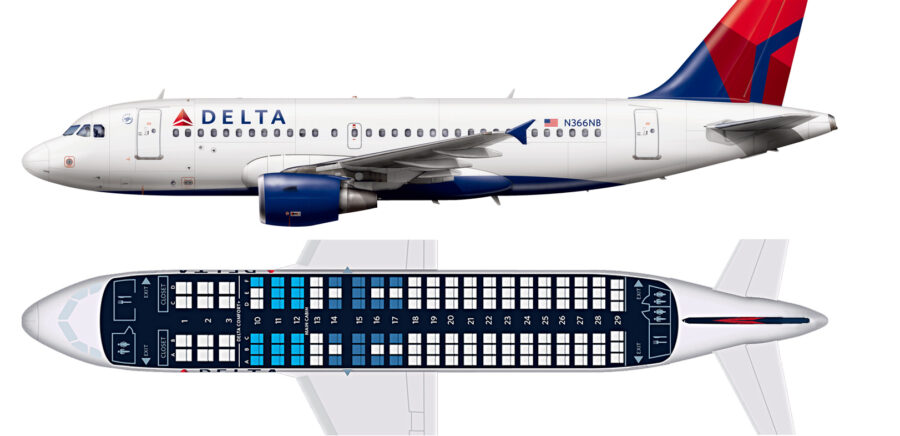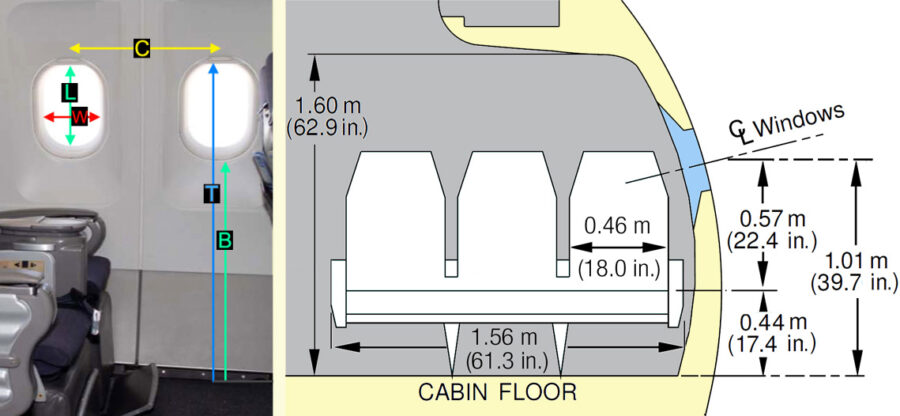 The spacing (pitch) of the standard coach rows is 30–31 inches, which should offer enough room for one or two people to have easy access to the window area. Sky & Telescope is limiting the flight's capacity to no more than two people per row. In fact, your reservation will entitle you to all the seats in your assigned row, on both sides of the center aisle — even though the eclipse will only be visible from the right (starboard) side of the aircraft.
An A319-100 has 33 windows on each side of the fuselage, so consequently some rows will have access to two windows to view the eclipsed Sun and some to just one. Moreover, some windows align so closely with the adjacent seat backs (which recline only slightly, if at all) that they won't be usable for eclipse viewing.
In most cases, there won't be enough floor space to set up a full-size camera tripod. Instead, consider attaching your camera to a compact tripod resting on the seat, a hand-held monopod, or a suction-cup mount (attached to the window) for your camera. Of course, you might prefer to simply enjoy the annular eclipse visually, and you will be provided with safe, approved eclipse-viewing glasses.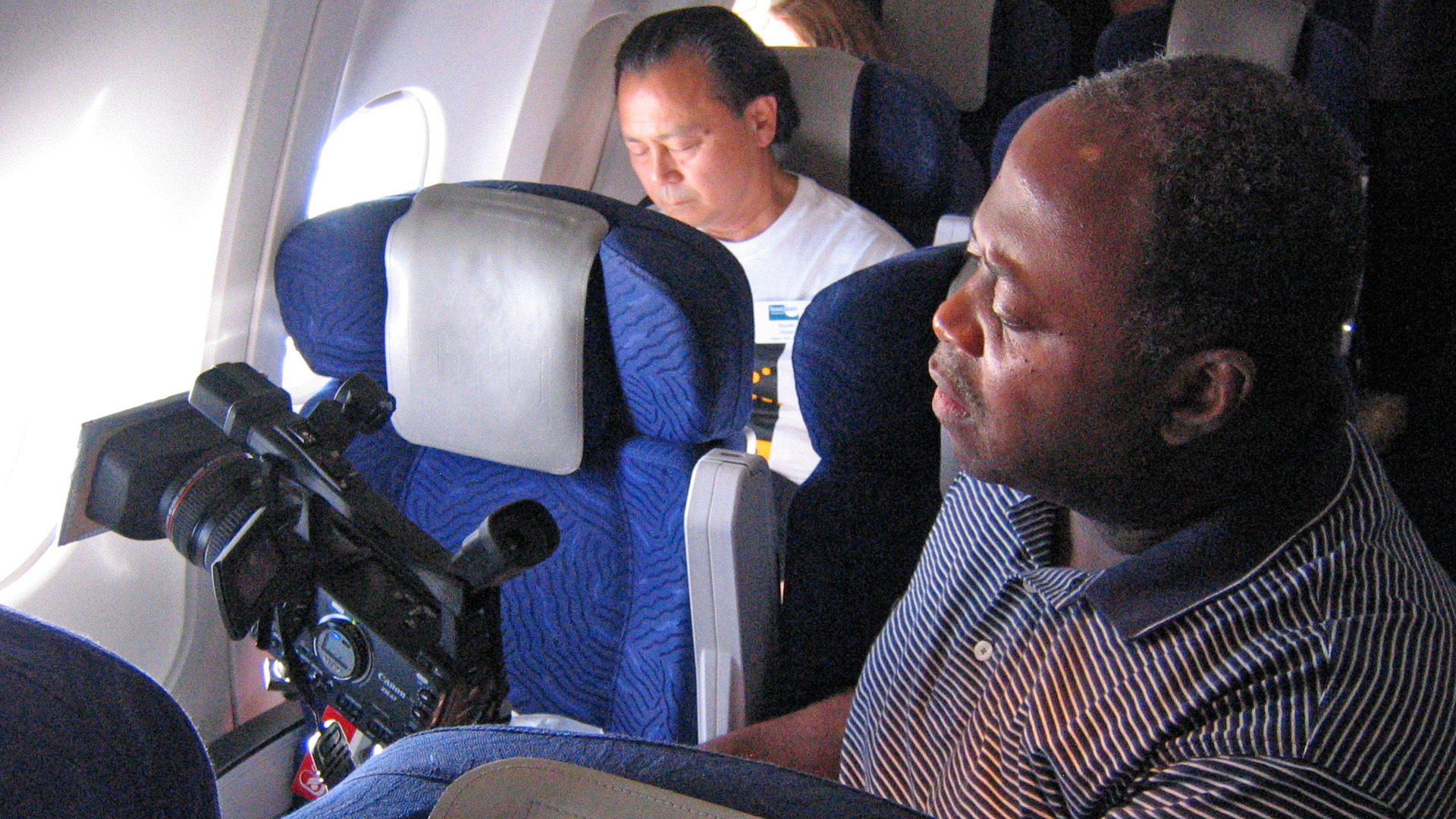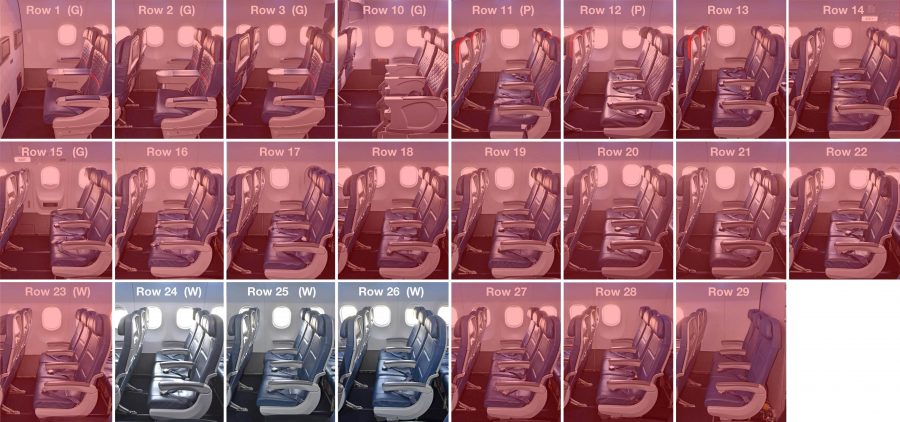 Choosing Your Seat
The graphic above shows the rows still available on this flight. Red tinting means either that the row has been reserved for other passengers or is not available for eclipse viewing. Note that "(G)" or "(P)" after the row number means it's a premium row that will cost extra to reserve; a "(W)" after the row number means that the plane's wingtip fence might be very close to the eclipsed Sun. (The pilots are planning to tilt the starboard wing down slightly during the eclipse-viewing portion of the flight so that direct interference from the wing will not be an issue; however, this in-flight wing adjustment cannot be guaranteed.)
You'll be able to select from among the remaining (untinted) rows after you have completed a reservation and paid your deposit. However, please note that your chosen row will not be guaranteed until you've paid in full for the flight and ground tour.
Finally, we will do our very best to let you witness the annular eclipse on June 10th. However, we cannot guarantee that there will be no cloud cover, that the plane will be in the planned position, or that there will not be another reason beyond our control that prevents viewing annularity.
But Glenn Schneider has successfully guided more than a dozen aircraft into the Moon's shadow over the years, and Sky & Telescope's editors themselves have four successful eclipse flights to their credit going back to 2003 (a flight over Antarctica that used an A340 jumbo jet). We have every confidence in our team, and we look forward to letting you gasp in awe at the "ring of fire" eclipse on June 10, 2021.
If you have any questions concerning the aircraft or flight logistics, please contact Kelly Beatty at [email protected].
Eclipse Flight Pricing (per person)
Shared row
Entire row
Standard row
$2,380
$4,300
Premium row (Row 11,12)

Sorry, sold out!

$2,745
$4,935
Gold row (Rows 1, 2, 3, 10, 15)

Sorry, sold out!

$3,100
$5,580
Note that the flight is priced by row, whether occupied by one or two participants. (So that everyone can enjoy the eclipse with a minimum of congestion, no more than two people can occupy a single row.) Note also that you must pay for an entire row when you register. If you want to share a row and want help finding a row-mate, do not register yet; instead, notify us that you are looking for someone to share a row.
To secure your space on our 2021 annular-eclipse flight, submit a reservation electronically using this form. Be sure to read the terms and conditions regarding this opportunity (listed below) before proceeding to the reservation page, as you'll need to agree to them before completing your reservation.
WHAT'S INCLUDED
Exclusively chartered eclipse flight aboard a Delta Airline Airbus A319-100 aircraft.
Accommodation on the night of June 9–10, 2021, at the InterContinental MSP Airport
Buffet group dinner with wine at the hotel on the June 9th
Breakfast at the hotel on June 10th (after the flight)
Sky & Telescope tour representative
All domestic airport departure taxes
Safe, approved viewing eclipse-viewing glasses
Pre-tour planning information and resources
WHAT'S NOT INCLUDED
Airfare to and from Minneapolis from your home
Room service and meals not specified in itinerary
Alcoholic beverages except as noted
Personal items such as laundry, email, and telephone calls
Private transfers or other transportation
Travel and medical insurance
Medical expenses incurred during tour
Pricing, Payments, and Terms
RESERVATIONS AND PAYMENT: A deposit of 50% per row and signed documents from each passenger (terms & conditions agreement; liability-release agreement) are required to secure your reservation. A reservation request can be submitted using the online registration form. The AAS accepts Visa, MasterCard, or American Express credit cards. Payment in full must accompany any reservation received after April 5, 2021. (For those who have reserved with a deposit, note that full payment is due by April 30, 2021.)
ROW ASSIGNMENT: Please note that when making a reservation, you are reserving an entire row on the flight, whether occupied by one or two persons. Rows on the eclipse flight will be assigned in the order that reservations and deposits are received. However, row assignments are not guaranteed until final payments are made.
If the charter flight is fully booked when your reservation is received, your payment will be returned within 7 days, or with your authorization, we can retain the deposit and place your name on a waiting list in case other passengers cancel their reservations. Even if you authorize us to put your name on a waiting list, we will notify you within 7 days that the charter flight is fully booked.
CANCELLATION AND REFUND: If you cancel your reservation, your right to receive a refund is limited, as set forth in the following schedule. All requests for cancellation and refunds must be sent to us in writing or by email; a telephone call or voicemail message is not sufficient. If your cancellation notice is received within 14 days of making your reservation or before April 5, 2021 (whichever comes first), you will receive a refund of any deposits you have paid, less an administrative fee of $1,500. If your notice is received more than 14 days after making your reservation or after April 5, 2021, you will forfeit any deposits you have paid and will receive no refund. However, if we are able to resell your seat(s), you will receive a refund of any deposits you have paid less an administrative fee of $25.
RESPONSIBILITY: AAS Sky Publishing LLC, as the principal charter operator, is responsible to you for arranging and providing all of the services and accommodations offered in connection with this charter flight, provided, however, that in the absence of negligence on our part, we are not responsible for personal injury or property damage caused by the air carrier, hotel, or other suppliers of any of the services being offered in connection with the charter flight.
AIRCRAFT: This flight will be performed by Delta Airlines aboard an A319-100 aircraft. The air carrier reserves the right to substitute equivalent or larger aircraft if necessary. If the substitute aircraft is not an A319 with seating identical to that of the original aircraft, we will make a best-effort reassignment of your seating in the replacement aircraft.
ECLIPSE-DAY WEATHER: Our chartered flight provides an optimal experience and opportunity to view the annular eclipse on June 10, 2021; however, because even in an aircraft, witnessing an eclipse can be weather dependent, there is always a chance that tour participants will not be able to view it or view it only for a short period of time. AAS Sky Publishing LLC makes no guarantees as to the viewing of the annular solar eclipse.
TOUR SIZE: This tour is limited to 44 participants (based upon two persons in every row aboard the aircraft).
BAGGAGE: No checked baggage will be allowed on the charter flight. Delta Airlines allows each passenger to bring aboard carry-on items that must fit easily in a Size Wise™ unit (approximate dimensions 22 × 14 × 9 inches) and must weigh less than 40 pounds. The air carrier's liability is limited to the actual value of your carry-on items but not more than $1,250 per passenger in total.
INSURANCE: We strongly recommend that you obtain trip cancellation, health, and accident insurance. This important, low-cost protection can save you money if you are forced to cancel or alter your trip. Most insurance plans need to be purchased within 14 days of paying the initial deposit in order to waive preexisting medical conditions as well as to purchase "Cancel for Any Reason" insurance.
COVID-19 REQUIREMENTS: You must agree to adhere to the following COVID-19 requirements in connection with the charter flight:
prior to boarding the flight, you must provide proof that you received, before May 27, 2021, a vaccine for COVID-19 authorized in your home country (either a single-dose vaccine or the second injection of a two-dose vaccine);
if you have not received a complete COVID-19 vaccination before May 27, 2021, then you must provide proof that you have a negative result from a polymerase chain reaction (PCR) test for COVID-19 taken within 72 hours of your departure from your home for this charter flight;
you agree to abide by and fulfill any COVID-19 quarantine requirements imposed by the United States or the State of Minnesota prior to or following the charter flight; and
you agree to wear a protective face mask while in the MSP airport and throughout the entire charter flight (except when eating or drinking) consistent with current CDC guidance and at all times when in the presence of members of our charter-flight group.
MAJOR CHANGES: We reserve the right to cancel the charter flight on or before May 1, 2021. If we must cancel the charter, we will notify you in writing or by email within 7 days of the cancellation, but in no event later than 30 days before the scheduled departure date. We have no right to cancel the charter less than 30 days before departure, except for circumstances that make it physically impossible to perform the charter trip. If that occurs, we will notify you as soon as possible. If the charter is cancelled, we will refund all recoverable costs to you within 14 days after cancellation.
DISCLAIMER: Every reasonable effort has been made to ensure the accuracy of information presented here. AAS Sky Publishing LLC is not responsible for errors in or damages resulting from use of the information contained herein. Information contained herein is subject to change.
RESPONSIBILITY: AAS Sky Publishing LLC and its employees act only as agents for the various independent suppliers and contractors providing transportation, hotel accommodations, restaurant, and other services connected with this tour. Such travel and services are subject to the terms and conditions under which such accommodations, services, and transportation are offered or provided; AAS Sky Publishing LLC and its respective employees, agents, representatives, and assigns accept no liability therefor. AAS Sky Publishing LLC assumes no liability for any injury, damage, loss, accident, delay, or other irregularity which may be caused by the defect of any aircraft or vehicle or the negligence or default of any company or person engaged in carrying out or performing any of the services involved. Additionally, responsibility is not accepted for losses, injury, damages or expenses of any kind due to sickness, epidemics, pandemics, weather, strikes, local laws, hostilities, wars, terrorist acts, acts of nature, quarantine, force majeure, animal or insect bites, or other such causes. All services and accommodations are subject to the laws of the country in which they are provided. AAS Sky Publishing LLC reserves the right to make changes in the published itinerary whenever, in their sole judgment, conditions warrant, or if they deem it necessary for the comfort, convenience, or safety of the tour participants. AAS Sky Publishing LLC shall not be deemed to be in breach of these terms and conditions or otherwise be liable to you, and shall not provide any refund, by reason of delay in performance, or by nonperformance, of any of our obligations hereunder to the extent that any such delay or non- performance is due to any force majeure event. A force majeure event, in relation to this tour, shall mean any circumstances beyond our control, including, but without limitation, to acts of God, explosion, flood, forceful wind, fire or accident, war or threat of war declared or undeclared, acts of terrorism, sabotage, insurrection, riots, strikes, civil disturbance, sickness, epidemics, pandemics, quarantines, government intervention or other unforeseeable events. Limitations on travel arising from the COVID-19 pandemic shall be considered a force majeure event. If this tour is affected by a force majeure event, AAS Sky Publishing LLC shall be entitled to, and may in its sole and absolute discretion, vary or cancel any itinerary or arrangement in relation to this trip. The right is also reserved to decline to accept or retain any person as a member of the tour or to substitute another qualified leader or special guest. Baggage and personal effects are the sole responsibility of the owners at all times. The price of the program is given in good faith based on current pricing and rates and is subject to change. Any exchange rate, security surcharge or fuel increases will be passed on to participants. AAS Sky Publishing LLC accepts no liability for any airline-cancellation penalty incurred by the purchase of a nonrefundable airline ticket. The air ticket when issued shall constitute the sole contract between the passenger and the airline concerned. As part of the consideration and right to participate in this tour, each participant will be asked to sign a liability release, an assumption of risk, and a hold-harmless agreement.
FOR MORE INFORMATION: For questions relating to the technical aspects of the eclipse flight, please contact Kelly Beatty ([email protected]). For questions regarding the registration process or payments, please send an email to [email protected] or call 202-328-2010, ×104 (Monday to Friday, 9:30 a.m. to 5:00 p.m. Eastern Daylight Time).