Go exploring "Down Under" on our 5-day cruise along the western coast of Australia to witness a total solar eclipse on April 20, 2023, combined with a 5-day tour of Sydney, world-class observatories, and beautiful Aussie landscapes.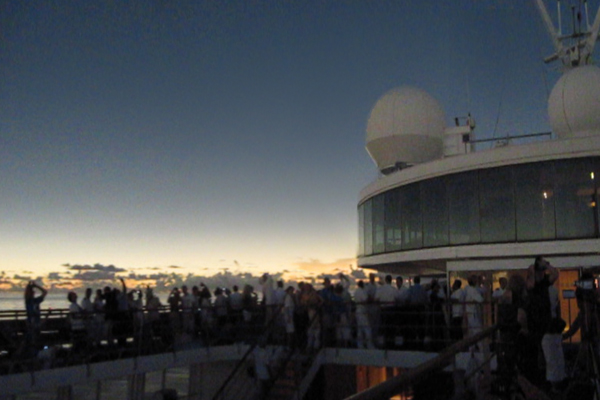 Eclipse-chasers have circled April 20, 2023, twice on their calendars, and with good reason. First, this one promises to be a relatively rare "hybrid eclipse." The Sun-Moon-Earth spacing provides an annular eclipse at both ends of the path (the points on Earth farthest from the Moon) and a brief total eclipse in the path's middle.
Second, it's also a track that covers tiny bits of land in just three countries — Australia, Timor-Leste, and Indonesia. And while this is a truly fascinating region of the world, getting to see totality will require some planning.
Fortunately, the eclipse experts at Sky & Telescope and Insight Cruises have done all the planning for you! Come along on our 5-day sailing, roundtrip from/to Freemantle (Perth), Australia, aboard P&O Cruises' Pacific Explorer on an Indian Ocean eclipse adventure April 17–22, 2023. You'll be joined by Greg Bryant, a seasoned eclipse-chaser and former editor of Australian Sky & Telescope.
It's a great opportunity to witness totality and to immerse yourself in Australia's rich astronomical and cultural heritage. Prior to the sailing, you can join an optional 5-day tour of New South Wales that lets you explore the vibrant city of Sydney, Australia's most famous astronomical facilities, and the amazing Blue Mountains (a UNESCO World Heritage Site).
Reserve now for best cabin selection, as this sailing is guaranteed to sell out!
---
P&O's Pacific Explorer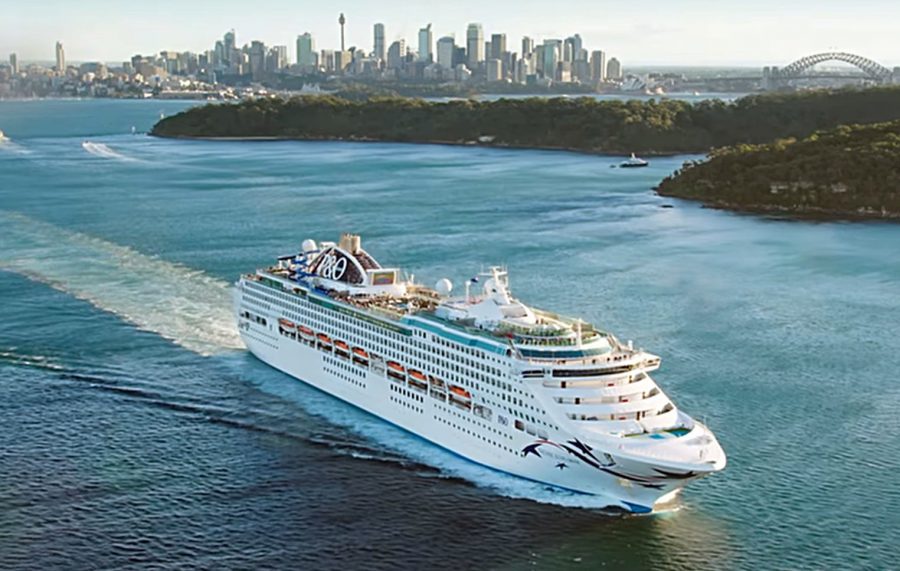 Princess & Orient Cruises has been sailing from Australia for more than 87 years, so it's the unrivaled expert when it comes to cruising "Down Under."
P&O Australia's flagship, Pacific Explorer, typically plies the waters off eastern Australia and New Zealand to call on ports like Auckland, Melbourne, Adelaide, Brisbane, and Cairns. But it will be repositioned to provide viewing of 2023's total solar eclipse for nearly 2,000 passengers. Click here to view the ship's deck plans.
Refurbished in 2020, Pacific Explorer now boasts two water slides, 12 great dining experiences, wide-ranging entertainment, and many other P&O signature features. Its stylish yet relaxed modern Australian interior designs makes cruising the relaxing, enjoyable experience that it should be.
Despite the obvious appeal of a total solar eclipse, this relatively short cruise translates into a very affordable experience. Pricing for interior cabins is just $1,499 (U.S. dollars) per person, based on double occupancy, and even the opulent penthouse suites are only $5,999 per person, again based on double occupancy.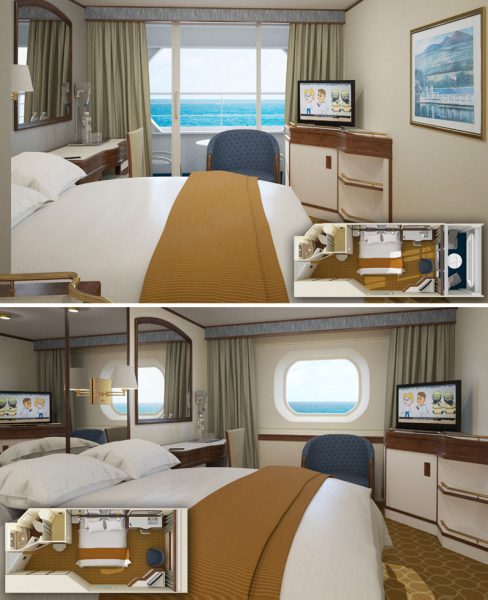 ---
Itinerary for S&T's 2023 Total-Eclipse Cruise

Sunday, April 16 — Arrival in Perth / Freemantle
For participants coming from North America, your flight from home departs on April 14th. Upon arrival in Perth on April 16th, set your clock and calendar to Australian Western Standard Time (AWST), which is 8 hours ahead of Universal Time.
You'll transfer to our hotel in the city to relax and perhaps catch up on lost sleep. Or go exploring on your own! Perth, the capital of Western Australia, sits where the Swan River meets the southwestern coast. Sandy beaches line its suburbs, and the huge, riverside Kings Park and Botanic Garden on Mount Eliza offer sweeping views of the city.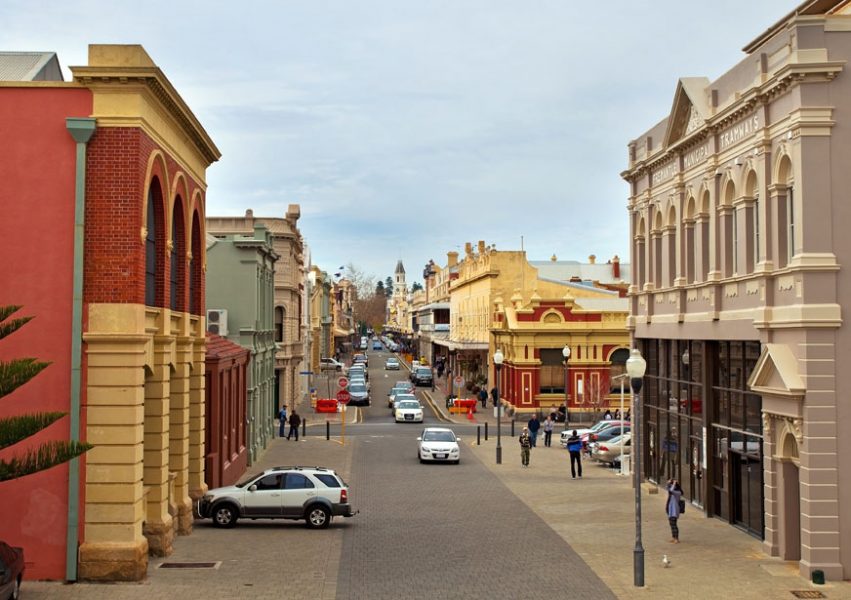 Freemantle, which serves as Perth's port, offers noteworthy Victorian- and Edwardian-era architecture, Indian Ocean breezes, and a great food and wine scene. The city was founded as an agricultural commerce center and played a major role in the convict and Australian Gold Rush periods. "Freo," as many locals call it, has only been an official city since 1929, and it burgeoned after serving as the largest submarine base in the Southern Hemisphere during WWII. You can speed your time-zone adjustment by strolling down the city's South Terrace (aka "Cappuccino Strip") and soaking in the bohemian vibe.
Shift mental gears and start your trip by joining us at Pre-cruise Cocktail Party! Take this opportunity to meet your fellow eclipse/cruise participants. The reception will be held in our hotel the night before the ship's departure. Premium beer, wines, and light hors d'oeuvres will be served. (optional event, $79).
Monday, April 17 — Embarkation from Freemantle
After a day of relaxation and exploration in Perth and Freemantle, in late afternoon you'll be transferred by bus from our hotel to the cruise terminal, where you'll board the Pacific Explorer and get settled in your cabin. Embarkation is at 9 p.m.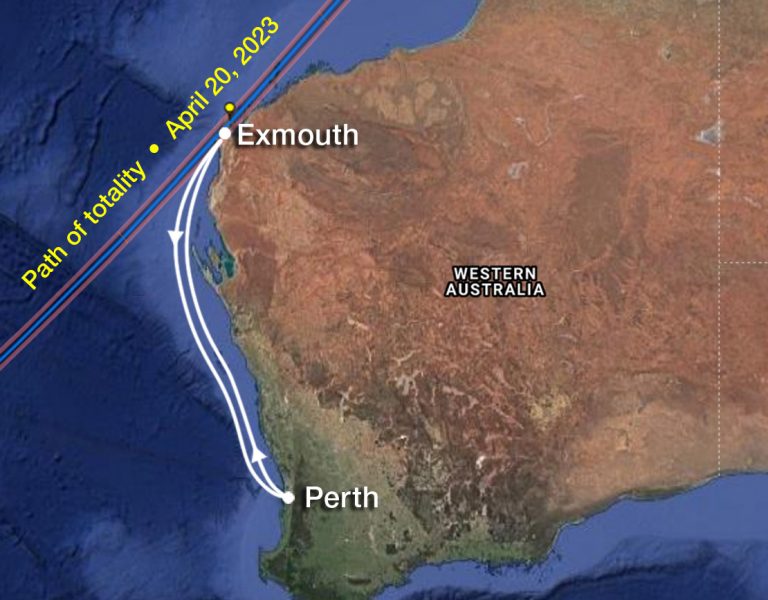 Tuesday-Wednesday, April 18-19 — At Sea
Our ship heads northward from Freemantle toward the path of totality, and we spend two days at sea getting there. Take advantage of this time to hear expert presentations by Greg Bryant, our resident astronomy expert, who'll explain what to expect before, during, and after totality.
Of course, this is leisure time too! The ship offers a wide range of entertainment and diversions, from water slides to lawn bowling. You'll find no shortage of things to do (or places to eat/drink) in an attractive, comfortable setting. As we near the town of Exmouth at the northwesternmost tip of Australia, we pass along the Ningaloo Coast and its protected reef and marine park — so keep an eye out for whale sharks!
Thursday, April 20 — Total Eclipse at Sea!
Today the captain will position the ship to provide the best views of totality. As the map below shows, this portion of the eclipse track offers an excellent probability (statistically speaking) for clear skies. But in the unlikely event that clouds should happen to loom nearby, our captain will maneuver the ship in search of a clearing.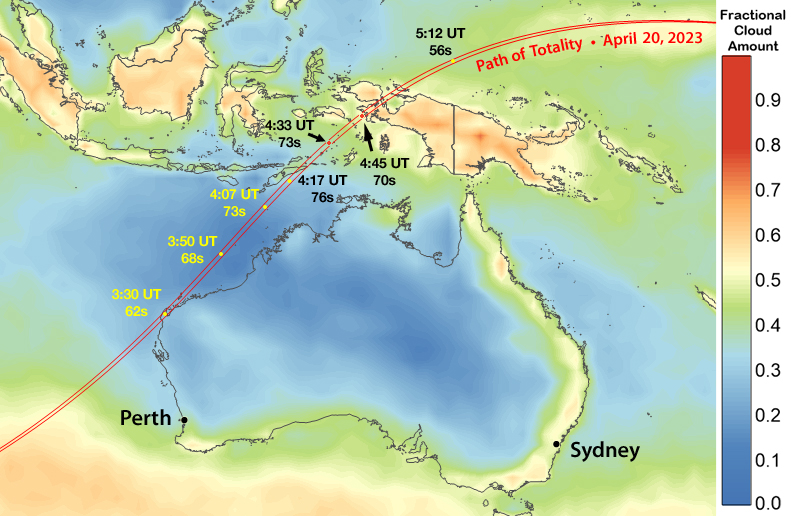 This eclipse begins as a "broken annular" roughly 2,000 miles southwest of our ship's position, far south in the Indian Ocean, but by the time the Moon's umbral shadow engulfs us it will be a scant 26 miles wide and racing northeastward at more than 1,700 miles per hour!
Even from our location along the path's centerline, totality will be relatively brief, about 62 seconds long. (Note that nowhere along the path does totality last longer than 76 seconds.) The first partial phases commence about 10 a.m. local time, and totality occurs 1½ hours later with the Sun more than halfway to overhead in the north-northeastern sky. (Don't forget that from our location in the Southern Hemisphere the Sun appears high in the north at midday!). Click on the map below to see the circumstances in more detail.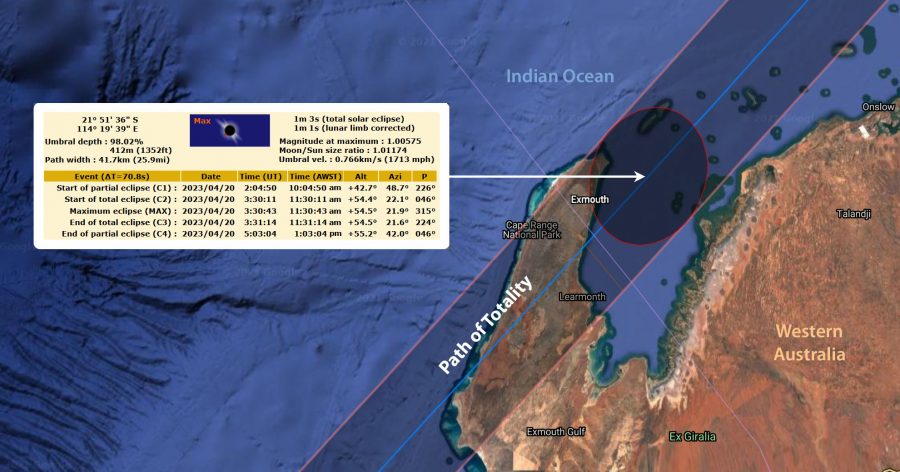 Friday, April 21 — At Sea
Soon after the eclipse, our ship turns southward to return to Freemantle. One final at-sea day offers a chance to share eclipse stories with shipmates. And of course you can take advantage of all the ship's amenities: entertainment, relaxation, and delicious cuisine.
Saturday, April 22 — Disembark in Freemantle / Fly Home
The Pacific Explorer pulls into Freemantle in early morning. After disembarking, you'll be transferred to Perth airport to begin your journey home.
---
Itinerary for Optional Pre-Cruise Tour of Sydney and Australian Observatories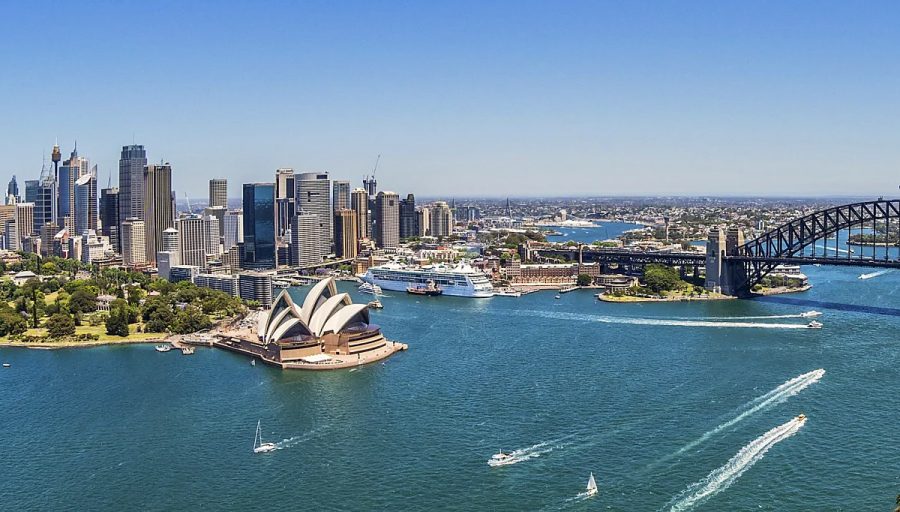 Wednesday, April 12 — Arrive in Sydney
For participants coming from North America, your flight from home departs on April 10th. After passing through customs at Sydney Airport, take a taxi to our hotel to meet up with our group. At noon we'll head out for a 2½-hour luncheon cruise of Sydney Harbor. This evening join us for a welcome reception.
Thursday, April 13 — Sydney
Today is yours to explore Sydney on your own. The idyllic lifestyle, friendly locals and drop-dead natural beauty of this approachable metropolis and its attractions explain why the country tops so many travelers' wish lists. The famed harbor is home to the iconic Sydney Opera House and the Sydney Harbor Bridge. In one day you can explore the harbor, get a behind-the-scenes tour of the opera house and climb the bridge, with time to spare for people-watching over a flat white at a waterfront café.
Friday, April 14 — Blue Mountains / Parkes
Today we head out to Australia's astronomy corridor. We'll traverse the Blue Mountains, a UNESCO World Heritage Site, and their unique mix of rainforest, blue mists, golden red sandstone escarpments, eucalyptus forest, and canyons. Our journey continues through picturesque farmland, arriving at the town of Parkes in late afternoon. We'll have a relaxing dinner and take an informal first look at Southern Hemisphere skies. Breakfast, lunch, and dinner provided.
Saturday, April 15 — Parkes Observatory / Coonabarabran
This morning we visit Parkes Observatory — better known as "The Dish". While we can't enter the observatory building itself, we'll receive exclusive briefings on the radio-astronomy work executed with its 64-meter parabolioidal dish, and learn about its unexpected role in the Apollo 11 lunar landing and other Apollo missions. Punctuated by the rumbling and whine that signals the movement of the dish, we'll wrap up our visit with lunch at The Dish Cafe and memorable photo ops.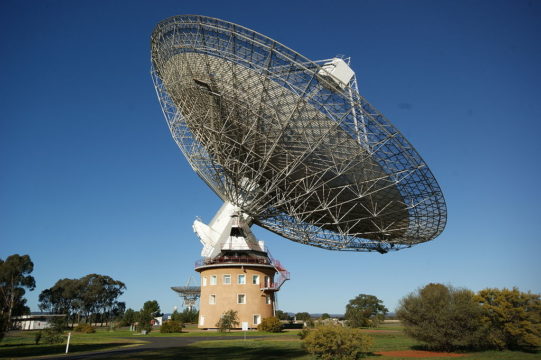 After lunch it's onward to Coonabarabran, Astronomy Capital of Australia. With luck, we'll see emus, and with a lot of luck, we may spy kangaroos and koalas in the landscape. In late afternoon, we'll check in to our classic country motel, and unwind over a poolside barbecue. After dinner, we'll go to a local commercial observatory, and beneath a canopy of stars, tour the southern sky with a Siding Spring pro-am astronomer. Breakfast, lunch, and dinner provided.
Sunday, April 16 — Siding Spring Observatory / Fly to Perth
Wake up to the sound of parrots and kookaburras. After breakfast, we'll head into Warrumbungle National Park. We head through eucalyptus forests, past the world's largest scale-model solar system to Siding Spring Observatory, Australia's premier optical astronomy center. View the impressive Anglo-Australian Telescope, an equatorially mounted reflector with a 3.9-meter primary mirror.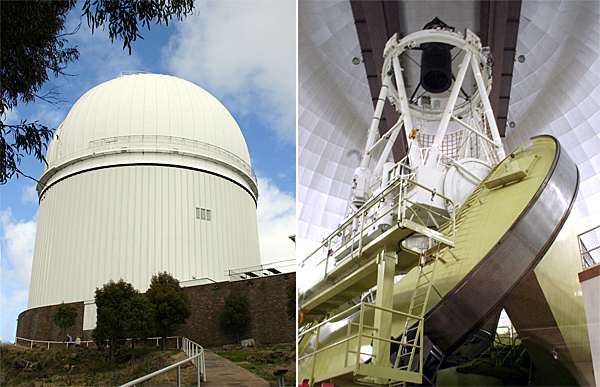 Then we travel to Tamworth to catch our transfer flight to Perth, where we'll board our cruise ship the next day. Breakfast, lunch, and dinner provided.
---
PRICING
| Cost per person (U.S. dollars) | Double | Single |
| --- | --- | --- |
| Eclipse Cruise (April 17-22, 2023) | $1,499 - $5,999 | $2,998 - $11,998 |
| Pre-Cruise Tour (April 12-16, 2023) | $4,650 | $5,400 |
Reserve your spot today! Register by completing this form.
PAYMENTS & TERMS
This tour is offered on behalf of AAS Sky Publishing LLC by Insight Cruises (CST 2065380-40). Note that the details presented below are only a portion of the full terms and conditions for this tour.
A $600 per-person deposit, plus a $150 per-person Non-refundable Booking Service Fee, along with a completed reservation form confirms your space. Full payment is due by October 1, 2022 ("Final Payment Date") — or at the time of booking if after October 1, 2022. We anticipate that no cabins will be available after October 1, 2022. Passengers are not confirmed on the manifest and cruise tickets are not issued until your account is paid in full.
An additional deposit of $500 per person is required for the pre-cruise Sydney tour.
A signed Insurance Waiver is due in the Insight Cruises office upon its issuance and no later than the Final Payment Date. Your booking is subject to cancellation unless we receive this document.
All cruise prices are subject to change until your booking is confirmed. Insight Cruises will notify you of any price change, and await your acceptance, before your reservation is considered "booked" and confirmed. Either party may cancel the booking within 14 days of the initial deposit, with no penalty, for any reason — so long as this cancellation is prior to 30 days prior to the Final Payment Date. (Note, however, that the Booking Service Fee is non-refundable.) We'll send you an email confirmation and an itemized receipt via within three (3) business days of your deposit.
You must electronically sign our DocuSign Certificate within 30 days of booking or your cruise reservation is subject to cancellation. If Insight Cruises does not have your electronic signature by the Final Payment Date, your cruise reservation will automatically be cancelled and cancellation penalties will be assessed. We will send you multiple reminders by email and by phone before your reservation is cancelled. Passengers typically receive cabin assignments upon booking but these cabin assignments are subject to change.
For more information, visit Insight Cruise's full website. You can also contact Insight Cruises by email (info@InsightCruises.com) or by calling 650-787-5665 (9 a.m. to 5 p.m. Pacific Time).