When the Moon and Sun align to create a "ring of fire" in the sky on October 14, 2023, you can witness this celestial spectacle under the clear blue skies of northern New Mexico from a posh, comfortable resort.
Sorry, this tour is currently sold out. But please send an email to [email protected] to get on the tour's waitlist.

On October 14, 2023, the Moon will pass directly in front of the Sun and create the first annular (ring) solar eclipse in more than 2 years. The path stretches across all of the Americas — North, Central, and South — so deciding where to go to see it best will be a challenge. Fortunately, Sky & Telescope's eclipse experts have figured it all out for you!
As it arcs across the American Southwest, the path of the Moon's antumbral shadow slices through New Mexico and directly over Santa Ana Pueblo, not far from Albuquerque. The historic home of the Tamaya Pueblo Indians, Santa Ana Pueblo will be the "home base" for a 6-day tour (October 11–16, 2023) that explores many of the amazing natural and astronomical attractions in this Land of Enchantment.
Journeying each day from our posh lodging at the 4-star Hyatt Regency Tamaya Resort & Spa, you'll explore the far-flung wonders of the Land of Enchantment. Delve into ancient astronomy at remote Chaco Culture National Historical Park, contemporary radio astronomy at the legendary Very Large Array, and the future of planetary science at Southwestern Indian Polytechnic Institute (SIPI), a community college with a Mars Yard-equipped robotics program. Along the way we'll visit Los Alamos, a vital site in the World War II Manhattan Project, drive through a volcanic caldera, and immerse ourselves in New Mexico's beautiful vistas.
So come along to see the first "ring of fire" solar eclipse since June 2021 in our ultra-comfy Hyatt Regency resort setting, and have an unforgettable Southwestern adventure!
Reserve now to take part in this exclusive eclipse adventure!
---
2023 New Mexico Annular Eclipse Tour Highlights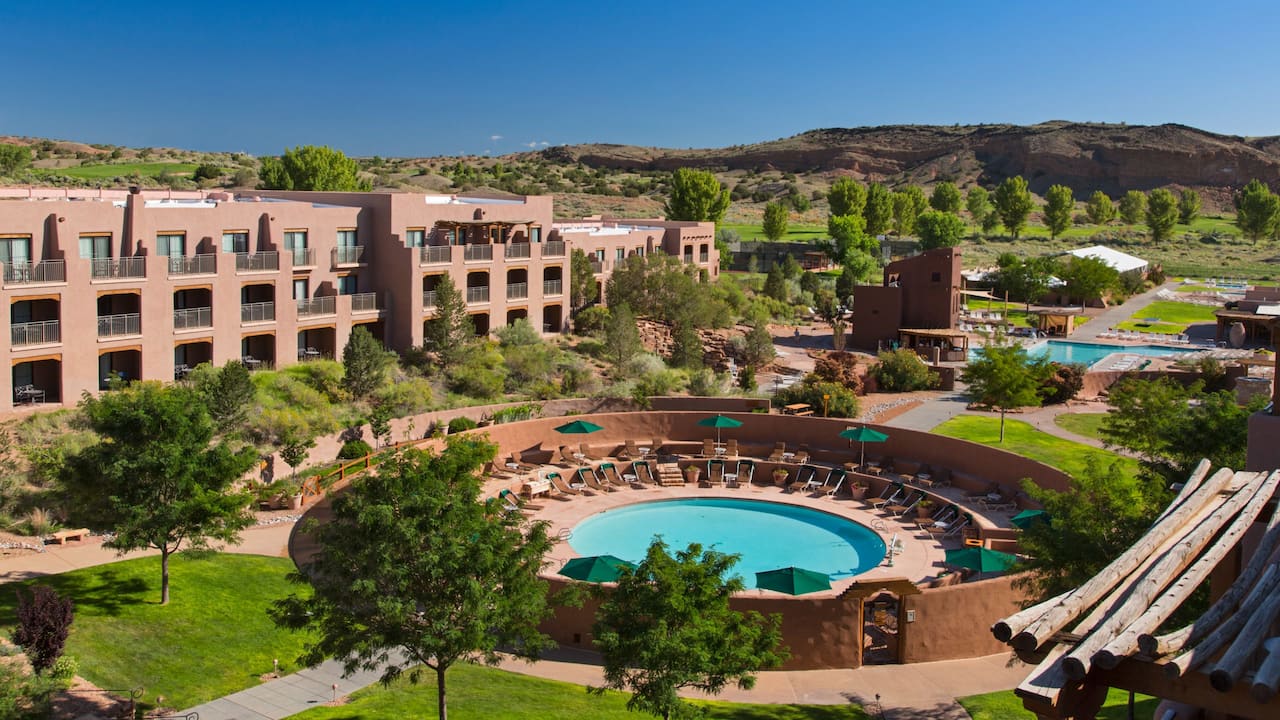 Hyatt Regency Tamaya Resort & Spa
Capitalize on modern comfort and luxury amenities at this secluded 4½-star resort that offers an unparalleled experience in the Land of Enchantment. Enjoy spectacular views; well-appointed accommodations; golf, tennis, horseback riding, and several other activities (all onsite); a large, fully-equipped spa and gym; and easy free-shuttle access to wonderful offsite restaurants and a casino. Whether you're seeking high culture, live music, fine dining, or an unforgettable event, you'll always find what you're looking for.
The resort also serves as our viewing location for the annular eclipse. Statistically, this location offers the greatest likelihood of clear skies anywhere along the path of annularity. From the resort, situated about 8 miles north of the eclipse centerline, you'll experience more than 4½ minutes of annularity — and you'll be just a short walk from your room.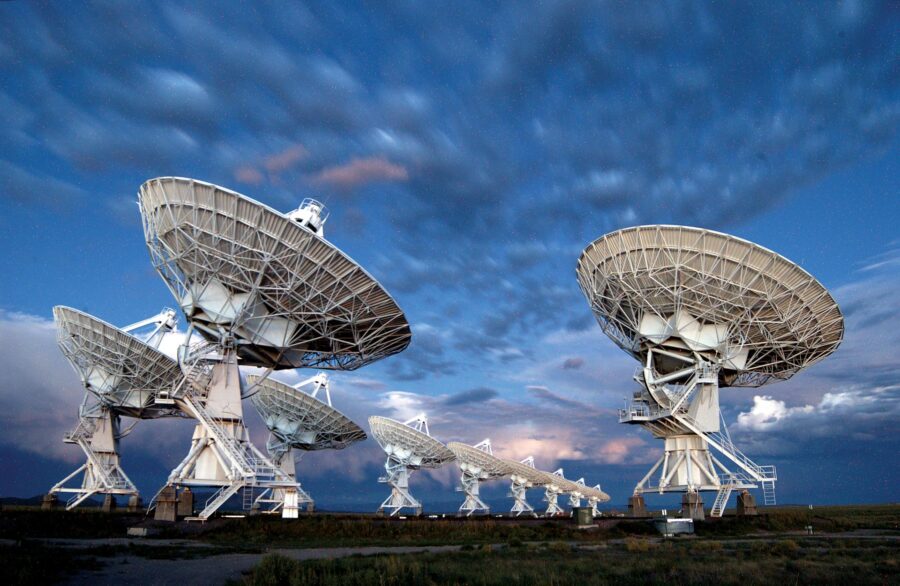 Karl G. Jansky Very Large Array
The Very Large Array is the most versatile, widely-used radio telescope in the world. It consists of 27 radio antennas in a Y-shaped configuration on the Plains of San Agustin 50 miles west of Socorro, New Mexico, and about a 2-hour drive south from Albuquerque. Each antenna is 82 feet (25 meters) in diameter, and radio energy collected by all the antennas is combined electronically to give the effective resolution of a single radio dish 22 miles (36 km) ) across, with the equivalent sensitivity of a dish 422 feet (130 meters) in diameter. Apart from its world-class observations, the VLA figured prominently in the 1997 science-fiction movie Contact.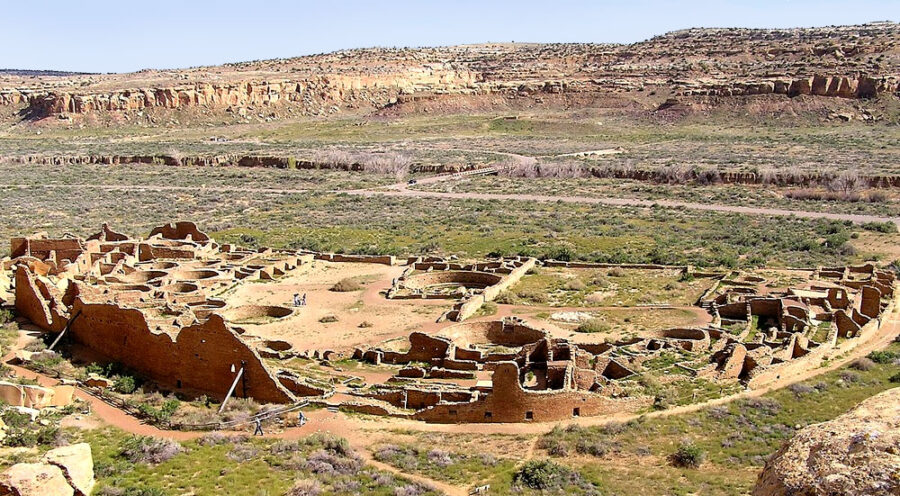 Chaco Culture National Historical Park
Located about 100 miles northwest of Albuquerque, Chaco Canyon is an amazing place. Its primary features are the massive buildings of the Ancestral Puebloan people, edifices that still testify to organizational and engineering abilities not seen anywhere else in the American Southwest. This canyon was central to the existence of thousands of people between 850 and 1250 A.D. Today the park offers guided tours, hiking/biking trails, evening campfire talks, and night-sky programs. In 2013, CCNHP was officially designated an International Dark Sky Park.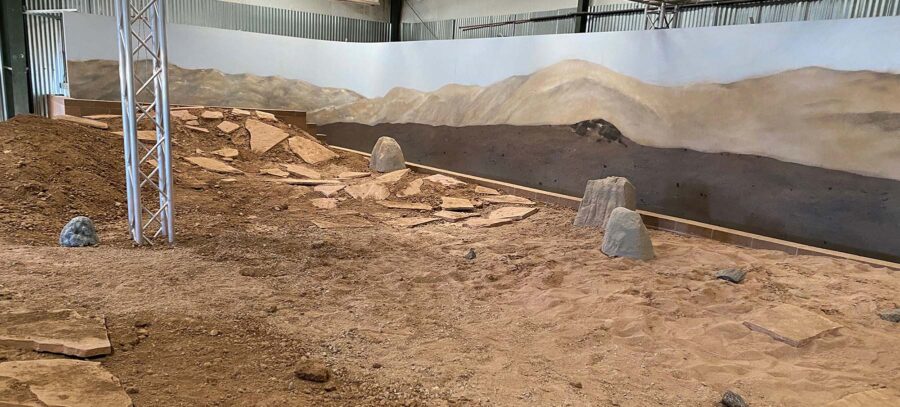 Southwestern Indian Polytechnic Institute
Here is one of the most inspiring educational centers you'll ever visit. In 1960, the All Indian Pueblo Council envisioned a school that would serve the Native American Community, and in 1971 the Institute officially opened its doors for classes. Today its student body consists of Native Americans from 16 states, some of whom are engaged in robotics research. These robots test their abilities in SIPI's "Mars Yard" (simulated Martian terrain, shown above).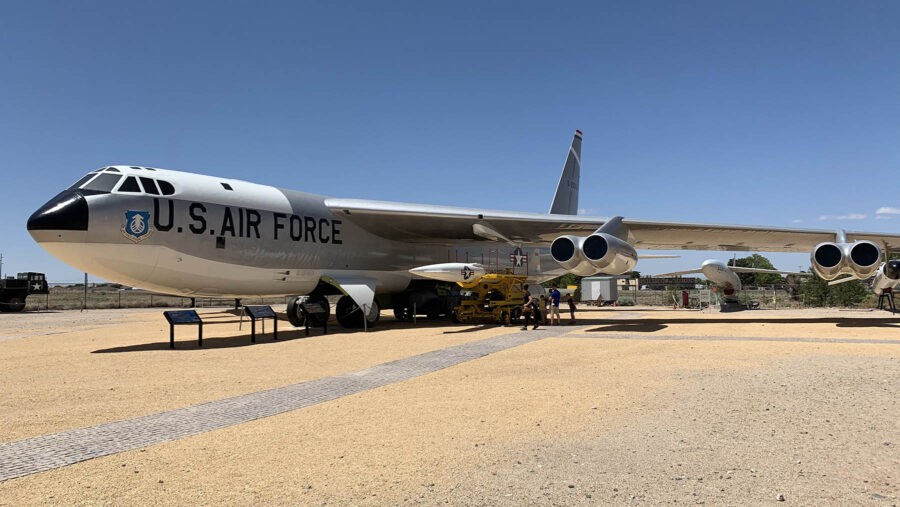 National Museum of Nuclear Science & History
If SIPI inspires you, then the "Nuclear Museum" in Albuquerque will astound you. Established in 1969, it's an intriguing place to learn the story of the Atomic Age, from early research of nuclear development through today's peaceful uses of nuclear technology. The museum strives to present, through permanent and changing exhibits and displays, the diverse applications of nuclear science in the past, present and future along with the stories of the field's pioneers.
---
Itinerary for 2023 New Mexico Annular Eclipse Tour

| Date | Itinerary at a Glance | Accommodation | Meals |
| --- | --- | --- | --- |
| Wednesday, Oct. 11 | Arrive in Albuquerque | Hyatt Tamaya Resort | D |
| Thursday, Oct. 12 | VLA & Mineral Museum | Hyatt Tamaya Resort | B, L |
| Friday, Oct. 13 | SIPI & Nuclear Museum | Hyatt Tamaya Resort | B, L |
| Saturday, Oct. 14 | Eclipse & Los Alamos | Hyatt Tamaya Resort | B, L, D |
| Sunday, Oct. 15 | Chaco Canyon | Hyatt Tamaya Resort | B, L, D |
| Monday, Oct. 16 | Depart for home* | — | — |
* or you can arrange to extend your stay with a visit to beautiful Santa Fe
Day 1, October 11 — Arrival in Albuquerque
Arrive in Albuquerque and head up to our hotel, the Hyatt Regency Tamaya Resort & Spa, 17 miles north of the city in Santa Ana Pueblo. It's time to exhale (slowly, as we're at an altitude of 5,200 feet) and settle in to the comfort of a beautiful environment that showcases traditional design and customs in a modern setting.
Day 2, October 12 — Very Large Array & Mineral Museum
Zipping down the highway we visit the Karl G. Jansky Very Large Array (VLA) of radio telescopes, in the desert west of Socorro. We'll survey the sprawling site, and drive back to Socorro for a lunch of ranch house cuisine. This afternoon we'll check out the tremendous mineral and nifty meteorite collection at the Mineral Museum at New Mexico Tech. Then it's back to Santa Ana Pueblo to catch Sandia Mountain turning pink in the sunset.
Day 3, October 13 — National Nuclear Museum & SIPI
Start the day with a panoramic look at America's engagement in the Atomic Age at the National Museum of Nuclear Science and History in Albuquerque. Medical, military, and other uses of nuclear science are detailed through wide-ranging exhibits and artifacts. Primary research, popular culture and applied science all shape your experience at the NMNSH.
After lunch in Albuquerque, we'll visit Southwestern Indian Polytechnic Institute (SIPI), where we'll meet the students and professors involved in NASA-related robotics research for planetary exploration. We'll check out the labs where the robots are designed. Then we'll stroll across campus and inspect SIPI's "Mars Yard" and the projects still under wraps at "Area 125".
Day 4, October 14 — Annular Eclipse & Los Alamos
Eclipse Morning finds us arrayed across our resort's lawns and terraces, steps away from the comfortable seats, air conditioning, and cold beverages of the Hyatt mothership. Here are the circumstances from our location:
| Event | Universal Time | Local time | Sun's alt. | Sun's azim. |
| --- | --- | --- | --- | --- |
| Start of partial eclipse (C1) | 15:13:12 | 9:13:12 a.m. | 23° | 119° |
| Start of annular eclipse (C2) | 16:34:30 | 10:34:30 a.m. | 36° | 136° |
| Eclipse midpoint | 16:36:53 | 10:36:53 a.m. | 36° | 137° |
| End of annular eclipse (C3) | 16:39:16 | 10:39:16 a.m. | 36° | 138° |
| End of partial eclipse (C4) | 18:09:17 | 12:09:17 p.m. | 45° | 165° |
Data courtesy Fred Espenak (eclipsewise.com)
Once we absorb the celestial spectacle, we'll have a simple lunch before traveling north, our destination Los Alamos. Get a glimpse of 1940s life at a secret Manhattan Project location. We'll take a walking tour of historic Bathtub Row and get the scoop on behind-the-scenes intrigue from Los Alamos historians, reflecting on the era. Our drive back to the Hyatt takes us through Valles Caldera National Preserve and the striking vermilion world of Jemez Canyon. Back at the Hyatt we'll celebrate our eclipse experience.
Day 5, October 15 — Chaco Culture National Historical Park
Our adventure rolls on with a trip to Chaco Culture National Historical Park. We'll take a long journey (3 hours) into northwestern New Mexico to visit Chaco, set in a remote corner of the Navajo Nation. Today the roads to Chaco are paved, but it remains a rustic and austere site. Chaco's fabulous stone buildings are the draw, precisely constructed, precisely set in the topography according to Sun and solstice. We hope your memories of Chaco, built without metal tools more than a millennium ago to salute the Sun and seasons, are a fitting souvenir of your eclipse adventure.
Day 6, October 16 — Depart for Home
After breakfast, you're ready to begin your journey home.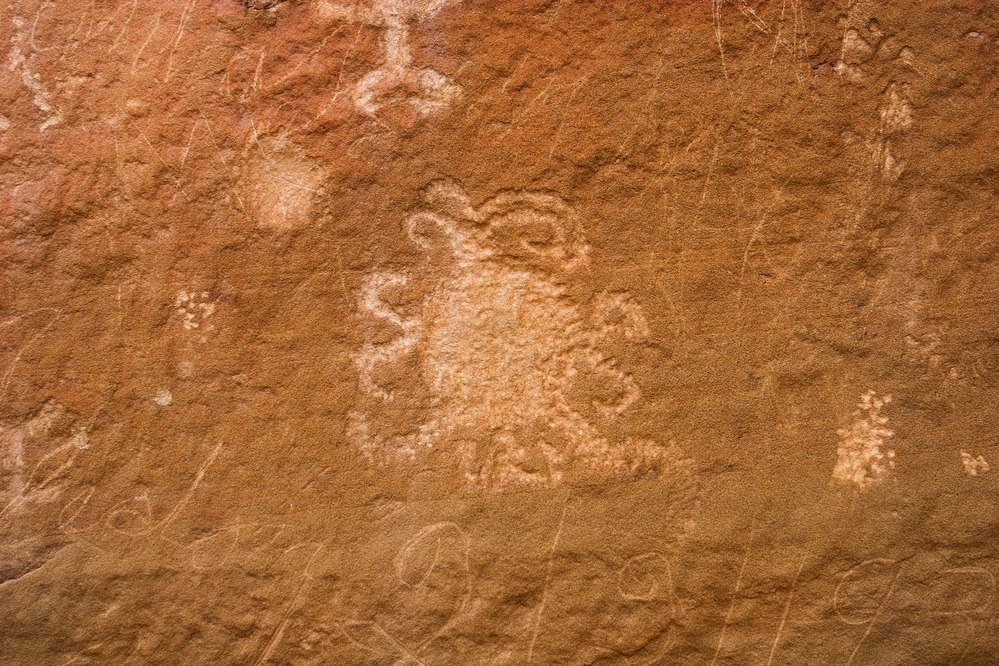 ---
WHAT'S INCLUDED
Five (5) nights in our 4½-star resort hotel.
Eleven (11) meals: five (5) breakfasts (in the restaurant), four (4) lunches, and two (2) dinners (both of which proceeded by a cocktail party). The meals are provided only at the location of the days' events.
WiFi internet access in our hotel.
Two bottles of water provided each night.
Services of professional tour managers and guides
Sky & Telescope astronomy director
All land transportation between our hotel and the places we visit/tour.
Free shuttle transfer to/from nearby fine-dining restaurants.
Entrance fees to all sites (as listed on the itinerary).
WHAT'S NOT INCLUDED
Any/all nonrefundable Service Fees including the $150 per person Booking Service Fee.
Tour leader gratuities ($50 per person).
Transfers to/from the Hyatt Tamaya Resort from the Albuquerque airport (a taxi or ride service will cost around $60 each way).
Airfare between your home and Albuquerque.
Meals and activities not specifically included in the tour.
Wines and liquors, mineral waters, and food and beverages not on the regular menu of included meals.
Accident, baggage, trip-cancellation, and trip-interruption insurance (details for obtaining this optional coverage will be provided with confirmation material).
Items of a person nature, including the spa in the hotel, laundry services, etc.
PRICING, PAYMENT, & TERMS
| Cost per person (U.S. dollars) | Double | Single |
| --- | --- | --- |
| 2023 New Mexico Annular Eclipse Tour | $3,450–$4,050* | $4,225–$4,825* |
* Tour price varies depending on the choice of accommodation at the Hyatt Tamaya Resort
Reserve your spot today! Register by completing this form.
This tour is offered on behalf of AAS Sky Publishing LLC by Insight Cruises (CST 2065380-40). Note that the details presented below are only a portion of the full terms and conditions for this tour.
A $500 per-person deposit, plus a $150 per-person nonrefundable Booking Service Fee, along with a completed reservation form confirms your space. A second advance payment of $500 per person is due October 1, 2022. (If you book after October 1, 2022, your initial deposit will be $1,000.) Combined, these two $500 payments ($1,000 total) represent your "Deposit". The balance is due ("Final Payment date") on July 1, 2023.
A signed Insurance Waiver is due in the Insight Cruises office upon its issuance and no later than the Final Payment Date. Your booking is subject to cancellation unless we receive this document.
All prices are subject to change until your booking is confirmed. Insight Cruises will notify you of any price change, and await your acceptance, before your reservation is considered "booked" and confirmed. Either party may cancel the booking within 14 days of the initial deposit, with no penalty, for any reason — so long as this cancellation is prior to 30 days prior to the Final Payment Date. (Note, however, that the Booking Service Fee is nonrefundable.) Insight Cruises will send you an email confirmation and an itemized receipt via email within three (3) business days of your deposit.
You must electronically sign our DocuSign Certificate accepting the full terms and conditions for this tour within 30 days of booking or your reservation is subject to cancellation. If Insight Cruises does not have your electronic signature by the Final Payment Date, your reservation will automatically be cancelled, and cancellation penalties will be assessed. We will send you multiple reminders by email and by phone before your reservation is cancelled. Passengers typically receive cabin assignments upon booking but these cabin assignments are subject to change.
For more information, visit Insight Cruise's full website for this tour. You can also contact Insight Cruises by email ([email protected]) or by calling 650-787-5665 (9 a.m. to 5 p.m. Pacific Time).