Sky & Telescope is offering two stellar opportunities to witness the March 2016 and August 2017 total solar eclipses. Whether or not you you are a veteran eclipse watcher, these two very different eclipse tours will be memorable experiences that you won't want to miss.
We have teamed up with one of our long-standing travel partners, Insight Cruises, to lead eclipse tours for both events. Insight Cruises has 15 years of experience producing group educational tours both at sea and on land.
These eclipse tours will offer not only a chance to see one of nature's grandest spectacles, but they also include exciting destinations and a lineup of world-class science speakers.
The March 9, 2016 eclipse expedition takes us to Indonesia. To improve the odds of a favorable view of the eclipse, we're conducting a cruise aboard the Holland America Line (HAL) ms Volendam. The maneuverability at sea will give us a good chance of seeing the eclipse through minimal clouds. In addition, Insight Cruises has briefed HAL on what conditions astronomy buffs might consider ideal, their potential expectations of an eclipse viewing situation, and the measures they might use to assess their eclipse experience. Along with this background, the company has provided information from climatologist Jay Anderson, map and eclipse data from amateur astronomer Xavier Jubier and NASA, and historical weather studies to optimize our chances of a spectacular experience.
The cruise will start and end in the great Asian port city of Singapore. We'll visit the ports of Jakarta, Borobudur, Bali, and Komodo, and will view the eclipse from the Makassar strait. The full cruise is 16 days, but you can also join the group after the Singapore departure and leave the cruise early, in Bali, spending as few as 9 days onboard.
While at sea, Sky & Telescope is offering an optional program of presentations on contemporary astronomy, near-earth objects, planetary science, and eclipses. While on land, explore Indonesia's cuisines, cultures, and diverse terrain.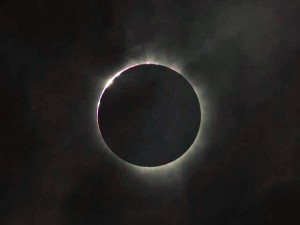 We're also offering a land tour for the great American eclipse of August 21, 2017, with a base in Nashville, Tennessee. We plan to view the eclipse near the point of longest duration near Hopkinsville, Kentucky. After examining historical weather data for the Kentucky/Tennessee/Missouri region and other potential sites, as well as weighing the likelihood of clear skies, maneuverability, remoteness, and cultural attractions, Insight Cruises has determined that the best bet is to begin in Huntsville, Alabama, and proceed to Nashville. (You can also join us in Nashville if you choose.)
In Huntsville, we'll visit the U.S. Space & Rocket Center. The group moves onward to Nashville, where leading up to eclipse day the Sky & Telescope group will visit Jack Daniel's Distillery in Lynchburg, Tennessee, and tour the Stones River National Battlefield. We'll view the eclipse from the Hopkinsville, Kentucky region, where the group will have good viewing prospects in a site with all the things you need on a hot summer day: food and beverages (included), shade, and indoor bathrooms. Sky & Telescope's viewing site also provides maneuverability to drive to alternative sites should weather require. (Check out our 2017 eclipse preview blog for information about the eclipse itself.)
Find full details for the March 2016 eclipse at http://www.insightcruises.com/events/st07/. Evolving details for the 2017 Great American Eclipse in Nashville are at http://www.insightcruises.com/events/st08/. You can also call InSight Cruises at 650-787-5665 or email CEO Neil Bauman at info@InsightCruises.com for more information on these exciting eclipse tours!
We hope you can join us on these expeditions!