Mars Landings, Then & Now: The Risks and Rewards of Exploring the Red Planet
History proves that the exploration of Mars isn't easy. Of 16 spacecraft that have attempted to reach Mars' surface, only 7 succeeded. What with the Insight mission on the docket for a 2016 launch and planning underway fo the Mars 2020 Rover, let's take a look at the spectacular successes — such as Opportunity's long haul and Curiosity's treasure-filled trek — and some equally spectacular failures. Was Mars once green and lush? Could it ever have hosted life? Is water flowing on Mars today? The Red Planet has long been a source of science fiction, but it's scientific reality that has motivated more than a dozen Mars spacecraft on their journey through the solar system to find out facts about Mars. In this eBook, you'll learn all about Mars as you discover what became of their journeys.
When was the first Mars landing?
What happened to the lost Mars 3 probe?
Did Viking 1 find evidence for life on Mars?
Did Beagle 2's "mole" inch across the Red Planet's surface?
Which Mars rover covered more than a marathon's distance?
What does the future hold for Mars landers and Mars rovers?
Enter your email to join the Sky and Telescope newsletter and download your FREE eBook.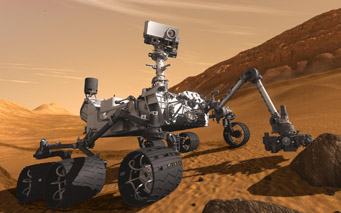 ---
Find Out Which Mars Missions Made It — And Which Didn't
From Mars 2, 3, and 96 to Viking 1 and 2 to Spirit, Opportunity, and Curiosity, humanity has sent more than a dozen spacecraft on the long, perilous journey to the Red Planet. Some Mars missions were doomed from the start, while others unfolded perfectly only to end in mysterious failure. But the successful few revealed a store of riches. Phoenix saw water ice, Opportunity spotted Martian "blueberries," and Curiosity will soon be climbing Mount Sharp in search of Martian history.

---
Subscribe to the Sky & Telescope e-newsletter to Download this Free PDF
As a special thank you for downloading this free eBook, we'll welcome you to the Sky & Telescope family. This includes:
A free newsletter from Sky & Telescope filled with the latest astronomy and observing news.
Special offers on ShopatSky products any enthusiast would love.
Simply enter your email to get it today:
[form id="255440183"]