Move over 46P/Wirtanen, it's time for the Geminids, the richest meteor shower of the year.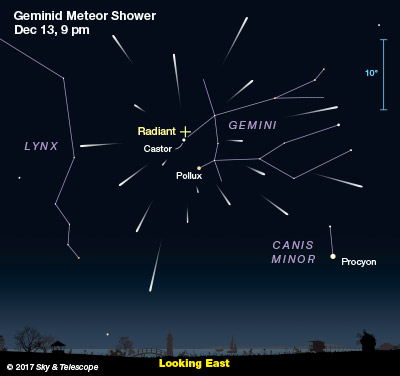 That's all it takes — just an hour. Then don't be surprised if you linger longer. I always do. Thursday night December 13–14 marks the peak of the annual Geminid meteor shower, when bits and pieces of the asteroid 3200 Phaethon speed into atmosphere at 127,000 kilometers per hour, etching the sky with fiery trails of glowing plasma.
In part because of cold weather, the Geminids don't get the attention of the Perseids, which occur during the more pleasant month of August. But it's the richer of the two showers and the richest of the year with a zenithal hourly rate (ZHR) of 120 meteors an hour. Just remember that ZHR is an idealized number based on the number of meteors one would see if the radiant were overhead in a very dark sky. Most of us will see closer to a third that number or less, if you're watching from a larger city.
I live in a moderately dark area with significant light pollution to the south-southwest. If I don't travel to darker skies, I typically spot between 30-40 Geminids per hour without interference from the Moon. No complaints here. That's plenty for a happy night.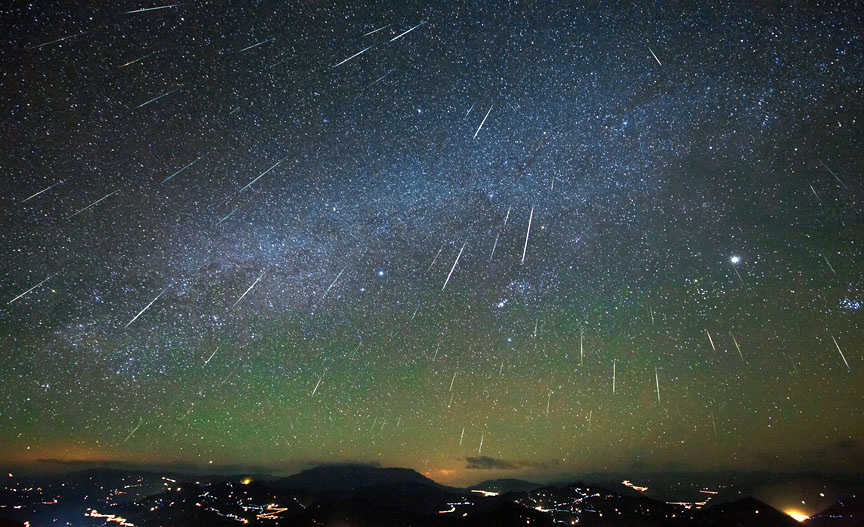 If you're stuck in a bright location and want to see as many meteors as possible, find the closest dark skies by zooming in to your location on the Light Pollution Map. Then, search the surrounding region for pockets of darkness. The color coding and highway overlays make it easy to know what direction to go.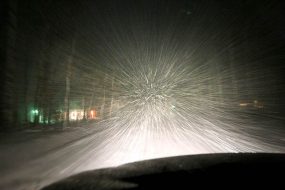 This year's Geminids should provide an excellent show because the Moon won't be throwing light about. On the night of maximum, it will be 6 days old and set around 10:30 p.m. local time, just about the time the shower kicks into gear. Don't worry about starting a little earlier, especially if you have kids. The shower radiant, or point in the sky from which the meteors appear to stream, will be nearly 30° (three fists) up in the east around 9 p.m. local time. That's high enough for a modest showing of Geminids before the nightly news.
Dress warmly and tuck into a reclining lawn chair under a wool blanket with the Moon to your back . . . then watch and wait. Early evening skywatchers are sometimes treated to Earthgrazers — slow, long-lasting meteors that angle up from the eastern horizon. As Gemini rises, Earth is just beginning to turn into the shower, giving us a sidelong perspective on any incoming Geminids. We see them skim the top of the atmosphere where the air is thinner, so they burn more slowly. Once the radiant climbs higher, meteors strike the atmosphere more directly and cut shorter, quicker paths across the sky. Earthgrazers are a spectacle to themselves because they can last for many seconds.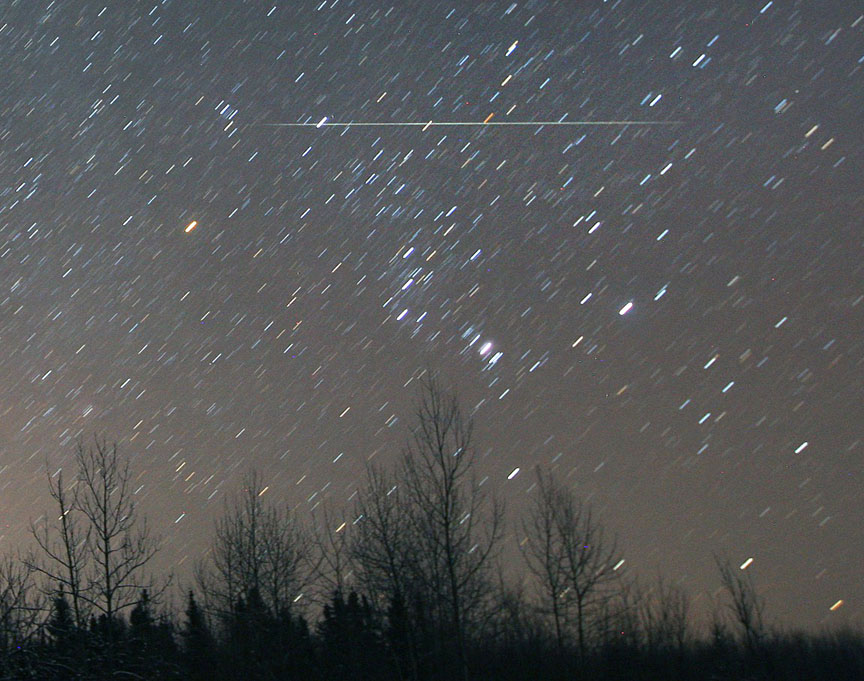 Geminids typically arrive singly, but not always. I've seen two at a time or flurries of one a minute followed by no meteors at all for several minutes. For whatever reason, those gaps always feel like eternity. It's as if the shower's has suddenly run out of steam. But then a fireball comes streaking across Orion and you're back in business! During slow spells, you can brush up on your constellations (how many of you can say you've really seen Monoceros?), follow the contours of the winter Milky Way, check in on Comet 46P/Wirtanen, or simply soak up the stars.
The radiant culminates high in the southern sky at  2 a.m. local time and remains well placed until around 5 a.m., the time slot when the maximum number of meteors may be seen.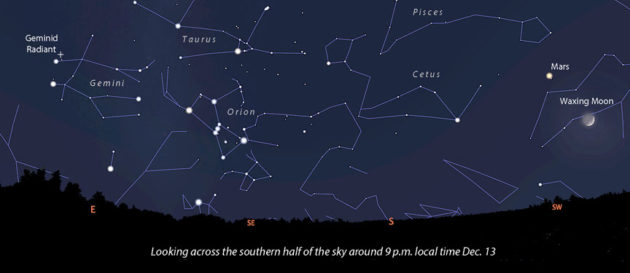 So you've got choices. You can watch early under a bit of moonlight and call it a night. Or if you're feeling more adventurous, get up around two o'clock when the Moon is absent and meteor counts are best. I often split the difference, spending an hour in the evening catching early birds and an hour or two around 2 a.m. when the shower's running hot. No matter when you start your meteor vigil, there's no preferred direction to look. Geminids can appear anywhere in the sky. The one thing they have in common is that all point back to the radiant near the star Castor in Gemini. Those that don't are either sporadic meteors or members of minor, overlapping showers. That said, I like to face to the south or southeast if for no other reason than to have my favorite constellation, Orion, the Hunter, in view.
While the peak is expected early Friday morning the 14th, don't let that stop you from starting to look for Geminids anytime this week. If you run into clouds Thursday, the shower will still be active Friday evening, though with reduced numbers. If you have a digital camera able to do time exposures, try a little photography. You'll need a tripod and a medium-wide angle lens. To avoid dew or frost from clouding the lens, rubber-band a pair of disposable hand warmers around the top and bottom of the lens barrel. Check out our How to Photograph a Meteor Shower guide for more tips.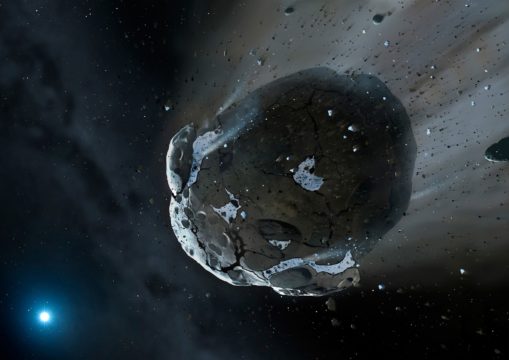 What makes the Geminids a bit odd is their parent. Most showers stem from icy-dusty debris left behind by periodic comets as they orbit the Sun. Earth intersects the comet's orbit and — voilà! —  dust slams into the atmosphere 75-100 kilometers overhead and burns up as meteors.
Geminids are the spawn of the weird "rock comet" asteroid 3200 Phaethon. Like an asteroid, it looks like a point of light without a fuzzy coma, but it passes closer to the Sun at perihelion than any other named asteroid — just 21 million kilometers every 1.4 years. Astronomers speculate that intense solar heating with temperatures reaching 1,500°F (800°C) cause Phaethon to crack and spall, releasing rock dust that spreads around its orbit. As proof of its volatility, the asteroid has been caught sporting a short dust tail twice, in 2009 and 2012.
Amazing, isn't it, how something as remote and impersonal as a 3-mile-wide rock can strike wonder in our hearts. Wishing you all clear skies!