Step by step, we explore the farthest things visible with the naked eye, from the most distant star to the hinterlands of the Andromeda Galaxy.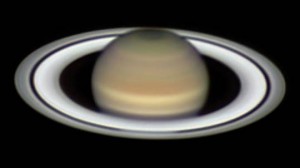 Whenever I point out the planet Saturn to the public and tell them it's nearly a billion miles away, they're aghast. It doesn't seem possible to see that far. And yet at that distance, we're barely out the door, cosmically speaking. The unaided eye can do so much more.
Back on Earth, we're lucky to see beyond 12 miles (20 km) at sea level due to haze, dust, and the curvature of the Earth getting in the way. To peer further, we must go higher. From the top of Mt. Everest it's theoretically possible to see 210 miles (339 km) to the horizon.
But once we lift our gaze, we easily see the space station at night 250 miles up, the edge of the auroral oval 500 miles away, the Moon at 240,000 miles, and of course the planets — all the way to Saturn — with the naked eye. On dark nights, some even manage to snare a look at dim Uranus 1.7 billion miles away.
When we depart the Solar System to plumb the starry depths, the tremendous distances to the stars make using miles and kilometers cumbersome. Astronomers prefer the light-year, the distance light travels in one year's time moving at 186,000 miles per second (300,000 km/sec).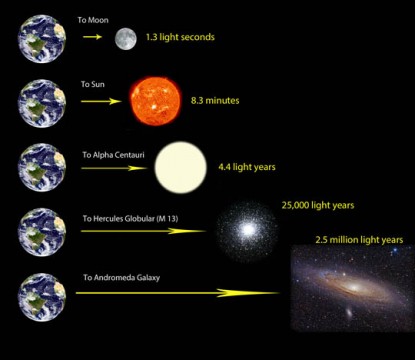 Since there are about 31,536,000 seconds in a year, that tallies up to just shy of six trillion miles in one year — a distance well beyond the most remote planets and asteroids but only a quarter the way to the nearest star system beyond the Sun, Alpha Centauri.
Using light-years also allows us to more fully appreciate the vastness of the universe. When we gaze at Alpha Centauri, we see the light that departed the star 4.4 years ago and traveled across a chasm of space 26 trillion miles wide before finally touching our retinas.
Deneb, which heads up the Northern Cross or marks the tail of Cygnus, is one of the intrinsically brightest stars in the sky. Located approximately 1,550 light-years away, the light you see tonight left on its journey to Earth around 465 A.D. during the sacking of Rome.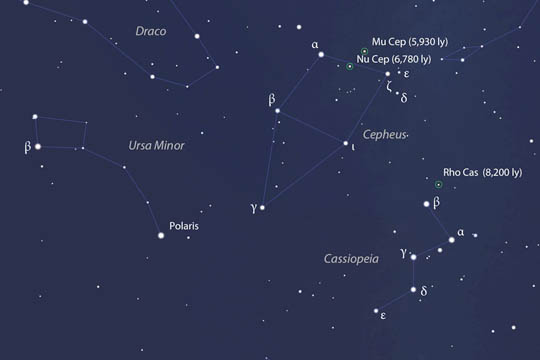 But Deneb's distance pales to that of the most remote stars visible with the unaided eye. Several of the most distant are easily visible from the outer suburbs and countryside on fall nights in the northern sky. If you turn your gaze toward the familiar W of Cassiopeia, you'll find the dim point of light Rho Cassiopeiae 2.5° west of Beta. Currently at magnitude +4.7, nothing about its visual appearance offers a hint of the star's true nature.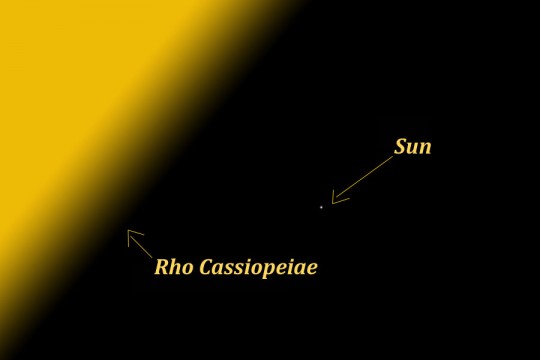 Yet from a careful study of its light, we know that Rho is a hypergiant star radiating 550,000 times more light than the Sun with a girth 40% larger than the orbit of Mars! Indeed, this is the reason we can see it with the naked eye in first place despite its spectacular distance of 8,200 light years.
Nearby Mu Cephei, better known as the "Garnet Star," and Nu Cephei (magnitudes +3.9 and +4.3 respectively), are both grand supergiants visible from remote realms of the Milky Way galaxy. Can we go further?
Of course! Just squeeze a bunch of stars into ball called a globular star cluster and your eyes can telescope across 25,000 light-years. The Milky Way's largest globular cluster, Omega Centauri, visible from the far southern U.S. and points south, packs 10 million into a spherical swarm 150 light-years wide some 15,000 light years away. At 4th magnitude, the cluster's plainly visible to the naked eye as a patch of glowing mist nearly as big as the Full Moon.

Similarly, the Great Globular in Hercules (M13) lies 25,000 light-years from Earth and contains up to 300,000 stars. At magnitude +5.8, it shines just a hair above the standard naked-eye limit of +6.0, but I've seen it many times from dark, country skies as a small, milky patch with averted vision. As you whirl your scope in its direction and revel in its blizzard of stars, know that your ancestors were chipping away at projectile points 50,000 years ago during the Stone Age when the photons from those stars began their incredible journey to your eye.
25,000 light-years takes us a quarter way across the galaxy. To make the next leap, we must journey to the southern hemisphere, where the Milky Way's two brightest satellite galaxies, the Magellanic Clouds, reside. This duo of irregular dwarf galaxies orbit our own galaxy; the Large Magellanic Cloud lies more than six times farther away than the Hercules cluster at about 160,000 light-years, while the Small Magellanic Cloud is around 200,000 light-year away.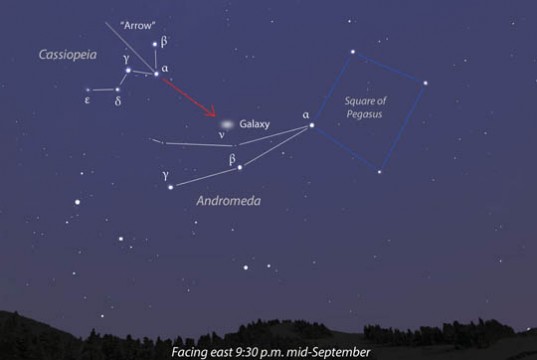 Impressive as these distances are, we can still do better. Much better. A fist and a half below the Cassiopeia's W, we finally arrive at the stopping point of human vision. Like so many objects in the astronomical world, its naked-eye appearance is deceiving. Just a bit of fuzzy fluff like a shard of Milky Way gone adrift. But that little spot has a name that says it all: Andromeda Galaxy.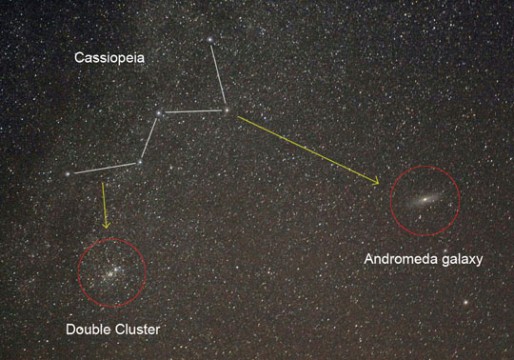 Its enormous disk, some 220,000 light-years across, or more than twice the size of our galaxy, lies 2.5 million light-years from Earth. Amazingly, we can see it without optical aid from a moderately dark sky. Why? Andromeda's close as galaxies go, and a trillion stars cram its fuzzy disk. That's a lot of candlepower. But all those suns are so distant, they blend into a smooth, unresolved haze, even in large amateur telescopes.
When you've found the galaxy, spend a few metaphysical minutes pondering your place in the cosmic vastitude. Consider any number of potential Andromedid life forms looking back at your spiral galaxy, the Milky Way.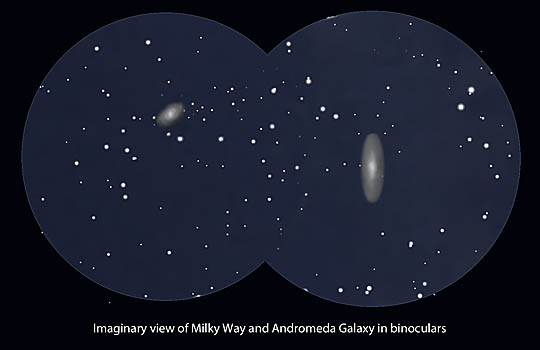 As you soak in the view, you may notice a bit of structure to the galaxy even even without optical aid. The center, where more of Andromeda's stars are concentrated, appears distinctly brighter than the more lightly-populated outer disk. Use averted vision — looking to this side and that rather than directly at the object — to appreciate its large apparent size. Under dark skies, the galaxy spans nearly 3° or six side-by-side full Moons.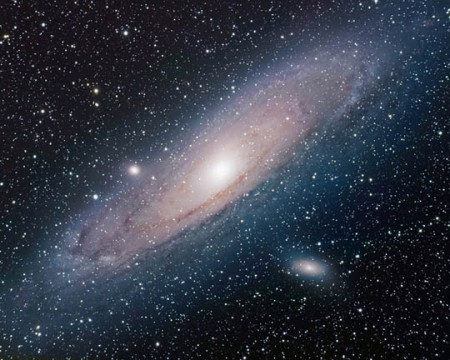 Some keen-eyed amateurs under the darkest skies have netted even more distant prey like the Triangulum Galaxy (2.7 million light-years) and even the M81–M82 pair in Ursa Major (11 million light-years), but most of us ordinary folk hit our limit at Andromeda. To go beyond requires optical aid, and that would spoil the fun.
Or would it? Next week, we'll return to Andromeda and discover how much we can discover there using only a pair of binoculars.
---
Get your observing groove on with Sky & Telescope's 2016 Observing Calendar!