True darkness is fleeting in July, especially at higher latitudes. So make the most of the darkness you have, by downloading our narrated Sky Tour podcast to "what's up" in the night sky.

This episode is sponsored by
Celestron
, manufacturer of high-quality telescopes and an industry leader in developing exciting optical products with revolutionary technologies.
Listen Here:
Podcast: Play in new window | Download
Subscribe: Apple Podcasts | Google Podcasts | Spotify | Stitcher | Email | RSS | More
This month's Sky Tour astronomy podcast tells you "what's up" in the evening sky. No experience or equipment is necessary — just download or stream the audio file and take it with you outside. With the last-quarter Moon on July 1st and new Moon on the 9th, your darkest evenings for stargazing are during the first half of the month.
Two of the Sun's inner planets are doing a little dance over in the west after sunset this month. Look just to the upper left of the sunset point for Venus. This planet is quite bright, but its dazzle is diminished somewhat due to the twilight around it. In early July, a second and much dimmer planet is lurking just to the upper left of Venus. That's Mars, just 1% as bright as Venus.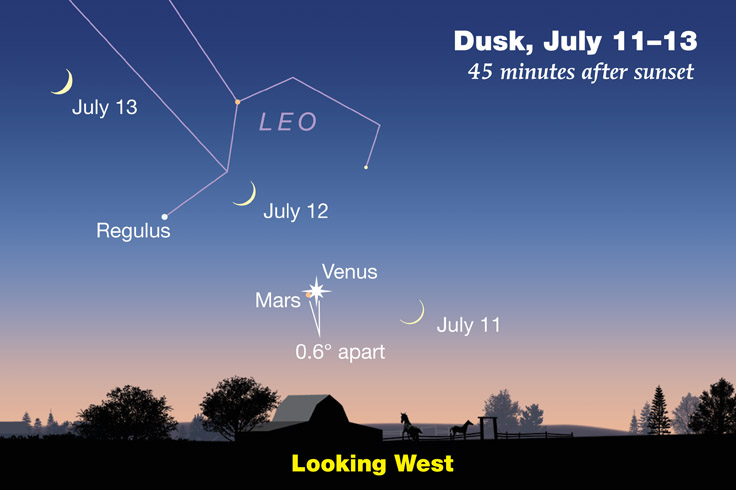 Meanwhile, if you happen to be up 30 to 45 minutes before sunrise, look low in the east to glimpse the fast-moving innermost planet, Mercury. Your best chance to spot it will be around July 9th or 10th. And if you're up that early, swing your gaze to the oppose horizon to spot Jupiter, which will be pretty bright, and dimmer Saturn to its lower right.
Perhaps more than in any other constellation, the stars of Scorpius really do look like their namesake. Antares is the heart of our scorpion. And close by, to its upper right and lower left, are two medium-bright stars representing its body. Less than one fist to Antares' upper right are three stars marking the head. Trailing from Antares to the lower left is a curving string of stars that form the Scorpion's tail.
Using July's Sky Tour, you'll learn how to identify key stars not only in Scorpius but also in neighboring Sagittarius and in other prominent constellations that are visible right now. You'll even learn where in the sky to find distant and incredibly dim Pluto. Think of it as your own personal guide to the nighttime sky!