Download this month's Sky Tour podcast to find which planets are visible in the morning and evening skies, along expert tips for how to view the total lunar eclipse on May 15–16.

This episode is sponsored by
Celestron
, manufacturer of high-quality telescopes and an industry leader in developing exciting optical products with revolutionary technologies.
Listen Here:
Podcast: Play in new window | Download
Subscribe: Apple Podcasts | Google Podcasts | Spotify | Stitcher | Email | RSS | More
Pay attention to where the Sun sets or rises, and you'll realize that those points are marching northward along the horizon as the days and weeks go by. That solar slide is due to the changing orientation of Earth's spin axis with respect to the Sun as we northerners march through spring and into summer. The Sun is also shifting northward for skywatchers in Australia, but for them it means that autumn is gradually becoming winter down in the Southern Hemisphere.
This shift also means that dawn's twilight comes earlier and earlier. That's too bad, because the planets continue to put on quite a show in the predawn sky. You'll need to be outside 45 minutes or an hour before sun-up, The two brightest ones — dazzling Venus and somewhat less dazzling Jupiter — start the month just ½° apart. They'll be stunningly close together, but this close pairing is fleeting.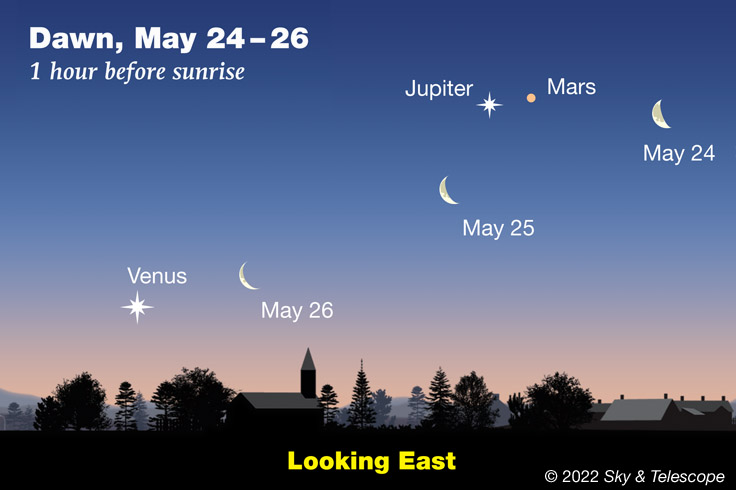 Within a week Jupiter moves quite a bit higher up. As Jupiter leaves Venus behind, it starts to close in on another, and on May 29th they'll be just ½° apart. Want to know which one pairs with Jupiter? Check out this month's Sky Tour podcast to find out!
Early May offers a good opportunity to spot Mercury in the early evening sky. Find a viewing spot with an unobstructed view down to the western horizon, make note of where the Sun sets, and then look for a bright star twinkling in the deepening twilight roughly 45 minutes after sunset. Time is of the essence here — starting about May 8th, this little world veritably dives from view.
May offers a special treat, as the Sun, Moon and Earth line up to create a total lunar eclipse. This marks the first time that everyone in the contiguous U.S. will have a chance to see a totally-eclipsed Moon since January 2018 — nearly 3½ years ago. Download or play this month's Sky Tour podcast to find out when and how to view this celestial spectacle.
Meanwhile, many bright stars dot the evening sky this month, all of which have interesting stories to tell. Our fun and engaging Sky Tour describes how to find them just by going outside and following the narration's simple instructions. So download this month's 13-minute episode and start your stargazing adventure tonight!