A veteran eclipse-chaser found himself in a "hurry-up offense" on a tiny, uninhabited island during the April 2023 hybrid solar eclipse.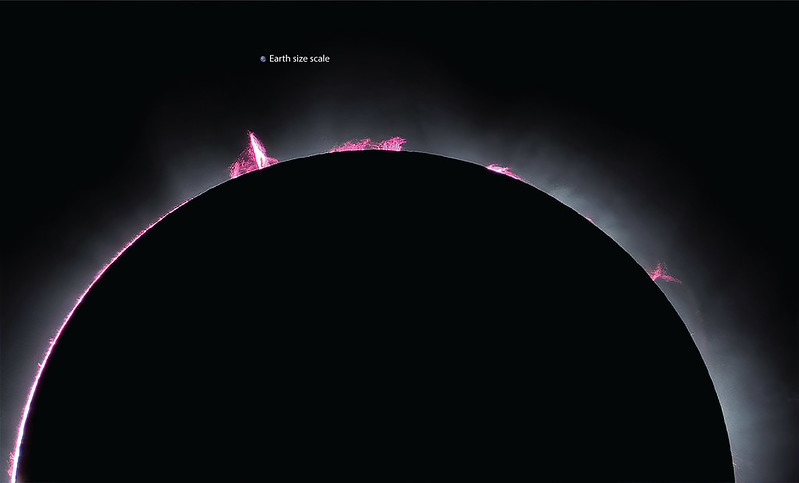 I traveled to Lake Turkana in Kenya in 2013 to observe just 11 seconds of totality during a hybrid solar eclipse. During this uncommon event, the apparent diameters of the Moon and Sun are almost identical, allowing the Sun's brilliant, crimson chromosphere to be seen around the entire silhouette of the Moon. Lake Turkana was predicted to have excellent weather, but before the eclipse the skies darkened and a sandstorm covered the landscape. So a small group of us took to the sky in a chartered, single-engine Caravan to get above the clouds. We broke through at 10,000 feet just in time for totality. With my zoom lens resting on the pilot's shoulder, I was awed by the chromosphere surrounding the black lunar disk in my camera's viewfinder. It was the most beautiful solar eclipse I'd ever seen. While the circumstances precluded a good photograph, it was seared in my memory. After we landed, I made a vow to both see and photograph the next hybrid eclipse.
Hybrid eclipses occur once every decade or so, and the next one was on April 20, 2023, in Western Australia. Most eclipse chasers would choose to either to see this eclipse at sea, which isn't optimal for photography, or brave the crowd predicted to descend on Exmouth, which would see its population swell tenfold. But there was an alternative: Off the coast of Western Australia are many small, mostly uninhabited islands and parks, including the sites of the UK's first nuclear tests. I joined Paul Maley's Eclipse Tours on a small expedition boat, the Coral Discoverer. Paul and I had discussed the observing potential for a shore party on one of the small islands, but this proved difficult. After more than a year of effort, Paul finally received permission to use Ah Chong Island, a 59-acre, uninhabited islet that's part of the Montebello archipelago, where we would be restricted to a narrow beach so as not to disturb a seabird rookery. (I confirmed with a Geiger counter that no radiation remained on this island due to the nuclear tests.)
On eclipse day, we were warned about strong wind, no facilities, a ban on eating on the island to protect wildlife, and a possible rough ride getting there, so although all were invited, most stayed to enjoy the comforts of the larger ship. Fifteen eclipse chasers (including my spouse, Monica Schmidt) departed early on the ship's tender while the mother ship repositioned.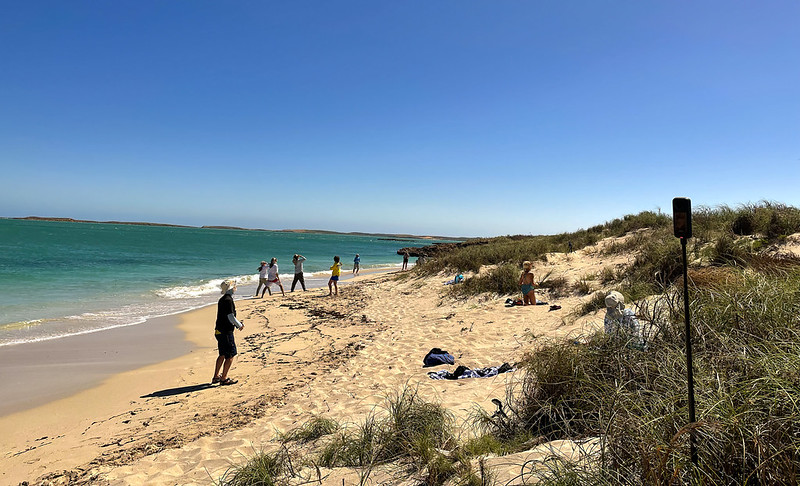 After years of anticipation, the trip to the island was intense and stressful. We arrived late because we lost an engine — one of two — so were moving slowly. After we landed, I had to quickly decide where to set up. Fortunately, I spotted a nice rock barrier that would block some wind (and confirmed it was not a turtle nest). Then I got my gear out. I had a few advantages, my camera lenses were prefocused and taped, and I had much of the hardware assembled and documented on my phone so I wouldn't forget anything. It took only 10 or 15 minutes to set up seven cameras, newly bought for this eclipse, including two Nikon Z7IIs, a 400-mm f/4.5 telephoto with a 1.4× teleconverter, and a 16-35-mm wide-angle lens. Monica and I agreed that she would focus on video while I would capture stills. I had preplanned all the exposures and brackets so that everything could run with timers. That way, Monica and I could experience the event. I also had a FLIR thermal-infrared camera that another member of the shore party agreed to use to document the surrounding landscape cooling during totality.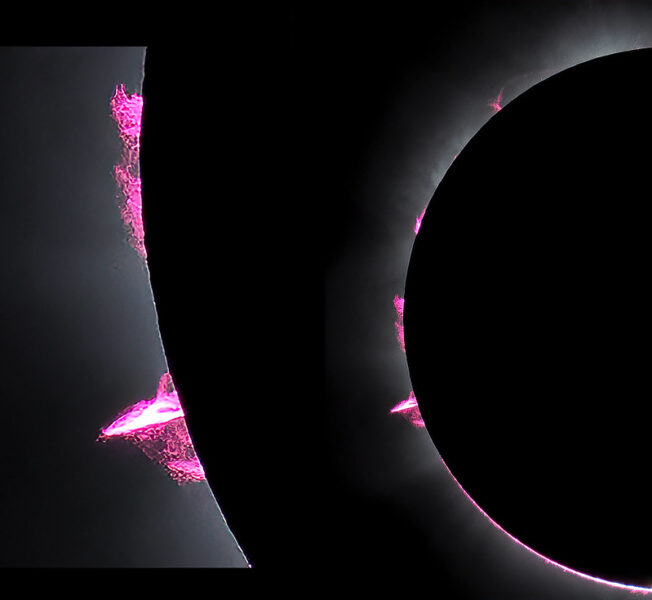 Fifteen minutes before totality, I was ready and was almost able to relax. The last bit of the partial eclipse ended to shouts of "diamond ring!" My cameras clicked — I only needed to glance to confirm all was going well — and then I could finally take a deep breath and experience the scene with my own eyes.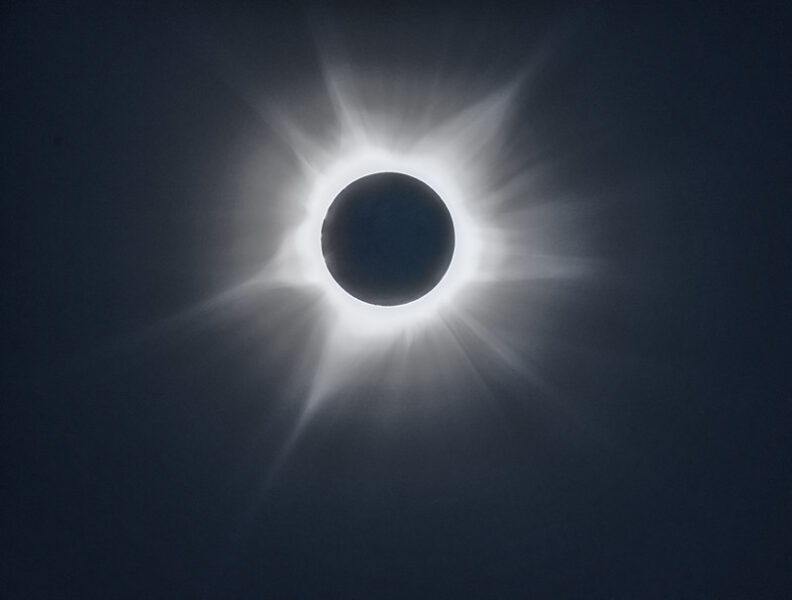 The eclipse was intensely beautiful, a bright gem, in a dark-bright blue sky, with Jupiter above, Venus below. The 63 seconds were over in a flash, again to elated shouts of "diamond ring!" In minutes, the sky brightened and we gathered for a group celebration photo. A quick review of my images made me very happy. They were better than I hoped, and my "revenge" for the 2013 eclipse complete. Once home those 63 seconds of totality became hours of happy work producing images, some of which are shown here.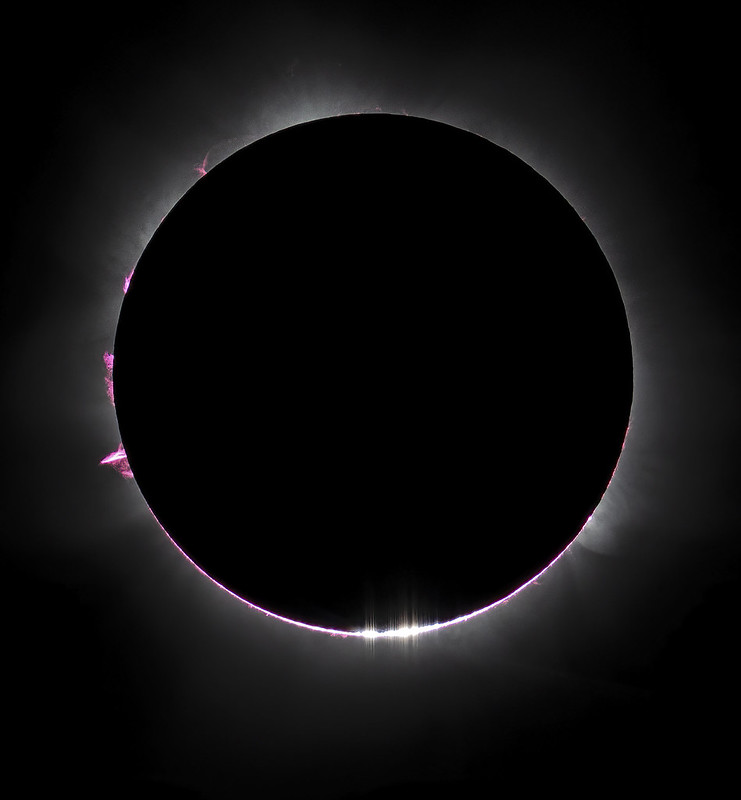 ---
Eliot Herman is a professor at the University of Arizona and lifelong photographer, including astrophotography and focusing particularly on transient events.