Frustrated with the high cost of a proprietary Go To, the author developed a free, open source, DIY option, rDUINOScope Boiana.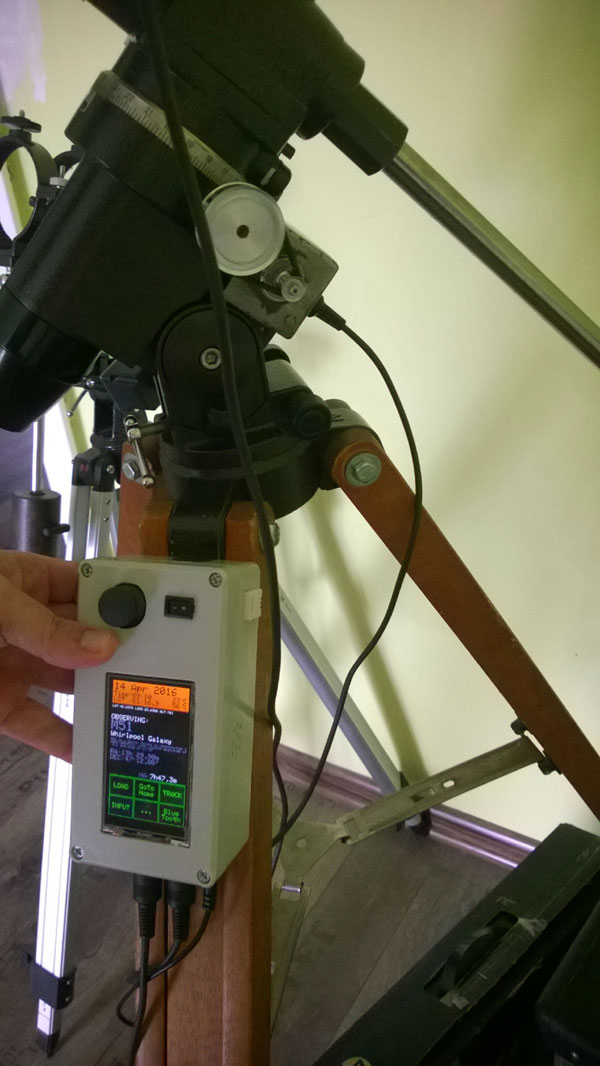 Every amateur astronomer knows the trouble of finding an object in the sky when first starting out in the hobby. It is the steep learning curve that one needs to overcome, the one that makes most people give up after few tries. To overcome this roadblock, telescope manufacturers came up with the idea to computerize a telescope and make it a Go To telescope. One simply pushes a button ....and voila – The Great Orion Nebula is in the eyepiece!
Those computerized (Go To) telescopes are proprietary and a bit expensive, especially for the newly initiated. Go To computers are specific for each mount — meaning they aren't interchangeable. Even for older telescopes, the units are still pricey. And, if something happens to your mount, such as drives failing, purchasing replacement parts in order to keep the Go To unit can add up.
Two years ago I discovered stargazing! A month later I bought my first telescope (small 80mm SkyWatcher on EQ1), and after I assembled it and went outside, I realized that I needed to learn the sky. A month later, after reading a pile of star maps and books, I decided to test my knowledge and went out with fellow amateur astronomers from the local club. I was surprised, but mostly disappointed, to find that even though I knew the location of Messier objects I was not able to locate them on the sky. I always considered myself an intelligent person, able to learn quickly, but this had bested me! I went home with a bitter taste in my mouth and I realized that it would take time and patience to properly learn the sky.
A few days later, I started looking for a Go To. This meant a bigger mount, requiring a further financial investment and, on top of that, Go Tos look dull, chunky, and feature-phone like. No rich information content, no touch screen. GPS, Bluetooth, and other features are sold separately. I was again disappointed, but few days later I decide to look for a DIY controller. After all, I have a programming background and know how to solder… How hard could it be?
A quick Google search did not return any meaningful results for "DIY telescope controller." For more than a week I searched for any DIY — to no avail. It seemed that either DIY telescope Go Tos did not exist or Google couldn't find them.
That was it! I decided to build my own!
(In the interest of full disclosure, a year later (when I already had a prototype) I was able to find a fellow amateur astronomer who made OnStep Go To, but it was a computer aided solution and was not for me! I wanted a small, standalone, grab and go package.)
Later on in the development process, I realized that my system could not only fit a new mount — it could fit any mount! This makes it great in case one want to build their own telescope, or wants to convert an old telescope into a modern one. It will also work with existing Go To mounts, replacing the controller with a modern, sleek, touch screen, feature- and information-rich device!
So what was the result?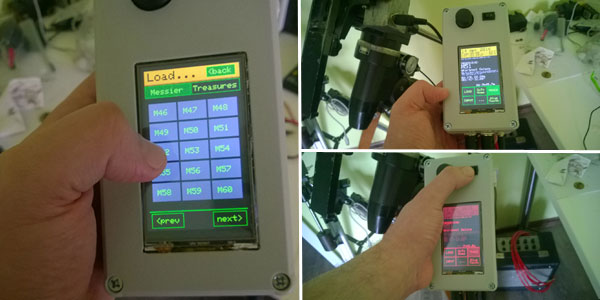 I made rDUINOScope Boiana an open source software and hardware, which means everything is free: the bill of materials, step-by-step Instructions, some basic theory, and, last but not least, the calculations you need and the software. During the development, I shared a Youtube video and started to receive messages from amateur astronomers around the world. Thus, I decided to create a Facebook page for support as many have already built their own and now are helping others to create their first rDUINOScope Boiana. There are a number of videos on Youtube now as well, which show how you can use the device and its basic functionality. Have a look!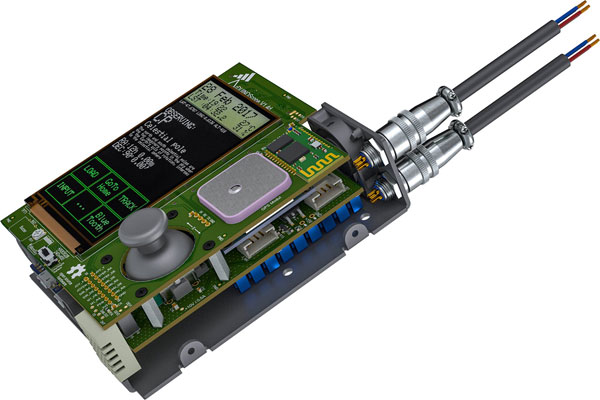 About rDUINOScope Boiana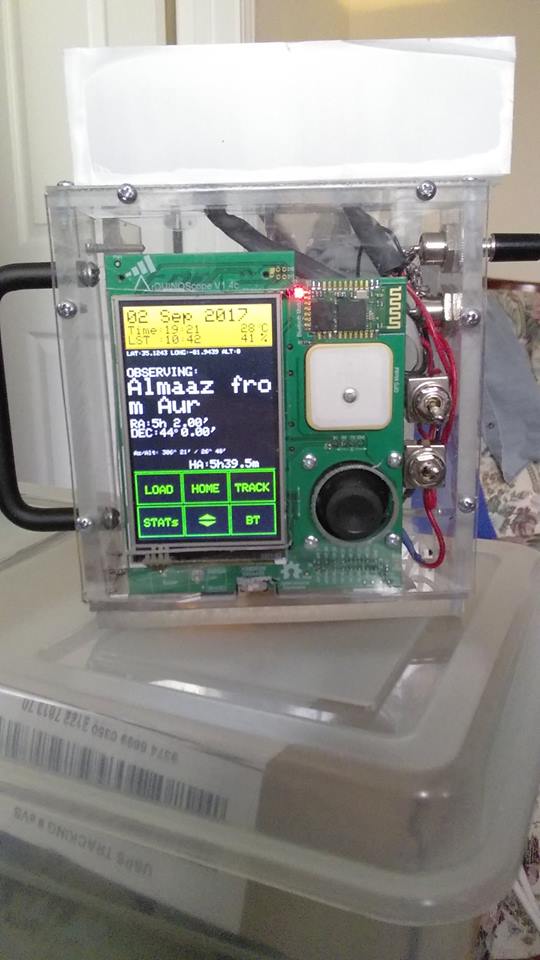 rDUINOScope Boiana is an Open Source Software and Hardware, which means it is free. It surpasses what you can find on the market. It holds a rich graphical screen with touch input, stellar map interface, database with stellar objects, built in Bluetooth, GPS, Clock, and the list goes on and on! rDUINOScope also allows you to use your favorite planetarium software (Stellarium, Sky Safari and etc.) to control your telescope – absolutely free.
rDUINOScope is a standalone device! This means that you only need a small grab-and-go package for your telescope without compromising on features. Sometimes bringing your computer to your observation location, which could be many miles away or in the desert, is not a wise idea. Draining you cellphone battery to allow Go To capabilities also adds some unnecessary risks and this is where stand-alone rDUINOScope shines! You can also use rDUINOScope as a PC/Tablet aided device.
Functionality:
Information rich Touch Screen with Bluetooth link, GPS and integrated clock;
Best ~250 Stellar Objects database - Messier Objects and Hidden Treasures. 200 Brightest stars from Northern and Southern hemispheres;
Stellar Map and location services on screen – no computer needed;
Works with Stellarium, SkySafari 5, and PC over Bluetooth;
Calculates the Local Sidereal Time and Hour Angle and points the telescope;
Hemisphere independent - works on both sides of the globe;
Auto Tracking, Auto Meridian Flip, Auto Stop when object below horizon;
Keeps "Observation Log" for each observation, including temperature, location and etc.
Supports Bluetooth commands, based on MEADE LX200 protocol;
Standalone operation ... or/and... Computer/Tablet aided operation;
Complete NGC & IC catalogue via "#rDUINOScope Controller" Software and Bluetooth;
Fancy Joystick multi speed manual control;
Day/Night mode of operation of the screen;
Precise and Quick Alignment methods for "Always in Eyepiece" experience;
... and many other small features which I consider useful 🙂
I'm looking for supporters to help spread the word, and donations to the project are always welcomed.
rDUINOScope has been selected as finalist in a HACKADAY.IO 2017 contest for the Best Product, Internet-Of-Thins (IoT) and Robotics. It received needed attention from both the Amateur Astronomy world and Creators world!