Reader Michael Knowles discovered the glory of a Sun halo while paragliding above the French Alps.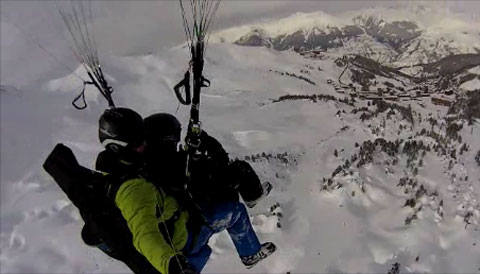 When I planned my trip to La-Plagne, France, this past March, I didn't foresee mixing paragliding with astronomical imaging — the opportunity arose purely by chance. After prepping meticulously under the tutelage of my paragliding instructor, I descended off Mount La Grande Rochette and managed to capture the image below: a circular halo cast around the Sun behind the frozen Alps.
At the take-off point on top of the summit, I stood at an altitude of 2,505 meters (8,267 feet). The descent can take between 15 and 20 minutes depending on the thermals, the rising columns of warm air heated by the Sun. The drop-zone target lay 535 meters below take-off, at Plagne Centre (altitude: 1970 meters).
Solar Ice Halos
Regardless of its position in the sky, a Sun halo is always the same size. Both the Sun and Moon can make a 22° circular halo, though depending on the conditions, sometimes only arcs of the circle will be visible. Smaller, colored rings are sometimes spotted around the Sun or Moon, but these form via diffraction through water droplets rather than ice crystals.
Ice crystals generally don't form as spheres — their shapes range from solid, hollow columns to plates, bullet rosettes, and aggregates, as large as thousands of microns.
Those crystals that create halos are typically suspended in cirrus or cirrostratus clouds high in the upper troposphere. Temperatures at this altitude sink as low as -30° Celsius. During severe cold weather conditions, ice halos dubbed "diamond dust" can even hover near ground level.
Elsewhere in the Solar System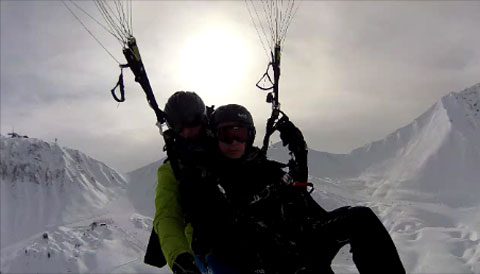 As I paraglided above the frozen Alps, I thought of what this might look from elsewhere in the solar system. On other planets, the different atmospheric composition would give the solar halo a different size. Solar halos in Mars's atmosphere would refract through ice made of water and carbon dioxide, while in the atmospheres of the giant planets, ammonia and methane, as well as other molecules, could form more complex halos.
It was an exhilarating experience to glide high above the pristine Alps, framed by an illuminated backdrop of a solar ice halo.
---
Michael Knowles is a member of the Sherwood Astronomical Observatory in Nottinghamshire, United Kingdom.