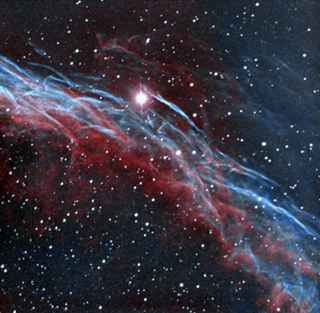 Photographer:
macscreen30@yahoo.com
Email:
Location of Photo:
Perry Hall, Maryland USA
Date/Time of photo:
Dec 16 2015 at 0141 UT
Equipment:
C11 SCT, On Axis Guider (ONAG), ATIK 460EX main imaging camera, Lodestar X2 guide camera, Losmandy G11 mount, Astrodon 3nm H-a and O-III narrowband filters, Orion Nautilus motorized filter wheel
Description:
This image shows 1/5th of the Western Veil Nebula superimposed on the relatively bright star 52 Cygni; I captured this image using a C11 SCT and a new kind of autoguider accessory known as an On Axis Guider or "ONAG". This ONAG has a dichroic beam splitter that enables near infrared light between 750nm and 900mm to pass straight through to the guide camera while reflecting visible light upward to the main imaging camera. As a result many more guide stars are available to be chosen from as compared to the more traditional Off Axis Guider (OAG). Since the main imaging camera and guide camera both use the same telescope there is no differential flexure which provides the high level of guiding accuracy required by long focal length telescopes such as my C11 SCT. The longer focal length of my system enables capture of fine detail in the nebula such as the thin filament structure above the bright star 52 Cygni.
Website: