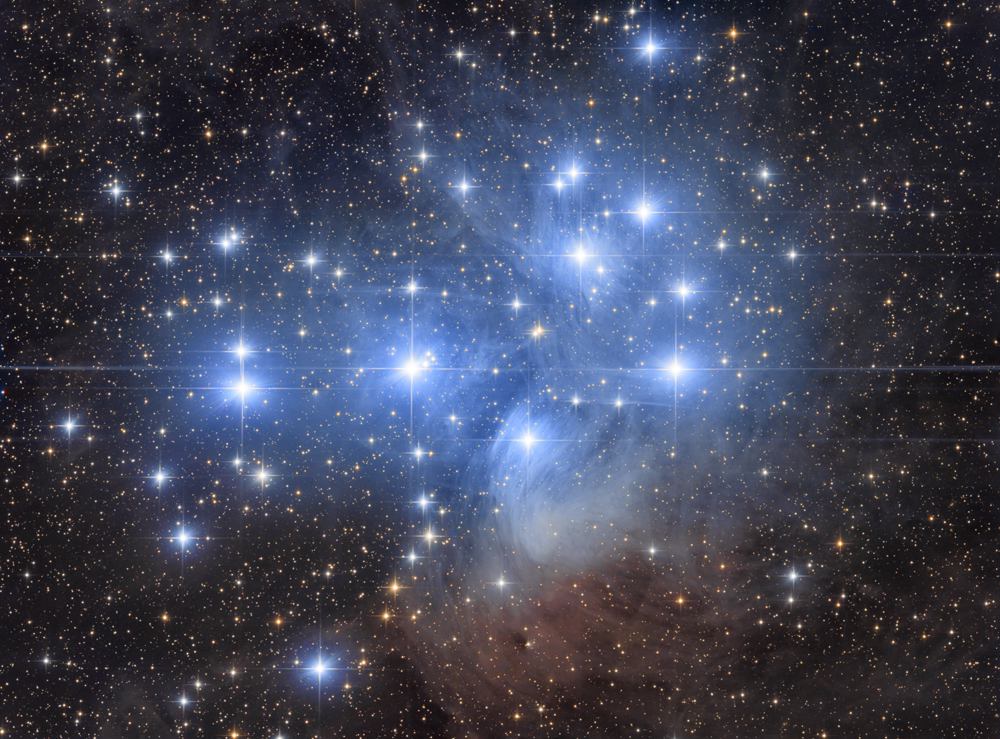 Photographer:
Frederick Steiling
Email:
Location of Photo:
Whiteside, MO
Date/Time of photo:
10Sep2016, 26Sep2016, 27Sep2016, 07Oct2016, 23Oct2016, 03Nov2016, 20Nov2016, 29Nov2016, 02Dec2016
Equipment:
Orion 8" f/3.9 Newtonian Astrograph on a Celestron CGEM mount, imaged by an SBIG STF-8300M monochrome CCD with OAG-8300 guiding system and FW5-8300 filter wheel using Astronomik LRGB filters
Description:
This long-exposure integrated photograph of the Pleiades (M45) open cluster in Taurus spans 2.25 degrees in width, and reveals beautiful nebulae in the area. Much of this nebulosity, which includes the oft-studied Merope Nebula at the south-center of the frame, shines in reflected light from the young hot blue stars of the Pleiades. The stars of the Pleiades are unrelated in a scientific nature to the interstellar dust as they casually travel through it at a distance of about 400 light years from us.
Website: