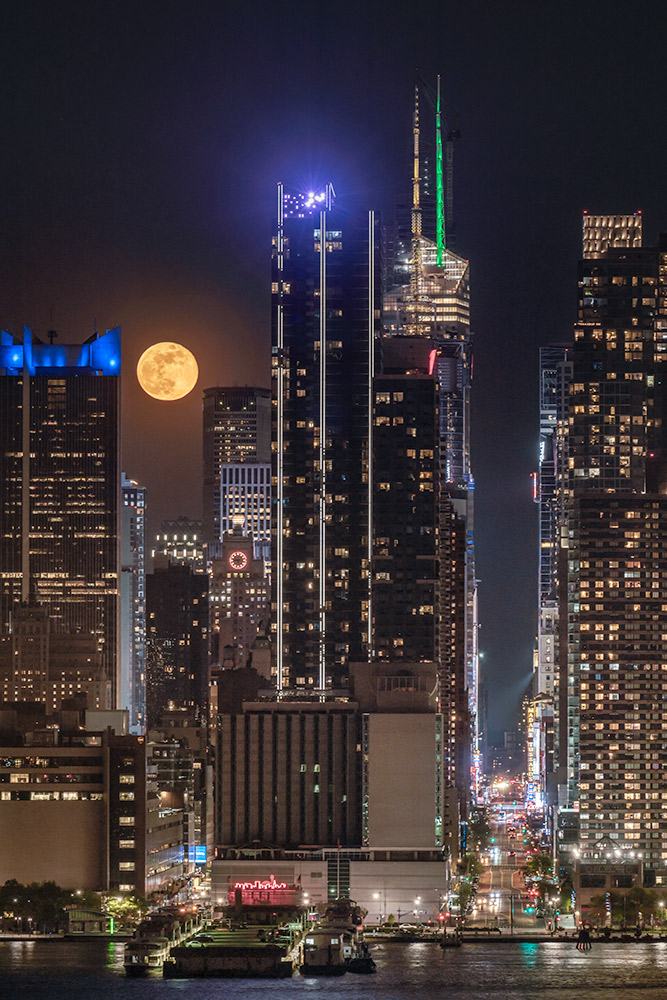 Photographer:
Chirag Upreti
Location of Photo:
Weehawken, New Jersey.
Date/Time of photo:
May 7, 2020 8:49pm
Equipment:
Camera: Sony A7R3, Lens 70-200mm with X2 teleconverter. Final focal length 226mm
Description:
This image was planned to show the near-empty streets of New York as a result of the lockdown during the ongoing pandemic, with the perigean full moon of May rising in its golden colors. The location in New Jersey was chosen to align the moonrise with the iconic 42nd Street... here looking down the street, is looking from its West to East side. It is unimaginable that 42nd street ( the street you are looking down on the right side of the image) and goes through Times Square (the Madam Tussaaurds sign visible on the right) would be this empty on a Thursday evening. Normally 42nd street and the Times Square area is buzzing with activity be it cars, buses, or humans bicycling, crossing the intersections, or walking around. To see it in such desolation with only a few vehicles to go down this iconic street is quite eerie. It was also ironic to note that despite the obvious reduction in all activity, the bright lights continue to shine on an empty square and the famous street.... the show goes on despite the lack of an audience.
Website: