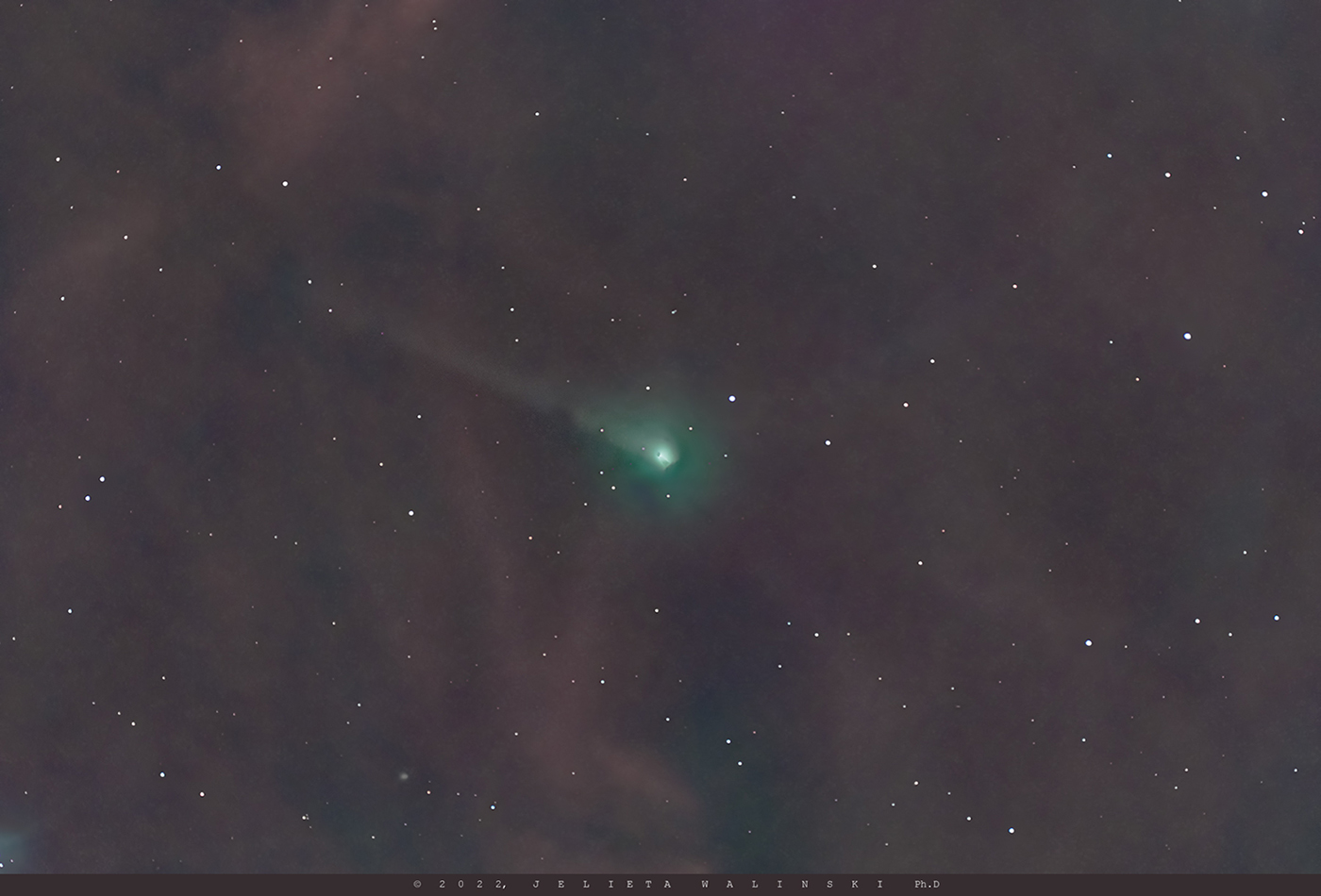 Photographer:
Gigi
Location of Photo:
Medicine Rock State Park, Montana, USA
Date/Time of photo:
9:47PM to 11:21PM July 28, 2022
Equipment:
Optics: Celestron Nexstar Evolution 9.25 235mm f/10 Schmidth Cassegrain Telescope, Sky Watcher EQ-6R PRO Computerized Equatorial Mount - S30300, ZWO - ASI2600MCPRO Starizona Hyperstar 4 HS4-C925 ZWO AsiAir Pro Wifi Camera Controller ZWO Standard Electronic Automatic Focuser EAF-5V Optolong L-Pro 2" Multiband Pass Filter Dew Heater Astrozap Celestron Dew Shield ZWO 30F4 Miniscope ZWO Asi 462MC Planetary Camera Samsung Cellular Phone Sandisk usb drive 512gb 3 TB external Drive
Description:
The image is C/2017 K2 (PanSTARRS) is an Oort cloud comet with an inbound hyperbolic orbit. I exposed the image at 420 sec at 15 frames. It was captured in July 28, 2022 at Medicine Rock State Park, in Montana, USA. This particular state park is a treasure since it is full of history, culture, and unique topography-and listed on the National Register of Historic Places. As its name implies, Medicine Rocks was a place of 'big medicine' where Indian hunting parties conjured up magical spirits. 'As fantastically beautiful a place as I have ever seen,' said one of its first tourists in the late 1800s, a young rancher named Teddy Roosevelt. Medicine Rock State Park is certified International Dark Sky Sanctuary by IDA. As what I observed it is Bortle 1 in the Bortle scale.
Website: