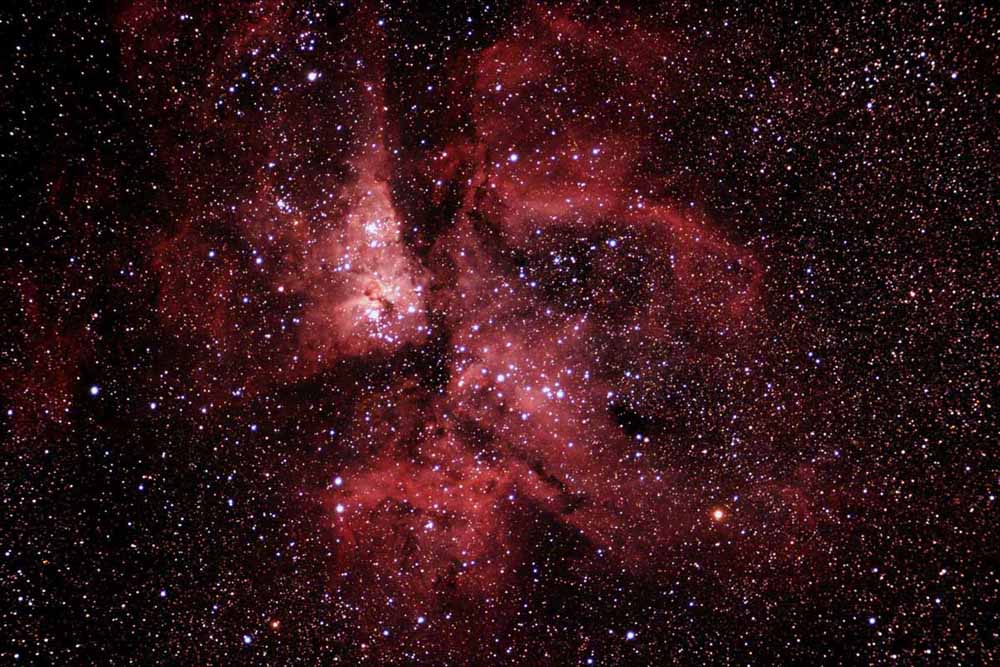 Photographer:
Trevor
Email:
Location of Photo:
My backyward 23 klms from city
Date/Time of photo:
3rd April 2009
Equipment:
Target: NGC3372 Eta Carinae Nebula Camera: Canon 350d modified Baader 2" Skyglow filter Exposure Capture: DLSR Focus Scope: Orion 80 ED Mount: EQ6 Pro Exposure Setting: Prime focus, ISO800 ICNR off Daylight WB Exposures: 10 x 330s total 55m taken 03/04/09 between 8:30pm and 9:30pm Seeing: Average, waxing gibbous moon 65% Guiding: Orion Starshoot Autoguider using PHD Focus: DSLR Focus Stacking: DSS 10darks, 5flats, no bias applied stacking time 15-20 minutes Processing: PS CS3,
Description:
Info: Situated in the Carina Carinae Nebula 10h 45m 59.52 bright diffuse nebula surrounding n Carinae easily visible with the naked eye. Discovered by Lacaille 1751-52. This giant diffuse nebula is one of the largest H II regions (composed of ionized hydrogen gas) in our Milky Way galaxy. The star forming nebula NGC 3372 has produced the very conspicuous peculiar star Eta Carinae, which is among the most massive and luminous stars in our Milky Way, and perhaps in the universe.