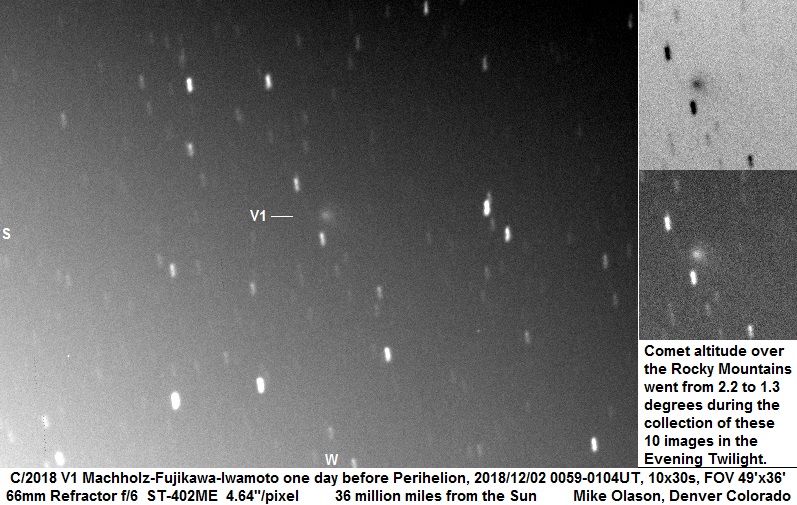 Photographer:
Mike Olason
Email:
Location of Photo:
Denver, Colorado
Date/Time of photo:
2 December 2018, 0059UT
Equipment:
66mm Refractor f/6 and ST-402ME CCD Camera
Description:
This is an image of Comet C/2018 V1 Machholz-Fujikawa-Iwamoto one day before it reached perihelion in it's orbit on December 3. The comet is 36 million miles from the Sun and 68 million miles from Earth. When the comet made it's close approach to Earth on November 27 it was visible in the morning twilight, now as it reaches it's close approach to the Sun on December 3 it is visible in the evening twilight. It will be about 36 million miles from the Sun at perihelion. Unfortunately, for both of these close approaches the comet was between the Sun and Earth slightly above the planets orbital plane, thus all one could try to do was image a comet almost lost in the bright morning and evening twilight just above the respective horizons for these close approaches. It was cloudy tonight in Denver for the comets close approach (perihelion) to the Sun so this image is from the evening before perihelion collected just above the Rocky Mountains (the mountains rise 0.8 degrees above the western horizon from my observing site for this image) in the evening twilight.