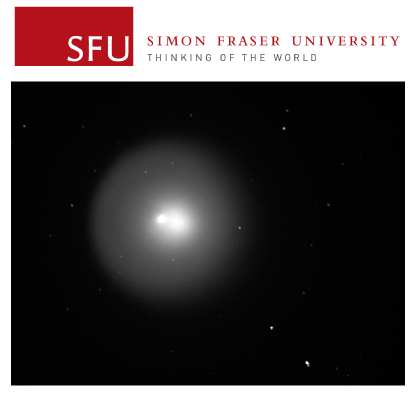 Photographer:
Howard Trottier
Email:
Location of Photo:
Burnaby, British Columbia, Canada
Date/Time of photo:
October 30 2007 at about 10PM PDT
Equipment:
Meade 8" LX200R and DSI II color one-shot camera with Meade focal reducer at about f/5, 30 second luminance exposure.
Description:
Comet Holmes was one of the strangest celestial objects I have ever seen! Through the scope it looked like a cosmic bowling ball. The contrast between the bright central region, including a very bright knot of light off-center, and the dimmer outer areas of the coma, gave the distinct illusion of a three-dimensional perspective. It was plainly seen as a fuzzy non-star like object to the naked eye. This image was taken with about 25 students at Simon Fraser University in Burnaby, British Columbia, as part of an introductory survey course in astronomy for non-science students.
Website: