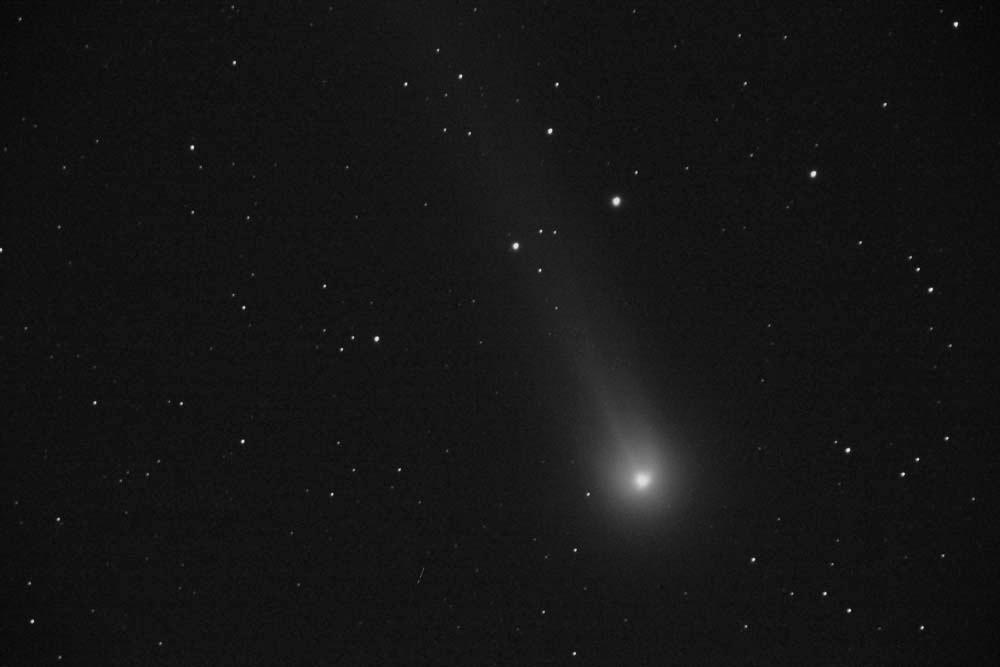 Photographer:
Victor C. Rogus
Email:
Location of Photo:
Jadwin, Missouri
Date/Time of photo:
11/28/2013 @ 04:20:18 CST
Equipment:
5 inch apochromatic refracting telescope on Losmandy G-8 GEM Cannon 60Da astro camera
Description:
Yes, indeed the wee hours are a strange yet wonderful time these days. The sky is alive with meteoric activity while Ursa Major points the way to the mighty Comet, Lovejoy. The slender crescent Moon slid silently above the tree tops in a beauty all its own seemingly to compete for attention with the visitor from the distant Oort Cloud. Quite cold here in Jadwin, Missouri but dressing for the weather makes it bearable, although the tip of my thumb is still a bit numb some five hours after I made this image. The photo was made at 04:20:18 on this Thanksgiving morning. Many meteors caught my eye as I worked in the dark and cold. In my experience with comets I have always felt that meteor activity picks up when there is one (or more) comets in the sky. I am not sure if this is true or not but it is my own opinion. From all of us here in "Hundred Acre Woods" have a wonderful, joyous holiday and if the weather permits set the alarm and take a few moments, and step out into the night to behold this marvel of the darkness. And also wish with me, that "Super Comet", ISON survives its perilous journey passing the Sun to become a sight in December that none of us soon will forget!