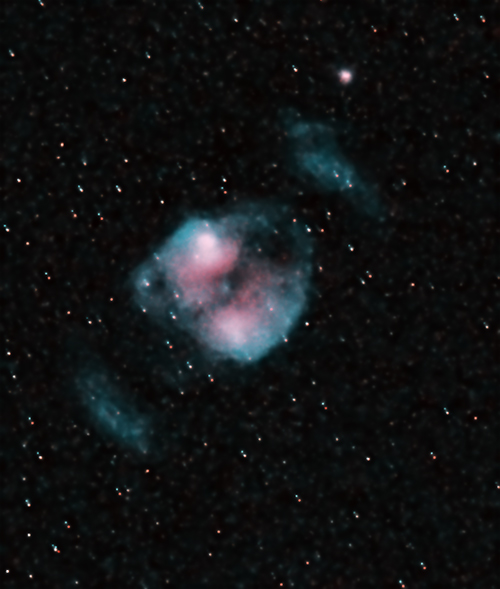 Photographer:
Peter Nerbun
Location of Photo:
Perry Hall, Maryland USA
Date/Time of photo:
May 9 2015 at 0225 UT
Equipment:
C11 SCT, Atik 460EX Monochrome camera, Celestron Off-Axis Guider, Lodestar X2 autoguider camera, Orion EQ-G mount, F/6.3 focal reducer, 3nm H-Alpha and O-III narrowband filters, Aurora Flatfield panel, Orion Nautilus motorized filter wheel
Description:
This image shows the Gemini Nebula (NGC 2371); measuring only 1 arc minute wide with a visual magnitude of 11.19 this nebula is a rather small object making it ideal for the relatively high resolution capability of my Schmidt Cassegrain telescope. I recorded 15 minute subframes with an ATIK 460EX camera coupled to 3nm H-Alpha and O-III narrowband filters. I used an Off-Axis guider and Lodestar X-2 guide camera for autoguiding to eliminate differential flexure and neutralize the effect of mirror flop in my SCT. Finding a guide star with an OAG can be rather difficult since the prism of the OAG picks off a very small ring shaped field of view (FOV) surrounding the main camera FOV however the Lodestar X2 autoguider camera's high quantum efficiency ameliorated this situation to a large extent.
Website: