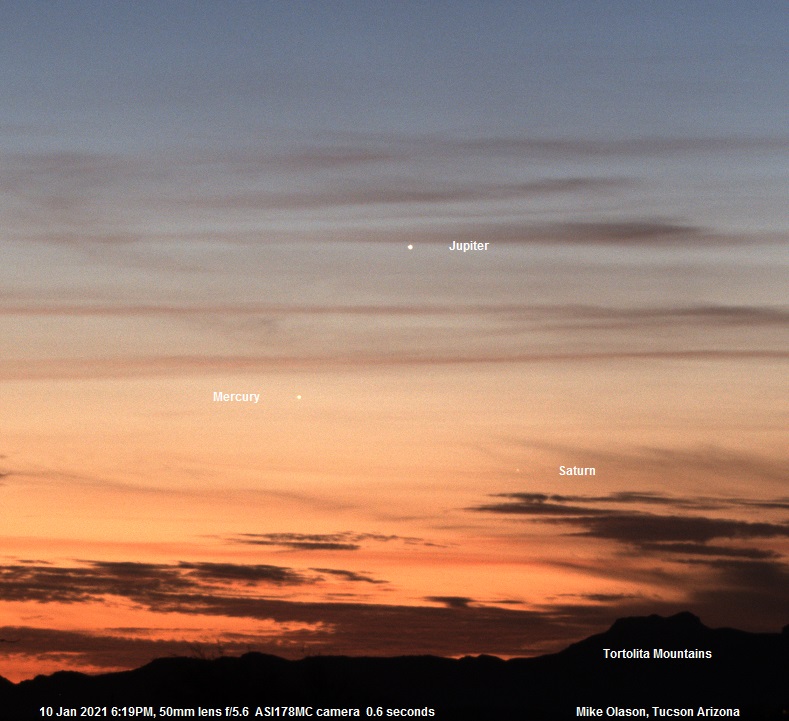 Photographer:
Mike Olason
Location of Photo:
Tucson, Arizona
Date/Time of photo:
10 January 2021, 6:19 PM
Equipment:
ASI178MC camera and 50mm f/5.6 lens
Description:
Jupiter, Saturn and Mercury as they began to appear out of the darkening evening twilight and before they set behind the Tortolita Mountains. High clouds made it difficult to see all 3 at the same time. Jupiter at magnitude -1.9 was 2.5 times brighter than -0.9 magnitude Mercury and 10 times brighter than magnitude 0.6 Saturn. Mercury was 4 times brighter than Saturn. Saturn was in thin clouds most of the time and deeper in the orange twilight so it appeared even fainter than the magnitude comparisons suggest. Jupiter was 2.3 degrees from Saturn and 1.7 degrees from Mercury as seen in the sky from our nice little piece of Earth here in the Tucson area. Mercury was 2.1 degrees from Saturn and Saturn was 12 degrees from the Sun. Saturn was a little less than 2 degrees above the mountains in this image.