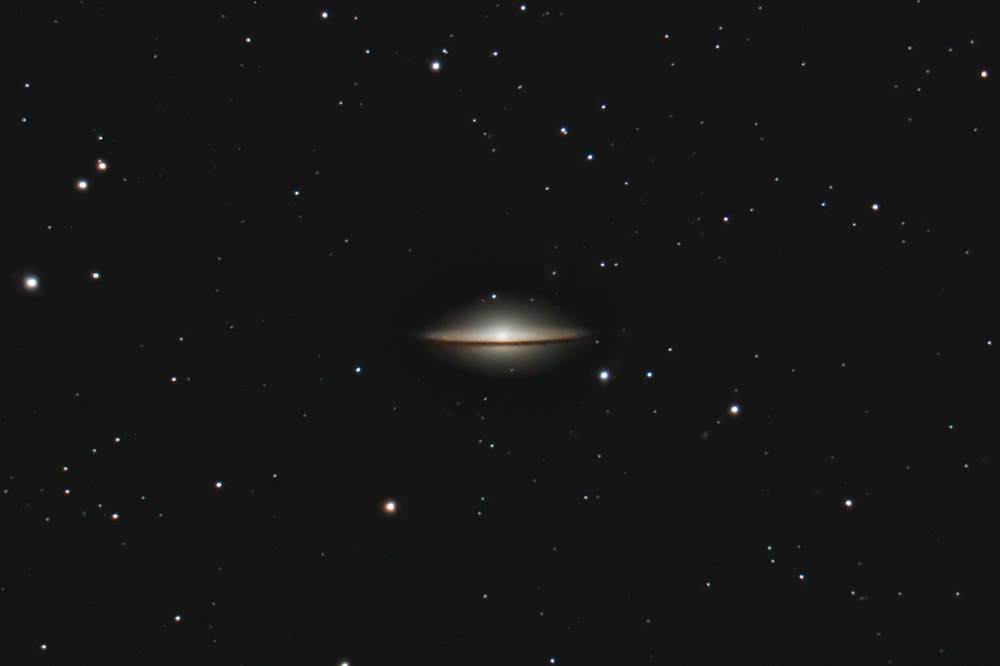 Photographer:
Craig and Tammy Temple
Location of Photo:
Hendersonville, TN
Date/Time of photo:
April 3, 2009
Equipment:
Celestron C8 SCT with Celestron f/6.3 FR/FF on Atlas EQ-G w/EQMOD, Guided; modified Canon 350D w/Astronomik EOS Clip IR filter + 2" Hutech IDAS LPS filter; Best 22/30 120s @ ISO 1600 + Best 23/24 150s @ ISO 1600 + 20 180s @ ISO 1600; Captured/Calibrated/Registered/Stacked/Initial processing in ImagesPlus; Post processed in Photoshop CS4
Description:
M104 is a nearly edge-on spiral galaxy in the constellation Virgo. It is called the Sombrero Galaxy because of it's dark lane and unusual central bulge. This image is a little more than 2.5 hours total integration time. Due to M104's location (low in the SE to SSE), we had to start off with shorter exposures and increase as the night progressed. This image was acquired on April 3, 2009. The temperature was about 50° F.