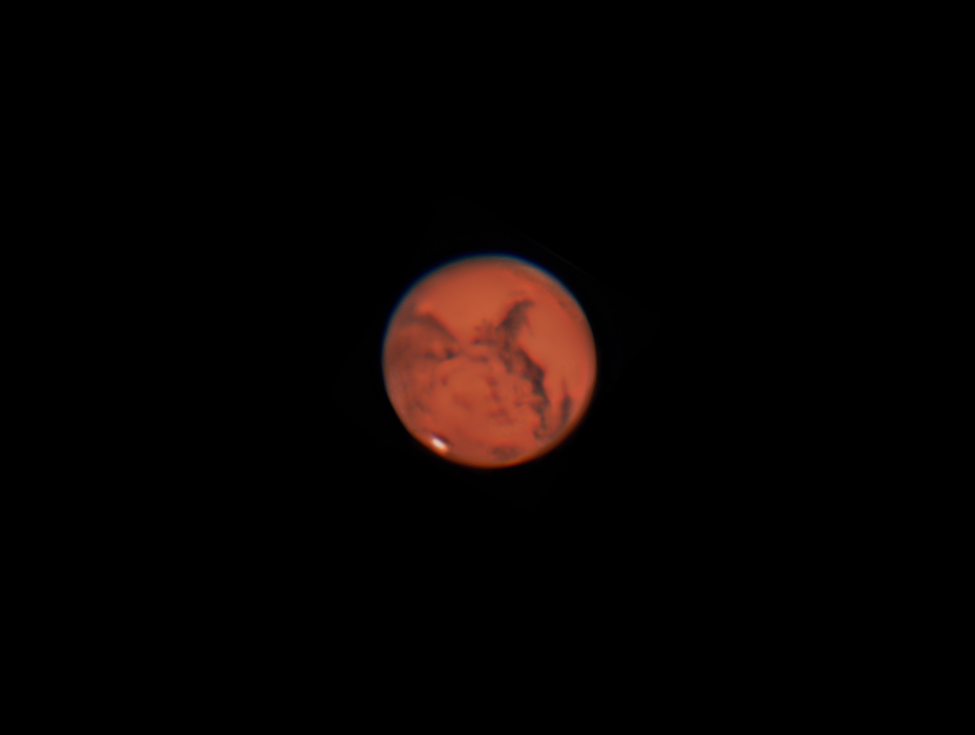 Photographer:
Rod Pommier
Location of Photo:
Pommier Observatory, Portland, OR, USA
Date/Time of photo:
2020-10-16, 09:25 UT
Equipment:
Celestron Compustar C14, TeleVue Powermate 2x, Point Grey Flea3
Description:
Mars on 2020-10-16 at 09:25 UT median time of observation. Seeing is generally mediocre in Oregon, so it is difficult to get a good planetary image. To combat this, I made stacks of the best frames from 6 videos obtained between 09:20 and 09:31 UT. Those stacks were then de-rotated and combined in Winjupos into a final stack of the best 4869 frames and processed. Syrtis Major is visible in the center with Tyrrehna Terra and Hesperia Planum to its lower right. The Hellas basin is below Syrtis Major with some internal markings. Sebaeus Sinus is left of Syrtis Major with Sinus Meridiani beyond that just appearing over the eastern limb. Several craters are visible, such as Huygens and Schroeter along the south east edge of Syrtis Major and Schiaparelli between Sebaeus Sinus and Sinus Meridiani.
Website: