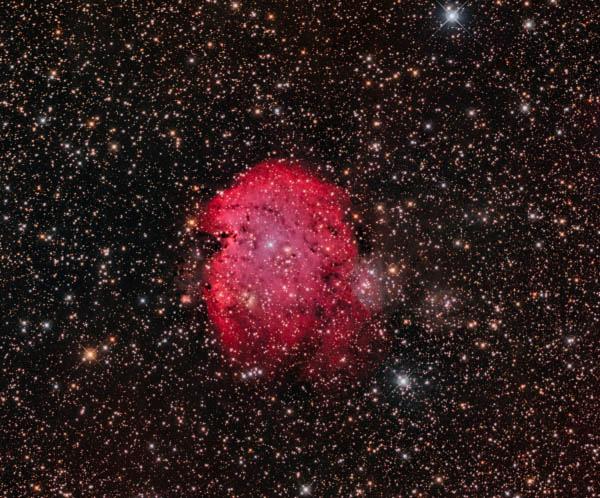 Photographer:
Stephen D Pastor
Email:
Location of Photo:
United States
Date/Time of photo:
Dec 26, 27, 30 2013 and Jan 1, 2 2014
Equipment:
Image was taken with a Takahashi Epsilon 180 f/2.8 astrograph and a SBIG STF8300c camera on a Paramount. The exposure was a total of 14 hours 30 min exposure taken on 12/26, 12/27, 12/30 2012 and 1/1, 1/2 2013 (87 x 10 min lights, guided; 20 darks; 64 bias; 61 flats; all at -20 degress C). Images were graded in Images Plus 5.0 and calibrated, registered, integrated, and processed in PixInsight 1.8.1 Ripley.
Description:
NGC 2175, aka the Monkey Head Nebula, is found in the constellation Orion. NGC 2175 is part of Sharpless 2-252, which is an extended H-II region that is approximately 7200 light years away. Please note that there is some discrepancy in the literature as to the designation as NGC 2175 or NGC 2174...for a discussion see S. J. O'Meara in Deep-Sky Companions: Hidden Treasures: Cambridge 2007.
Website:
http://astronomersgroup.org/gallery/displayimage.php?album=lastup&cat=0&pos=0