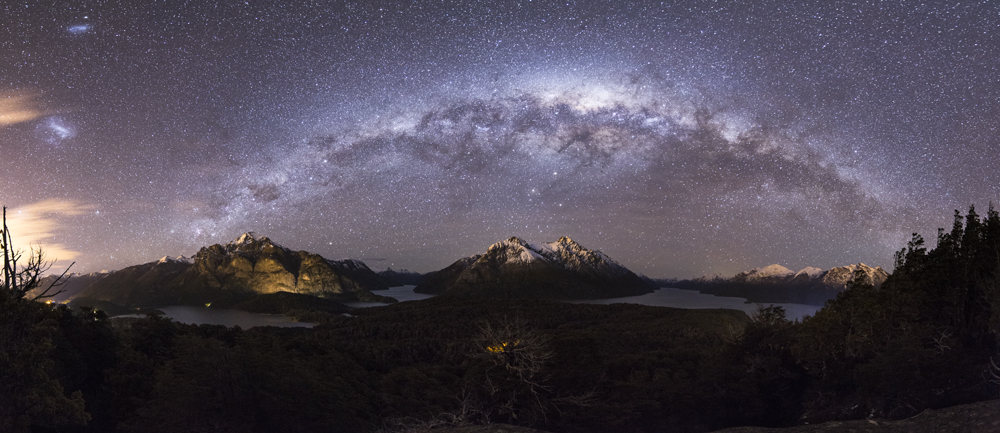 Photographer:
fviegener
Location of Photo:
San Carlos de Bariloche, Patagonia, Argentina
Date/Time of photo:
1:25 a.m. on the night of September 3, 2016
Equipment:
Canon EOS 6D; Tokina 16-28mm; Focal Length: 16mm; Aperture: ƒ/2.8; Exposure Time: 30s; ISO: 6400; Eight vertical shots.
Description:
In early September, three friends and I climbed Llao Llao in Bariloche, Patagonia, Argentina. After 45 minutes of walking, illuminating the path with flashlights, we reached the viewpoint shown above after midnight. The night sky and the Milky Way were absolutely breathtaking! This panorama consists of eight photographs, taken at 1:25 a.m. on the night of September 3, 2016. From left to right across the Patagonia landscape is Lago (Lake) Moreno, Cerro López (6,808 ft or 2,075 m), Lago Nahuel Huapi (Tristeza branch), Cerro Capilla (center, 7,110 ft or 2,167 m) and Lago Nahuel Huapi (Blest branch). Across the sky, also from left to right are the Large Magellanic Cloud, Small Magellanic Cloud (above Large Magellanic Cloud), the Southern Cross (just above Lago Moreno), Antares, Saturn and Mars (just above Cerro Capilla - Mars is slightly brighter than the other two).
Website: