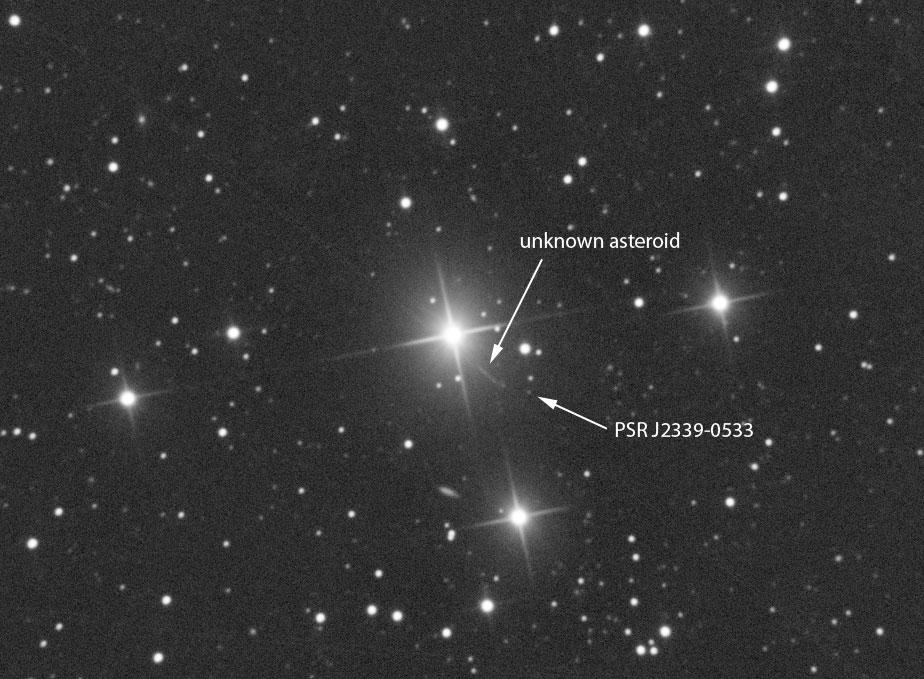 Photographer:
Mario Hébert
Email:
Location of Photo:
Near Trois-Rivières,Province of Quebec, Canada
Date/Time of photo:
2013-10-30 from 19:37 to 23:09 EST
Equipment:
Telescope: Newton Skywatcher 10" F4,7 (1200 mm focal) Mount: Celestron CGEM Camera: QHY9 monochrome, bin 2X2 at -30C
Description:
This image is not for beauty, but for science! Following the Sky&telescope reading about "The Black widows" of the October 2013 issue, who lead us with the autumn challenge of imaging the companion star of the pulsar PSR J2339-0533, shining at magnitudes 18 to 21 in a 4.5 hour cycle, i finally convinced myself to try to capture it with my old 10" Newton, which have the minimal diameter recommended by Sky&Telescope. 21 X 10 minutes exposures were necessary to finally see him appearing dimly on half of my frames, when he is nearing magnitude 18~19. And, what a surprise when, after the animation was made, i saw an asteroid flying right toward the pulsar! You can see the animation on my webpage.
Website: