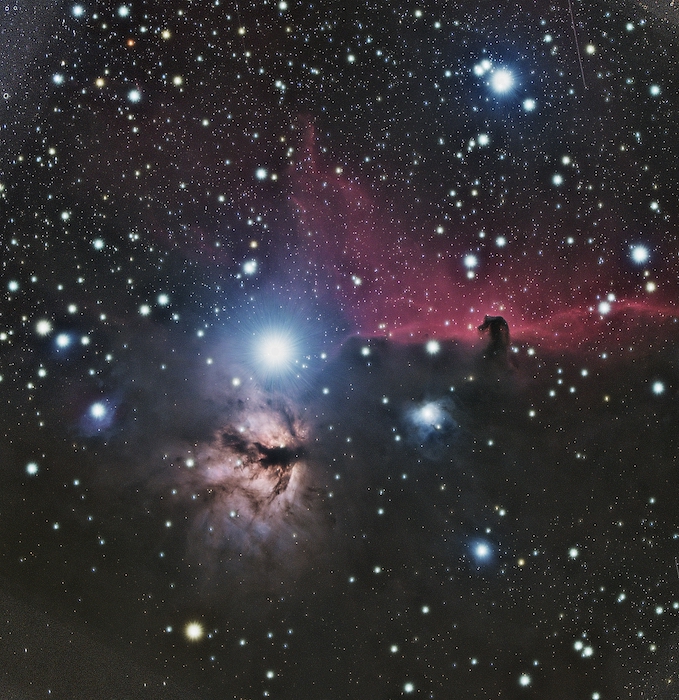 Photographer:
Jon Greif
Location of Photo:
Anza Borrego Desert State Park, CA, USA
Date/Time of photo:
January 2-4, 2022, 10 pm to 1 am PST
Equipment:
Astrotech AT72EDII 72 mm refractor, ZWO ASI533MC Pro imaging camera, ZWO 30 mm guide scope, ASI292MM mini guide camera, Rainbow Astro RST-135 mount, EKOS capture software on a Raspberry Pi 4B computer, Pixinsight 1.8.8 processing software on a MacBook Pro
Description:
Finally got processed the last of the data that we collected on our recent camping trip to Anza Borrega State Park (January 2-4). These are the Horsehead Nebula (aka Barnard 33) and the Flame Nebula (NGC 2024) with Alnitak, the very bright star in between. The Horsehead Nebula is a dark cloud of dust and gas in the Orion Molecular Cloud Complex where star formation is taking place. The Flame Nebula is an emission nebula in the star forming complex. Alnitak is the Eastern most star making up Orion's belt. These structures lie about 1375 light years from Earth. The image is an integration of 70 five minute one shot color exposures (just under 6 hours of exposure time) through a 72 mm refracting telescope.
Website: