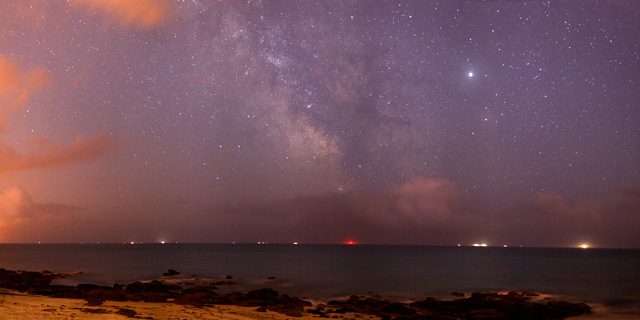 Photographer:
Laurent Laveder
Email:
Location of Photo:
Beg Meil, Bretagne, France
Date/Time of photo:
July 5, 2007 about 0:30 AM
Equipment:
Canon 30D at 1600 ASA + Sigma 30mm f/1.4 wide open on a single tripod. Panorama of 5 exposure (10 s each) processed by DxO Optics and then stitched in Photoshop.
Description:
The Milky Way seen from northern mid-latitudes, extending nearly vertical between Scorpius (on the right) and Sagittarius (left). To see those constellations, just click here. Jupiter is the brightfull "star" on the top right. At the horizon, under the clouds (lightened by light pollution) one can see the lighthouses of the Glenan archipelago and the lights from boats. Many other pictures taken that night are available at this address.
Website: