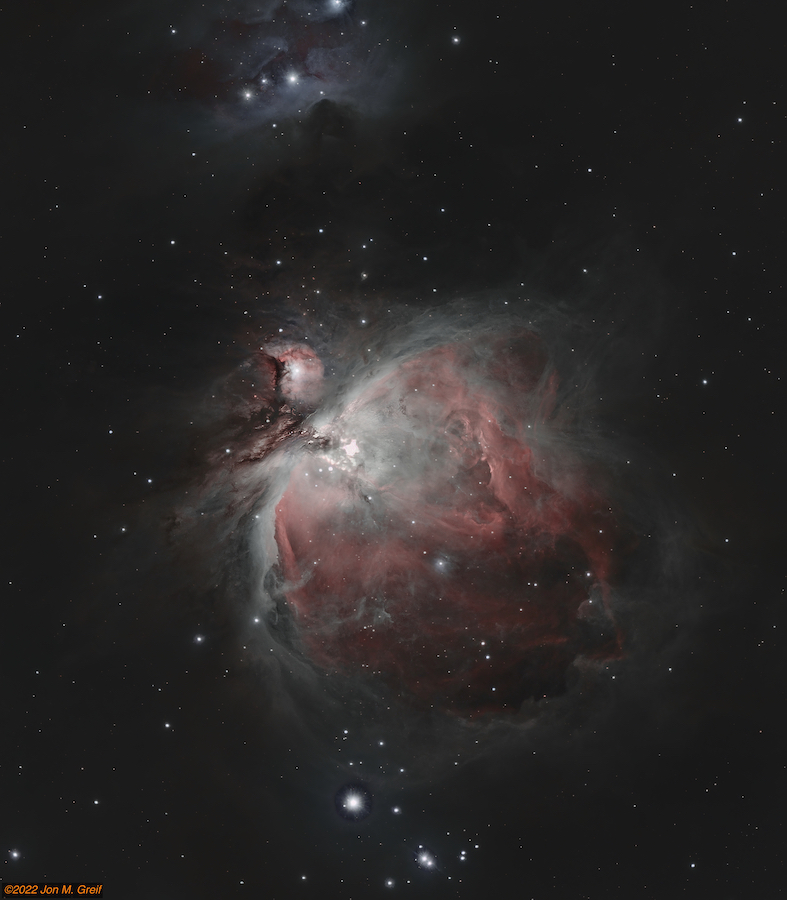 Photographer:
Jon Greif
Location of Photo:
La Jolla, CA, USA
Date/Time of photo:
December 12-15, 2022, between Midnight and 5 am PST
Equipment:
Takahashi FSQ-85ED with 1.01x flattener/reducer. ZWO ASI533MC Pro imaging camera. Optolong L-Pro filter. Rainbow Astro RST-135 Mount. ZWO 30mm Mini Guide Scope with ZWO ASI290 Mini guide camera. ASIAIR Plus controller. Processed in Pixinsight 1.8.9.
Description:
A favorite of the Winter night sky -- The Orion Nebula, M42, imaged from our deck over the same 3 clear nights last week as my previous post, galaxy M74. The Orion Nebula is one of the brightest nebulae and is visible to the naked eye in the night sky as the middle "star" in the "sword" of Orion, which are the three stars located south of Orion's Belt. It is 1,344 light-years from Earth. The M42 nebula is estimated to be 24 light-years across and has a mass about 2,000 times that of the Sun. Also visible in this image, above the Orion Nebula, is NGC 1977, a reflection nebula, known as the Running Man because it bears a resemblance to a human figure running.
Website: