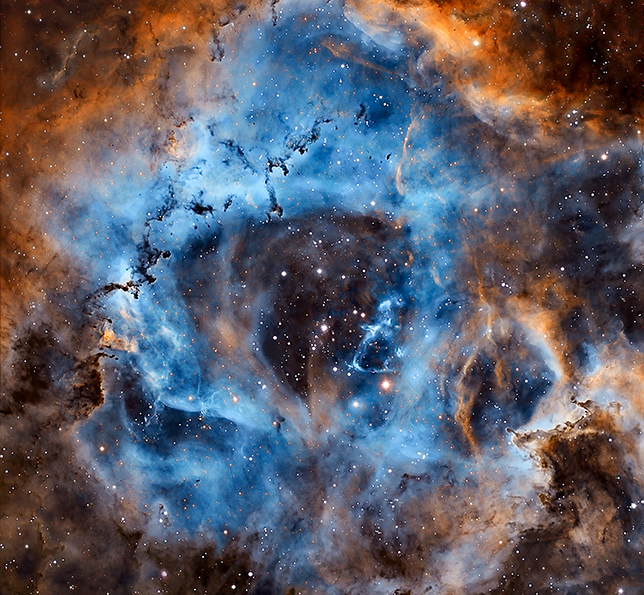 Photographer:
Mainak Chakraborty
Location of Photo:
Kolkata, India
Date/Time of photo:
02.01.2022 at 7:30 pm
Equipment:
Explore Scientific ED 127 mm APO Triplet , QHY 294C Pro ( - 20 degree celcius, Unity gain ), William Optics 50 mm Uniguidescope, ZWO ASI 290 MM Guidecam, Optolong L Enhance Filter
Description:
The beautiful Rosette Nebula, aka NGC 2237, lies about 5,200 light years from Earth in the constellation Monoceros the Unicorn, and is about 130 light-years across. It is an Emission Nebula. I photographed this Nebula as a whole before. But this time, as I always like the detailed structure of a Deep Sky Object way more than the wide field, I was on, to capture the core of this Nebula. And for that , ED 127 was my companion in this project. As before, QHY 294C Pro did that amazing job along with the Triplet to make the output quite surprising to me. In the case of post processing, I was very much interested to make a Hubble Palette SHO image from my Color Data from the OSC Camera. And Astro Pixel Processor is one of those few capable softwares to do that. Though I was very much impressed looking the output, still further colour calibration , curving, exposure control, HSL were done in Photoshop. The final noise removal got through Topaz Denoise AI. Star Reduction was done also to get the delicacy. In the second pic, the entire Rosette Nebula widefield image ( in upper left corner) was taken by me through Redcat 51 last year. I haven't released that pic as it was not on my good processing lists. 60x180" ( total 3 hrs on 20.12. 2021 ) 60x180" ( total 3 hrs on 21.12.2021 ) 60x180" ( total 3 hrs on 22.12. 2021 ) 45x180" ( total 2 hrs 15 minutes on 2.01.2022 ) Total integration time11 hrs 15 minutes 30 Darks 40 Flats for each day Bortle 4 Zone Softwares Used : EKOS for capture PHD2 for Guiding Astro Pixel Processor for stacking & Post Processing Hubble Palette Processing using APP Photoshop & Topaz Denoise AI for final representation.
Website: