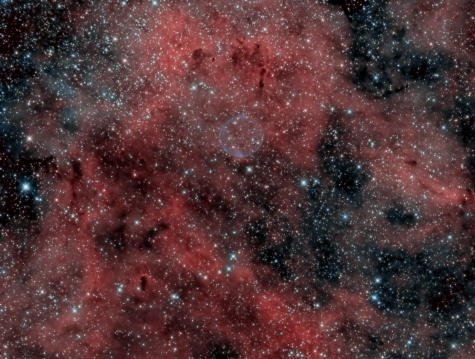 Photographer:
Steve Pastor
Location of Photo:
Mayhill, NM
Date/Time of photo:
nights of 2, 4, 5, 21, 25, 26, 29, 30 October 2016
Equipment:
Takahashi CCA-250 f/5 astrograph with a QSI683wsg camera (Astrodon Gen2 H-alpha filter 5 nm; O[III] 3 nm) on a Paramount ME
Description:
The Soap Bubble Nebula, or PN G755.5+1.7, is found in the constellation Cygnus. The Soap Bubble is likely a symmetric planetary nebula, which is the expanding shell of ionized gas ejected from a star late in its lifetime. The faint nebula was discovered relatively recently in 2008 on photographs of the Cygnus region. Image was a total of 17 hr 20 min exposure.
Website:
http://astronomersgroup.org/gallery/displayimage.php?pid=417&fullsize=1