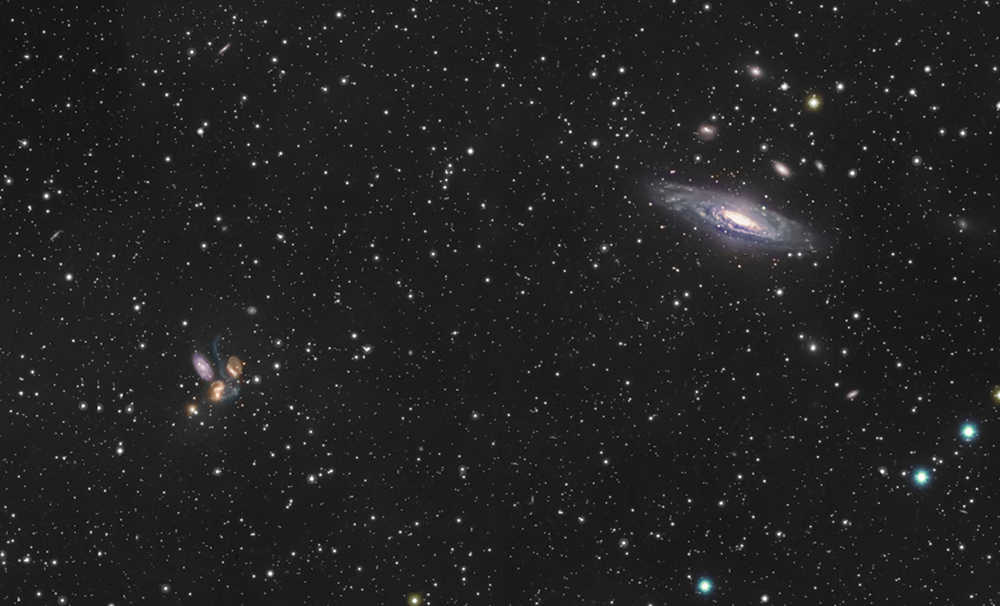 Photographer:
barretosmed
Email:
Location of Photo:
SAO PAULO - SP -BRAZIL and MUNHOZ - MG - BRAZIL
Date/Time of photo:
21 to 23 of May of 2020 in Munhoz- MG-Brazil ... 11 to 13 June 2020 in Jales-SP-Brazil
Equipment:
Equipment Apo 150mm Scientific Explorer Qhy 16200a colled Filter: Planetarium Baader LRGB 2 " 20 x 300 "bin1 L + 17 x 200" bin2 RGB Electronic Focuser: Moon Lite Mount: Ioptron Cem60 Polar alignment: Sharcap Capture: Sequence Generation Pro Processing: Photoshop CS6, Pixinisight
Description:
Stephan's Quintet, formed by the galaxies (NGC 7317, NGC 7318a, NGC 7318b, NGC 7319 and NGC 7320) is located in the lower left corner. These galaxies are part of the Hickson Compact Group, which contains galaxies groups that are likely to merge, maintaining strong interaction between them. In the upper right corner is the NGC 7331 galaxy, about 40 million light years away. What draws the attention of this galaxy is the galaxy's nucleus appears to be slightly decentralized, with one side of the disk appearing to extend farther from the nucleus than the opposite side. It is part of the NGC 7331 group, which list four other members, affectionately called "fleas": the lenticular or unbarred spirals NGC 7335 and 7336, the barred spiral galaxy NGC 7337 and the elliptical galaxy NGC 7340.
Website: