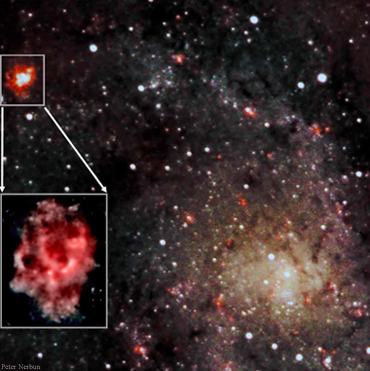 Photographer:
Peter Nerbun
Location of Photo:
Perry Hall, Maryland
Date/Time of photo:
Dec 2016 over 327 minutes of total integration time
Equipment:
C11 SCT, On-Axis Guider (ONAG), ATIK 460EX main imaging camera, Lodestar X2 guide camera, Losmandy G11 mount, 3nm Ha & O-III narrowband filters, HSM Stepper Motor for Starlight Feather Touch fine Micro-Focuser, Digital Boss II Focuser Control System, F/6.3 Reducer, Orion Nautilus motorized filter wheel, Spike-a Flat Field panel. LRGB filters
Description:
My image shows a large portion of the Triangulum Galaxy (M33) including the giant nebula NGC 604; the nebula appears as a bright red patch, a portion of which has a shape resembling that of a coffee cup handle as seen at the upper left corner of the image. I placed an enlarged narrow angle image of nebula NGC 604 in a rectangular box at the lower left corner of the image; this nebula and others throughout M33 are known as HII regions where hot stars have ionized the surrounding hydrogen atoms; when the ionized electrons recombine with their protons photons of light at the hydrogen alpha wavelength of 6563 Angstroms are emitted which is why these patches of light appear red in color.
Website: