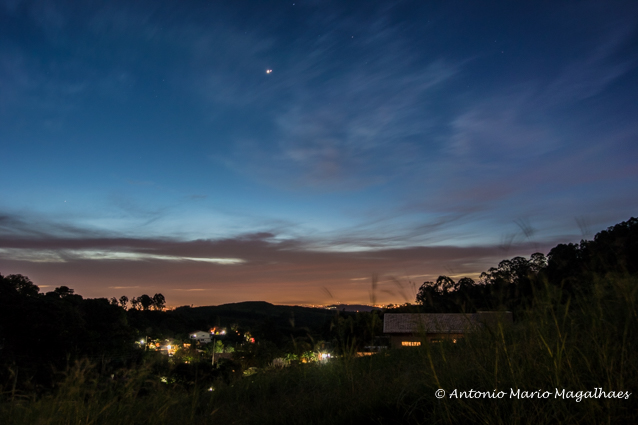 Photographer:
Antonio Mario Magalhaes
Email:
magalhaes.antoniomario@gmail.com
Location of Photo:
Vinhedo, Sao Paulo state, Brazil
Date/Time of photo:
June 30th, 2015 @ 06:17 PM local, 21:17 GMT
Equipment:
Nikon 1 V3, with 6.7-13mm lens @ 8.5mm (23mm 35mm-equivalent FOV), Manfrotto tripod & ball head; 30sec @ f/5.0 and 200 ISO.
Description:
On the evening of closest approach of Venus & Jupiter, I tried to setup my tripod to have a view of the event near my neighborhood and some foreground of interest. There were clouds but, in this case, I used them to try and add some drama.
Website:
http://www.astro.iag.usp.br/~mario; https://www.facebook.com/antoniomario.magalhaes